ABDULLAH MOHAMMED ALISSA
Member of SABIC Board of Directors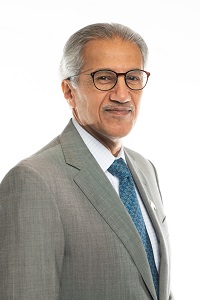 Mr. Abdullah Mohammed Al-Issa is a member of SABIC Board of Directors, Chairman of Remuneration and Nomination Committee, and member of both the Audit Committee and Investment Committee.
Mr. Al-Issa holds an MSc in Engineering Management and BSc in Industrial Engineering from the Southern Methodist University in the United States.
Mr. Al-Isaa is currently the Chief Executive Officer of Asila Investment Company and Chairman of the Abdullah Mohammed Al-Issa Consulting Engineers. He is aslo the Chairman of the Board of Riyad Bank and Dur Hospitality Co., and holds Board membership in various companies including Maaden, Etihad Etisalat (Mobily) and Clariant.
He was earlier a member of the Board of Directors of several companies, including the Arabian Cement, National Medical Care Company, Jadwa Investment, National Shipping Company of Saudi Arabia and National Chemical Carriers Company.