ABDULLAH MOHAMMED ALISSA
Member of SABIC Board of Directors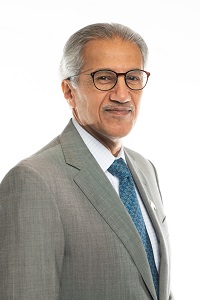 Mr. Abdullah Mohammed Al-Issa is a member of SABIC Board of Directors, and member of both the Audit Committee and Investment Committee.
Mr. Al-Issa holds an MSc in Engineering Management and BSc in Industrial Engineering from the Southern Methodist University in the United States.
Mr. Al-Isaa is currently the Chairman of Asila Investment Company as well as the Chairman of the Board of Riyad Bank and Dur Hospitality Co. He is also a board member of a number of companies including Etihad Etisalat (Mobily) and Clariant.
He was earlier a board member of several companies, including Maaden, the Arabian Cement Company, National Medical Care Company, Jadwa Investment Company, National Shipping Company of Saudi Arabia, and National Chemical Carriers Company.