---
DR. FAHAD ABDULLAH ALMUBARAK
Member of SABIC Board of Directors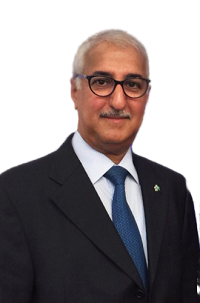 Dr. Fahad Abdullah Almubarak is a member of SABIC Board of Directors and a member of Investment Committee.
Dr. Almubarak holds a PhD in Business Administration (1991), Master's in Financial Accounting and Taxation (1989), and Master's in Business Administration (1990) all from the University of Houston, USA. He had also received a Master's degree in Industrial Engineering from Southern Methodist University in the United States (1982) and a Bachelor's degree in Civil Engineering (1981) from the same university. 
Dr. Almubarak is currently a Minister of State and member of the Council of Ministers, and the Secretary General of the G20 Saudi Secretariat.
He was earlier the Governor of the Saudi Arabian Monetary Agency (2011 to 2016), Chairman of the Board of Directors of the Saudi Stock Exchange (Tadawul) (2003-2011), a member of the Shoura Council from (1999 to 2005), and Chairman of Morgan Stanley Saudi Arabia (2005-2011). He served as a Board member in various companies including the Saudi Telecommunications Company (STC), Etihad Etisalat (Mobily), The Saudi Hollandi Bank, National Industrialization Company (Tasnee), Al-Malaz Group, Arab-Palestinian Investment Company and Al-Alamiya Insurance. He was also the General Manager of Rana Investment Company. 
Dr. Almubarak was also a member of the Saudi negotiating team with international oil companies in respect of the participaiton in gas projects in Saudi Arabia (2000 to 2001). 
---