---
FAISAL IBRAHIM ALSUWAILEM
Secretary General of the Board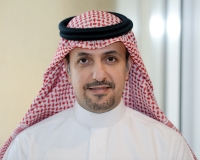 Faisal Ibrahim Al-Suwailem is the General Manager for Board Affairs and Corporate Governance at SABIC and Secretary General of the Audit Committee. Prior to his current position, he was the General Manager of the Enterprise Risk Management department.
Al-Suwailem began his career in SABIC in 2002 where he worked in the Internal Audit Department. He played a significant role establishing and managing the Enterprise Risk Management department, where he conducted several advanced training programs.
He is a board member of SABIC Captive Insurance Company (SABCAP), Saudi Methanol Company (Ar-Razi), and Alinma Tokio Marine Company. He also holds positions in several SABIC internal committees.
Al-Suwailem holds a Bachelor's Degree in Accounting from Western Illinois University and a Master's Degree in Business Administration (Executive MBA) from Thunderbird School of Global Management.
---