Timothy Leveille
Executive Vice President, Corporate Finance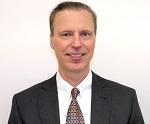 Timothy D. Leveille joined SABIC as Executive Vice President, Corporate Finance in 2018, after service as senior vice president, chief financial officer, and controller of Chevron Phillips Chemical Company ("CPChem"), based in The Woodlands, Texas.
He served previously as assistant treasurer of the Chevron Corp., with oversight over global cash management and financing activities for Chevron's operating companies worldwide.
A 1983 graduate of Boston College with a bachelor's degree in accounting and computer sciences, he then worked for the public accounting firm of Price Waterhouse, before earning a Master of Business Administration in finance at Columbia University School of Business. In 1987 he joined Caltex, an international joint venture between Texaco and Chevron that was formed originally in 1936 to market oil from the newly discovered fields in Saudi Arabia.
Leveille served in various overseas finance roles in Asia and Africa for roughly 17 years with Caltex, including as country chairman and chief financial officer of Caltex Philippines. In 2007, he became vice president of finance for Chevron's global gas business, and in 2009 senior director of international finance in corporate treasury.
He is a US certified public accountant (CPA), licensed by the state of New York.