We boost national efforts by helping to meet the shortage of ethanol and supply materials to produce medical equipment
SABIC contributed SR 150 million by the end of March in support of the various national sectors, particularly the health sector, to take precautionary measures against the novel coronavirus (COVID-19) pandemic.
Dr. Abdulaziz Saleh Aljarbou, SABIC Chairman, emphasized our commitment to work with the relevant stakeholders to help overcome the crisis. We are committed to the highest levels of responsibility toward the community by taking all the necessary precautionary measures to protect public health and safety.
"SABIC has a proven track record of successfully overcoming challenges. We should face this challenge by showing our commitment to our national duty," AlJarbou said.
"Our wise leadership has set an example of how to protect citizens and residents from the pandemic. Having assumed the G20 presidency, Saudi Arabia is leading the world's efforts to face of this pandemic," he added.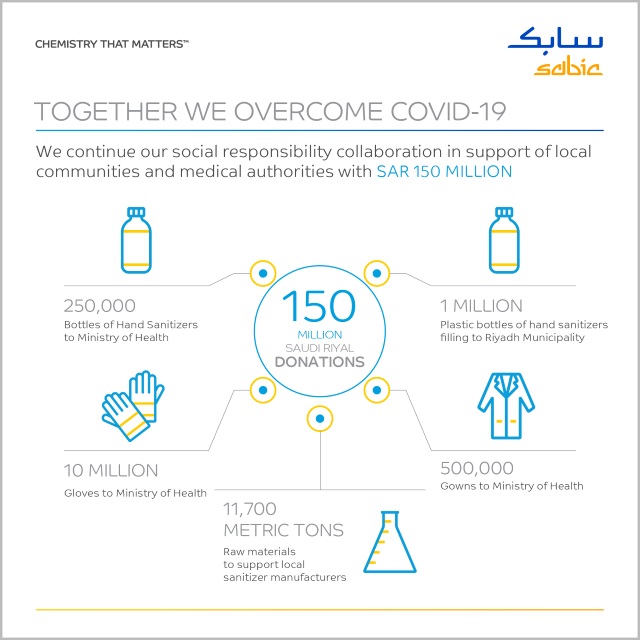 We are committed to our national duty and are collaborating with all sectors to overcome the crisis. We believe in the importance of taking all precautions to protect public health and safeguard human life.
With safety and health as top priorities, SABIC responded proactively to control the infection and protect its employees, their families and the whole community by ensuring full compliance with regulations and instructions of the Ministry of Health and the World Health Organization (WHO).
To achieve the goals of its recently-launched campaign, "Together We Overcome COVID-19", SABIC will keep following up on the developments and responding to the crisis, employing its various platforms to communicate messages of good health behavior and directions to promote awareness, thus delivering 'Chemistry that Matters™'.