What is BlueHero™?
­BLUEHERO is an expanding ecosystem of materials, solutions, expertise and programs designed to help accelerate the world's energy transition to electric power and support meeting global goals on climate change. BLUEHERO's starting point is to support the automotive industry's mission to create better, safer and more efficient electric vehicles (EVs), with an emphasis on optimizing structural battery components with unique flame retardant materials and solution development expertise.
Unique Materials
Cost-effective and technologically advanced flame retardant materials help optimize the performance of EVs. The use of plastic materials in EVs may result in reduced weight, expanded design freedom, reduced complexity, enhanced thermal management and fire safety, and reduced environmental impact.
Manufacturing Know-how
BLUEHERO leverages our specific knowledge and expertise around large part molding, compression molding, thermoforming and advanced injection molding to support customers with solutions that can meet critical performance requirements and enable ease of manufacturability.
Assembly Know-how
Validated joining and assembly methods for plastic to metal, enabling optimized multi-material design solutions. Covers adhesive bonding, mechanical bonding and other advanced joining technologies.
Fire-Polymer interaction Expertise
Addressing thermal runaway and bonfire situations is critical for EV manufacturers. BLUEHERO includes unique flame retardant polymers and expertise to enhance fire safety performance. Testing capabilities, both in-house and through partners, allow us to help assess, understand and verify material performance in meeting temperature, pressure, and grit impingement requirements.
Application Design and Verification
BLUEHERO leverages decades of experience in designing with thermoplastics to help customers validate engineering design solutions for structural, impact, crash and thermal management performance, through sophisticated predictive engineering calculations and physical prototype development and testing.
Value Chain Collaboration
Through BLUEHERO, we proactively engage with all parts of the value chain to develop and validate bold new solutions. Our highly inclusive collaboration with automotive OEMs, Tiers, battery suppliers, engineering companies, molders, machine makers, adhesive suppliers and others is essential for solution readiness, and a responsibility that we embrace.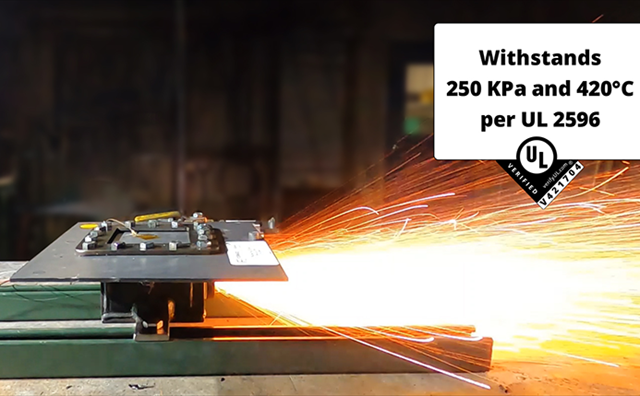 BLUEHERO™: Verified
BLUEHERO is breaking industry boundaries to provide cost effective, sustainable and technologically advanced solutions for the EV market. SABIC has been granted a UL Verification for its STAMAX™ 30YH570 resin, a high flow, halogen free flame-retardant copolymer developed for lithium-ion battery and automotive injection molded applications. This achievement is additional validation of SABIC's advances under its BLUEHERO initiative.
BLUEHERO™: Enabling Electrification
EVs are vastly different from internal combustion engine (ICE) vehicles and cannot be optimized by using legacy metal materials and engineering practices. BLUEHERO helps solve this by presenting expertise, capabilities and ready-to-apply solutions that can fasttrack optimizing EV battery packs and related applications to accelerate the industry's shift to electrification.
Historically, ICE vehicles have relied on metal as their primary material. Significant improvements to EV performance can be made by optimizing the materials used in their production. Utilizing the full capabilities of plastics delivers valuable benefits to battery manufacturers, suppliers, automakers, consumers and the environment alike.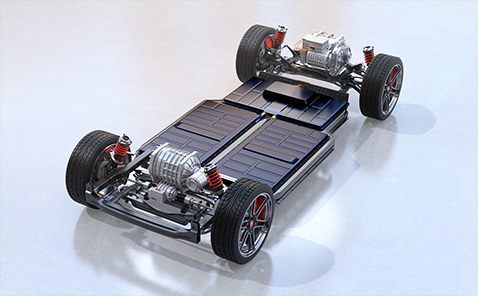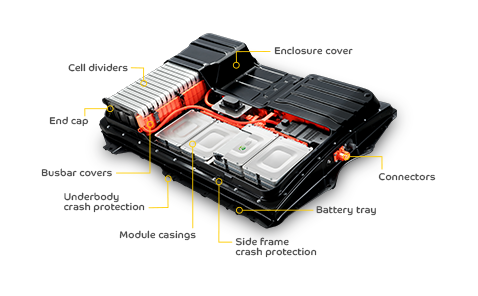 BLUEHERO™: Solutions
SABIC materials can be suitable for a number of individual structural parts such as enclosures, frames, crash protection elements and electrical components.
Beyond meeting individual part requirements, we draw on our expanding ecosystem of solutions and expertise to help customers optimize their total system designs for weight savings, improved performance, enhanced safety and reduced environmental impact, while also considering cost and ease of manufacturing and assembly.
BLUEHERO™ Knowledge Base
Repository of content on electrification materials, solutions, expertise and more.
Want More info?
To receive further information about BLUEHERO or to inquire about collaborating with SABIC, please contact the team at: AutomotiveSolutions@sabic.com.