SABIC AT 2019 CPCIC: STRIVING FOR A SUSTAINABLE AND INCLUSIVE FUTURE TOGETHER THROUGH COLLABORATION
19/09/2019
Between September 18 and September 20, the 10th China Petroleum and Chemical International Conference (CPCIC) took place in Hangzhou, Zhejiang Province. SABIC's Vice President and Regional Head, North Asia, Li Lei, led the SABIC delegation and actively participated in the conference. There, Li Lei reiterated SABIC's firm commitment to cooperate with industry partners to bring together all sectors of society to help China achieve an inclusive and sustainable future.
This year marks the tenth anniversary of the CPCIC. The three-day conference, themed Empowering High-Quality Development, once again gathered representatives from governments, enterprises, academic institutions and international organizations to share their insights and wisdom.
On September 18, the conference's curtain rose with the opening of the Circular Economy Forum, a sub-forum themed around closing the loop on plastics in China. SABIC engaged in the forum – themed "Closing the Loop: A Journey from Plastic Waste to Value" - as a strategic partner, with Li Lei delivering an opening speech on behalf of the company, during which he shared SABIC's insights and practices as it works towards the development of a circular economy.
Dr. Sreepad Karanam, Senior Manager, Corporate Sustainability Strategy, APAC, SABIC, then conducted a speech on "Leading an Innovative Chemical Recycling Solution to Plastics Waste", while Mahari Tjahjadi, Global Director, Market Development and Technical Support, Petrochemicals, SABIC participated in a panel discussion on "Value Chain Collaboration of the Circular Economy: An Adventure towards the Close-Loop of Plastic", where he shared SABIC's latest technologies and how the company drives collaboration among the whole value chain to further promote circular economy.
In Mayors' Forum, another sub-forum held in the afternoon of September 18, Li Lei once again represented SABIC and delivered a keynote speech - Striving for a Sustainable and Inclusive Future Together through Collaboration. He further elaborated on SABIC's determination to promote collaboration throughout the whole value chain, gathering a broad social support to help promote industrial development.
"It is a great honor for us to have the opportunity to involve deeply in this year's CPCIC, and to demonstrate SABIC's empowerment of sustainable growth and an inclusive future for China. Over the years, we have been actively working with the China Petroleum and Chemical Industry Federation (CPCIF) to explore new opportunities and models for development with stakeholders. Facing the new global economic and industry trends, we look forward to bringing the latest and more effective solutions to address key issues such as sustainability and inclusiveness, with the help of the platform advantages of the Federation," said Li Lei.
In addition, as a senior representative of SABIC, Li Lei was also invited to attend the key session of the conference, a closed-door CEO Roundtable. Wang Yanfang, SABIC's Senior Manager of Asia Environment, Health, Safety and Security (EHSS) Department, Corporate Manufacturing, also conducted a speech at the conference's Third Global Chemical Safety Summit: Chemical Logistics Safety, where she focused on the theme of "Building an EHSS Management System – the Foundation for a Company's Sustainable Growth".
 
During the 10th Anniversary Celebration Ceremony of the CPCIC, SABIC was awarded the Outstanding Contribution Award and Li Lei was awarded the Outstanding Contribution Award by CPCIF, showing that SABIC's unrelenting efforts to promote China's sustainable and inclusive development are recognized by the Federation.
For more than 30 years, SABIC has committed to expanding its investment in China and comprehensively assisting the petrochemical industry and the national economy to achieve a higher quality of development. At present, SABIC has manufacturing sites in Shanghai, Guangzhou, and Chongqing and operates in 14 cities throughout the country. The smooth advancement of several mega projects is also supporting the company's sustainable growth. At the same time, SABIC also actively fulfills its corporate social responsibility (CSR), including but not limited to, Lights of Our Future, Back to School and Waste-free Environments, to achieve a more inclusive future through collaboration.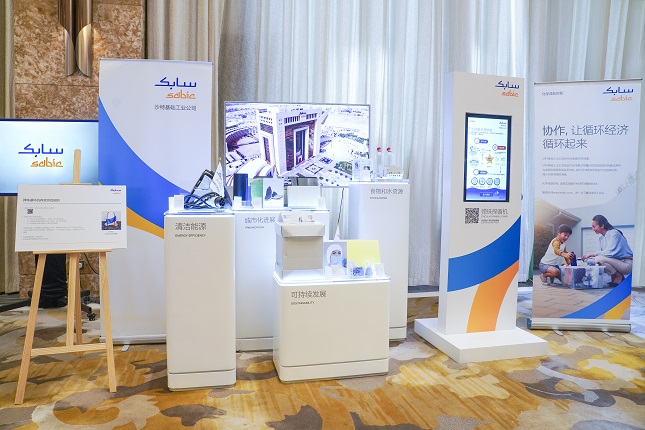 SABIC's booth at CPCIC