SABIC Continues Global Growth With Innovative Polypropylene Ventures In Europe
13/09/2017
SABIC today continued its global expansion with the inauguration of a new polypropylene (PP) pilot plant in Geleen, the Netherlands, and the announcement of a new investment in a state-of-the-art PP extrusion facility to be built at the same location.
Both facilities, dedicated to innovation in SABIC® PP products, support SABIC's 2025 strategy to be the preferred world leader in chemicals by delivering 'Chemistry that Matters™'.
An opening ceremony for the pilot plant and a customer event was presided over by Yousef Al-Benyan, SABIC Vice Chairman and CEO, and the Dutch Minister of Economic Affairs, Henk Kamp.
"In times of change, organizations have two options: drive or be driven," said Mr Al-Benyan during the opening ceremony. "At SABIC, we have a long-term vision to drive sustainable success for our customers and we work constantly to create and deliver innovative solutions that answer their challenges. It's about innovative thinking, extending and improving our portfolio, and – as we are showing here today – investing in technology and innovation."
In line with SABIC's strategic commitment to customer-driven innovation, the new PP pilot plant, located at the SABIC's Global Technology Center for Europe in Geleen, will design next-generation PP materials. It is already on-stream using gas-phase polymerization technology. The plant will enable accelerated development and commercialization of highly innovative material solutions that meet the growing needs of various industries, including automotive, health- and personal care, appliances and advanced packaging.
Abdulrahman Al-Fageeh, Executive Vice President of Petrochemicals at SABIC, was also present at the event.
"These facilities are great establishments for our company and for the benefit of the world at large, thanks to the dedication, skills, and hard work of our employees," he said. "They will support our company's strategy to develop new sustainable material solutions that help our customers achieve their goals, as we work with them in ever-closer collaboration."
Across industry, Al-Fageeh explained, there is an increasing need for creative solutions that are sustainable, cost-efficient and compliant with ever-tougher regulations. At the same time, they must provide increased consumer safety and convenience, while delivering improved functionality. "At SABIC, we are playing our part by relentlessly pursuing cutting-edge technologies, both in production and new material development. We are very happy to have so many customers here today to celebrate this inauguration."
Al-Fageeh described how innovation and collaboration are the key enablers of SABIC's 2025 strategy.
"We look at specific challenges and market needs through the lens of collaboration and innovation to create products and solutions that lead to business growth internally and at our customers," he said. "Our new investments will open up opportunities to create smarter, more efficient, higher performing products that can generate sustainable solutions for long-term success."
Minister Kamp of Economic Affairs: "The Limburg region has been known to develop new and innovative industrial activities to maintain economic growth. SABIC's new investment in Geleen is a fine example of successful and close cooperation between a large industrial company, knowledge & research institutes and local governments. The new pilot plant is a welcome addition to the Chemelot Campus. I'm sure this investment will make a useful, long-term contribution to our economy and the growth of the chemical industry."
The new facility will serve to develop products with improved balance in stiffness and impact resistance, flow properties and other properties specific to target applications. SABIC plans to concentrate on development of impact grades of polypropylene, as well as random copolymers and homopolymers. It will also carry out experiments on advanced catalysts.
The Geleen pilot plant is part of SABIC's network of 21 Global Technology Centers, located strategically around the world. It will support strategic innovation initiatives for SABIC's comprehensive polypropylene product line to address continuously evolving market needs.
The highly automated, cutting-edge PP extrusion line is expected to be in operation in the fourth quarter of 2017 on SABIC's Geleen site. It will answer customers' needs for advanced materials that can support them developing the next generation lightweight applications in industries such as packaging, appliances, automotive, and healthcare.
As part of the inauguration event, SABIC held a dinner with high-level executives from customers at the Columbus Earth Center at the Museumplein in Kerkrade (Limburg/The Netherlands), where it presented its latest sustainability initiatives. Guest speaker Boyan Slat, the founder and CEO of The Ocean Clean up Foundation (which develops technologies to extract plastics pollution from the oceans and prevent more plastic debris from entering them), gave a passionate presentation on the importance of innovation and collaboration for making the world's oceans healthier.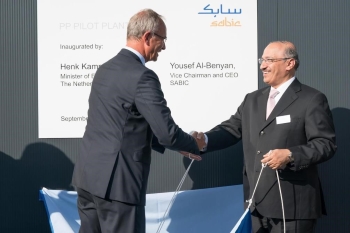 SABIC's new pilot plant in Geleen, The Netherlands, for development and production of advanced grades of polypropylene, was inaugurated by SABIC CEO Yousef Abdullah Al-Benyan and Dutch Minister of Economic Affairs Henk Kamp on September 12.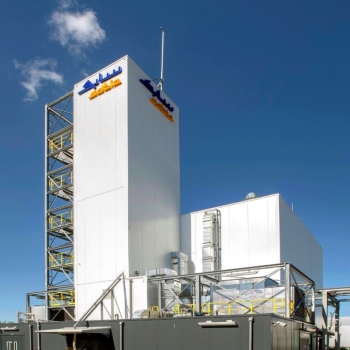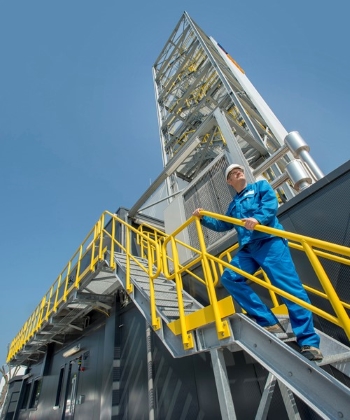 SABIC's New PP Pilot plant.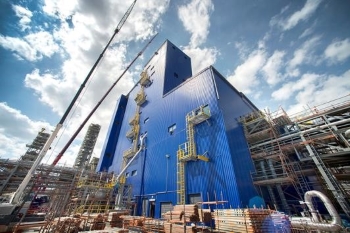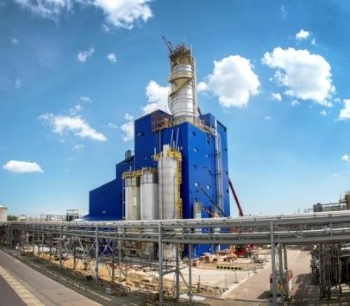 SABIC's new PP extrusion line facility.