Nusaned™ Initiative aims to support investors in areas related to:
SABIC opportunities available to drive investment and create local demand through

procurement spends 
product conversion to develop downstream industry 
commercialization of SABIC patents / technologies /applications

SABIC support packages to help in commercializing opportunities, including providing raw materials, technical support, etc. 
Advice and support on financing 
Local workforce development and training support through sponsorship or advice 
Strong alignment of Nusaned™ Initiative with different local authorities to ease project development.
THE COMPONENTS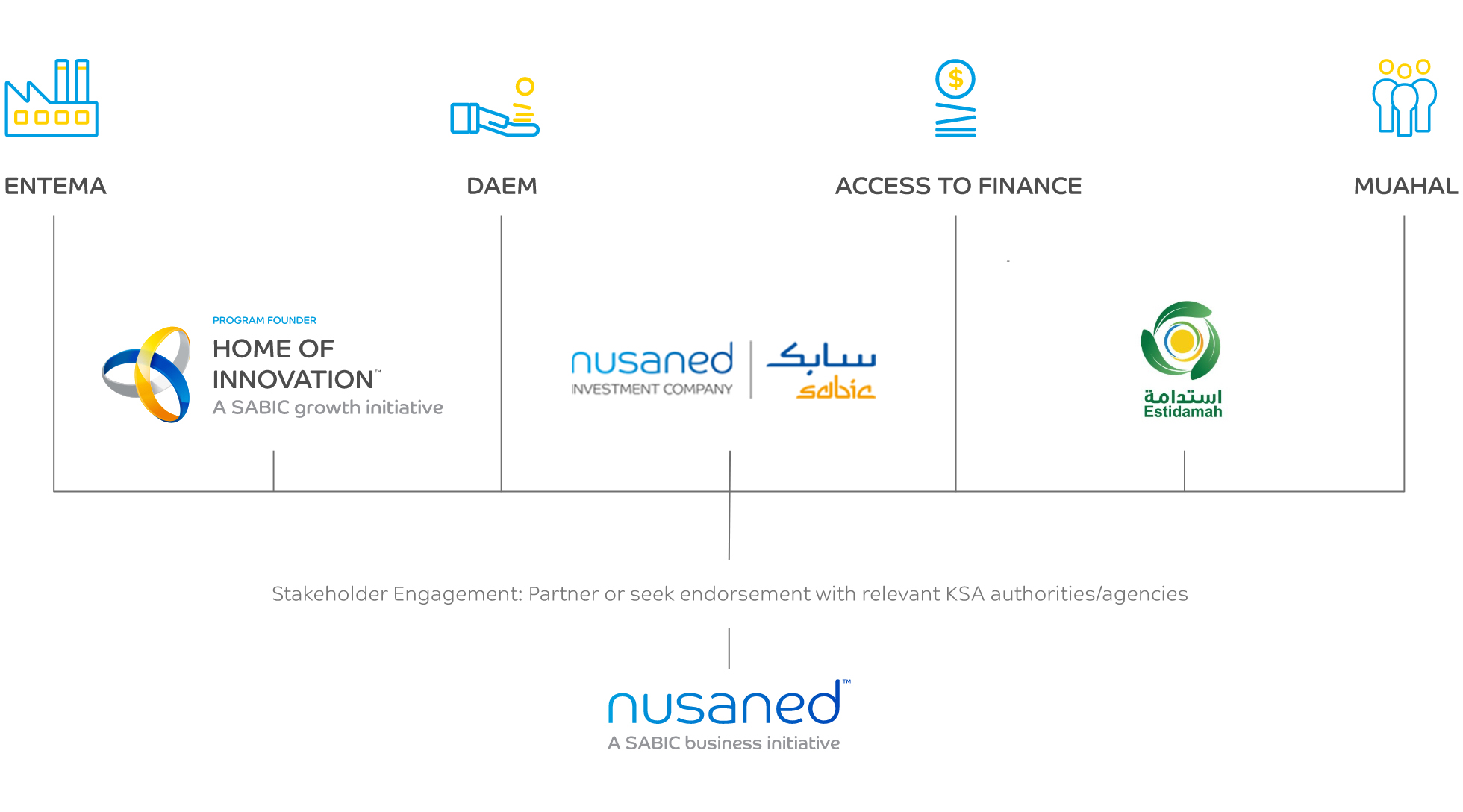 WHAT IS HOME OF INNOVATION™
The Home of Innovation™ is a SABIC growth initiative that combines marketing, innovation and technology to create demand and support the downstream sector. This facility serves as a platform to showcase global innovations, while simultaneously monitoring and developing opportunities and solutions available in new markets. The Home of Innovation™ contributes to stimulating and revitalizing the business community in the region by facilitating cooperation between industry pioneers and offering products and solutions that can be manufactured locally.
Find out more
5 Key roles
Promote the SABIC brand
Showcase innovative technologies and products
Create business opportunities for participants
Promote the local market agenda
Support Nusaned™ pillars
13 Strategic markets
1) Automotive
2) Aquaculture
3) Civil Aviation
4) Building and Construction
5) Desalination
6) Renewable and Alternative Energy
7) Food
8) Logistics
9) Machinery and Equipment
10) Military
11) Mining/Minerals
12) Oil and Gas
13) Pharmaceuticals/ Medical Supplies
One vision
Enabling Home of Innovation™ to become the leading portal for localizing industries and a platform to connect local with global innovators for a better future.
One mission
Accelerating the transformation of the Kingdom into a powerful engine for industry by stimulating innovation, fostering cooperation, and driving localization.
NUSANED INVESTMENT™ INDEPENDENTLY INVESTS IN SAUDI SMEs, WITH A CLEAR MANDATE AND GOVERNANCE MODEL
 MANDATE/ OBJECTIVES
Prioritize SABIC-related Saudi economic development and strategy; support and enable execution of the Kingdom's National Industrial Strategy; generate adequate returns for commercial viability and financial sustainability.
SEGMENTS/ OFFERING
Prioritize existing SMEs with proven technologies within SABIC supply chain and national downstream sector generally, with particular focus on NIS prioritized sectors; provide direct equity and indirect unlocking of debt – non-financial offering by Nusaned™  and Nusaned Investment™
GOVERNANCE MODEL
The company is 100% SABIC owned, with other investors involved through separate vehicles; separate company, with autonomy to make investment decisions within mandate and guidelines.
ESTIDAMAH IS A SPECIALIZED CENTRE FOR RESEARCH AND DEVELOPMENT TO CONDUCT INNOVATIVE APPLIED RESEARCH IN THE FIELD OF SUSTAINABLE AGRICULTURE
OBJECTIVES
Applying innovative agri-tech.

Improving agricultural sustainability.

Promoting effectiveness of research through partnerships.

Enhancing communication and training.
FIVE AXES
Estidamah

Global and Local Partnerships

Knowledge Transfer

Enabling Technologies

Excellence and Innovation