About SABIC
Since SABIC's founding, its employees have exhibited a remarkable ability to do what others said couldn't be done
Ranked among the world's largest petrochemicals manufacturers, SABIC is a public company based in Riyadh, Saudi Arabia. 70% of the Company's shares are owned by Saudi Aramco, with the remaining 30% publicly traded on the Saudi stock exchange.
SABIC began in 1976 by Royal decree and its growth has been nothing short of miraculous. Today, the company has operations in over 50 countries with a global workforce of over 33,000 talented individuals.
SABIC IS A GLOBAL LEADER, WITH THE RESOURCES AND CAPABILITIES TO MAKE IT A KEY PLAYER IN THE COUNTRY'S PURSUIT OF VISION 2030
3rd

Largest public chemicals company

2nd

Largest company in KSA

68

Plants around the world

37.3

US Bn, Annual revenue

11,738


Patents


Robust shared services setup

HR, IT, Finance, Legal


SABIC Academy


Strong training capability
ABOUT LCBDU
SABIC's Local Content Business Development Unit was set up in 2017 to run its local content initiative, Nusaned™.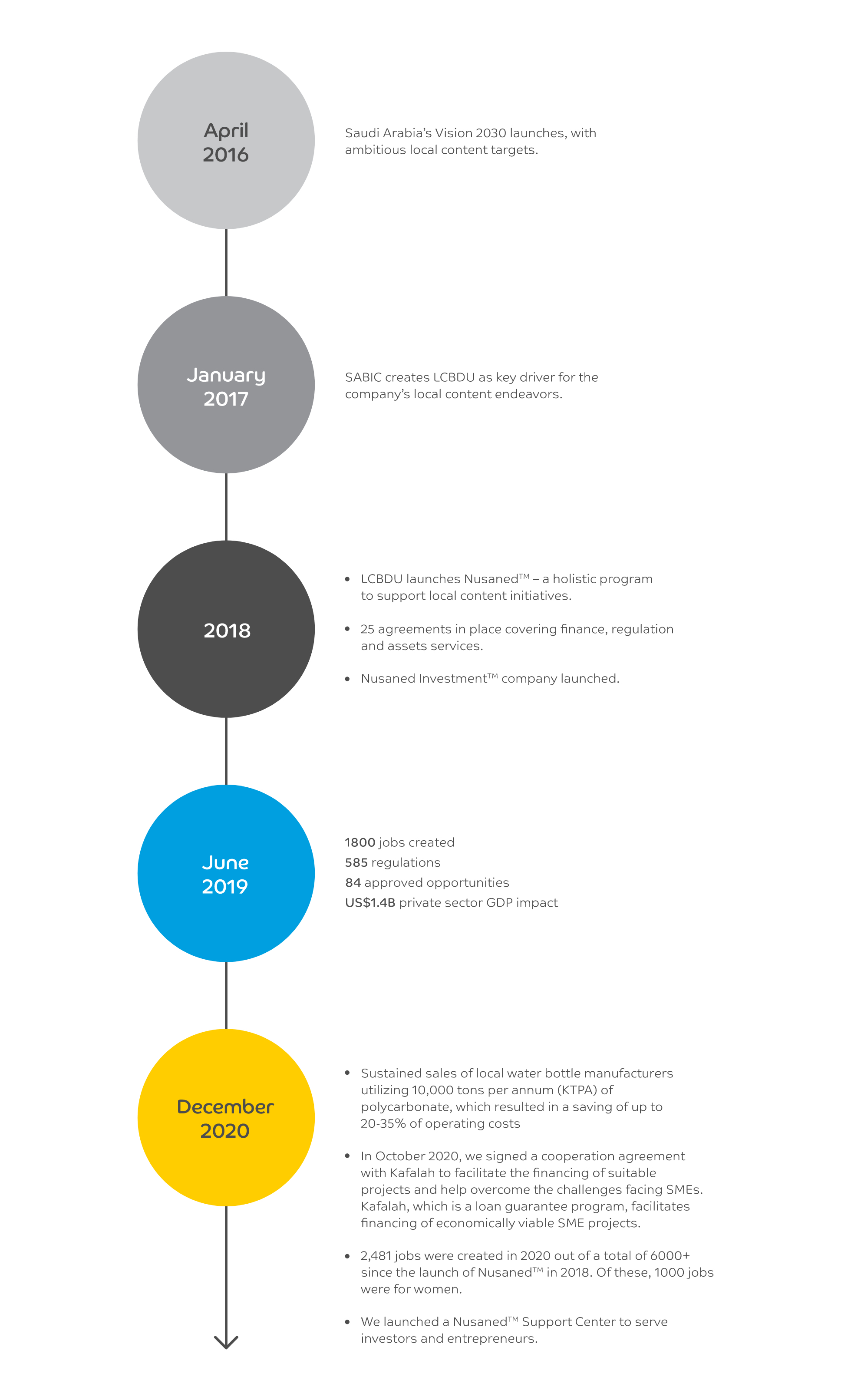 SABIC's recorded major localization achievements
3,238 job opportunities created in cooperation with training centres
9.1 billion worth of spending on domestic purchases
Adding 18 agreements with governmental and private agencies
Establishing a support centre to serve the program applicants
85 - opportunities graduated
4.9% - increase in downstream localization volumes
800+ KTPA potential import substitution (from approved Entema opportunities)
LCBDU IS A STRUCTURED PROGRAM FOR MAXIMIZING LOCAL CONTENT DEVELOPMENT THROUGH:
Promoting the localization of materials and service
Creating business opportunities in downstream industries¹
Developing skills – training and entrepreneurship
Attracting and enabling foreign investment
¹To create and nurture local value added products and services, diversify the national economy, create jobs and reduce import dependency.