DuPont
DuPont Personal Protection develops innovative protective clothing and accessories, to help wearers face on-the-job risks. With world known brands such as Tyvek®, Tychem®, Nomex® or Kevlar® our mission is to provide protection for every risk in a variety of industries like manufacturing, utilities, mining, pharma, oil and gas or emergency response.
Nomex® Comfort
The unique fabric technology of Nomex® Comfort offers the proven FR protection of Nomex® in a lightweight, breathable, quick-drying fabric—designed for extreme performance in the oil & gas and petrochemical industries. Nomex® Comfort delivers comfort without compromise

Benefits
Available in 4 weights: 4.5 oz/yd2 / 153 g/m2 ; 5.3 oz/yd2 / 180 g/m2; 6 oz/yd2 / 203 g/m2 and 6.6 oz/yd2 / 225 g/m2
Better protection at longer exposures andhigher temperatures
Inherent heat and flame resistance
Inherent protection; can't be washed out or worn away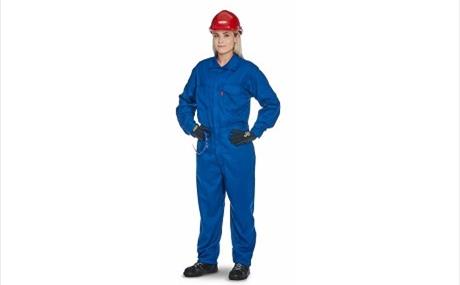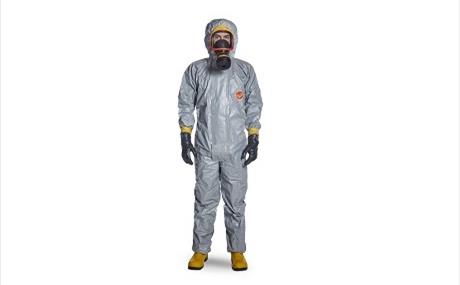 Tychem® 6000 F
Excellent chemical permeation resistance to numerous toxic industrial organic chemicals, highly concentrated inorganic chemicals (even under pressure), particulates, biohazards and certain chemical warfare agents.
Typically used for a broad range of applications from chemical spill clean-up, emergency response, to military and petrochemical applications.
Tychem® 2000 SFR
Hooded coverall available in green. It provides chemical and secondary flame protection in a lightweight garment. Tychem® 2000 SFR garments are intended to be worn over primary flame-resistant garments. In the event that a flash fire occurs, they won't ignite and won't contribute to additional burn injury if appropriate flame-resistant personal protective equipment, such as DuPont™ Nomex®, is worn beneath.

Benefits
Designed to meet dual hazard needs of a protective chemical suit with secondary flame resistance.
Provide an effective barrier against a range of inorganic acids and bases as well as industrial cleaning chemicals and particles
They're an ideal option for keeping workers safe from chemicals, Applications include: refineries, petrochemical plants, laboratories, hazardous maintenance operations.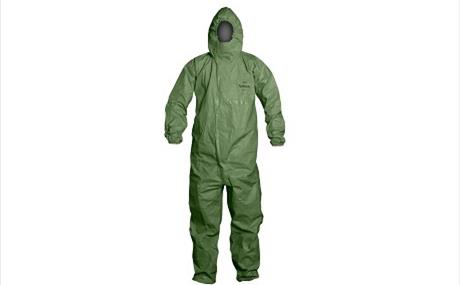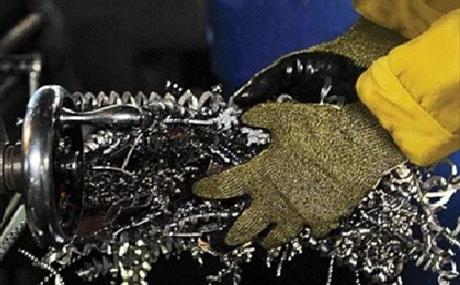 Kevlar® gloves
Kevlar® gloves provide industry-leading cut and mechanical protection that's lightweight and incredibly durable. Every glove delivers the best balance of comfort, dexterity and protection that meets or exceeds the standards for safety.

Benefits
Patented yarns combine cut-resistant soft-spun Kevlar® materials, high-strength inorganic yarns and elastic stretch-core yarns to deliver the best balance of protection and comfort.
engineered yarns are able to increase the level of protection—without adding bulk—providing enhanced breathability to increase comfort.
Against abrasion and cuts, electric arc and flame, high heat and against puncture as well as against welding hazards
Nomex® Xtreme Arc
The most innovative Nomex® offering for arc flash and FR protection. Nomex® Xtreme Arc provides an ATPV of 12 to 19 cal/cm2, making it the ideal choice for workers confronted with high-risk electrical exposure in a variety of industries.

Benefits
Fiber blend: Nomex®, Kevlar®, antistatic fiber
Available in 2 weights: 6.5 oz/yd2 / 220 g/m2 (woven) and 6.9 oz/yd2 / 234 g/m2 (knitted)
Arc flash protection along with heat and flame resistance
Better protection at longer exposures and higher temperature
Inherent protection; can't be washed out or worn away
Resists tears and abrasions
Extremely durable and long-lasting protective solutions
Available in 3 colors: Paris blue, Sunset blue and True gray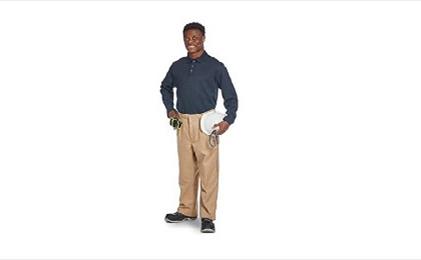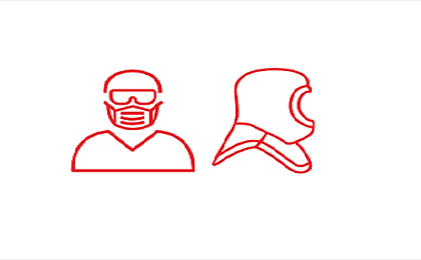 Nomex® FR masks
Developed specially for those who cannot simply use medical, respiratory and textile masks for facial protection, such as essential industrial workers in oil and gas, chemical, electrical utility and manufacturing. Masks made from Nomex® fabric can withstand the FR hazards they face on the job.

Benefits
Nomex® masks won't melt, drip or burn
Masks made out of Nomex® Nano Flex also protect against viruses & bacteria
Virus Filtration efficiency > 95% & Bacterial Filtration efficiency > 97%
Nomex® is inherently flame resistant, protection that can't be washed out or worn away
Nomex® is lightweight and low-linting, providing the best balance of comfort and protection
Nomex® masks also support sustainability offering re-usability and high durability for the wearer
Tyvek® 100
Hooded Tyvek® coverall available in white. Robust yet lightweight (<180g per garment). 3-piece hood for optimal fit to head and face when turning. Elasticated face, wrists and ankles as well as glued-in waist elastic. Ample crotch area for freedom of movement. Large, easy-to-grasp zipper puller. Tyvek® fabric is permeable to both air and water vapour, yet repels water-based liquids and aerosols. It offers an excellent barrier against fine particles and fibres (down to 1 micron in size), is ultra-low-linting and antistatically treated.

Benefits
Composed of flash spun high density polyethylene, providing an ideal balance of protection, durability and comfort. Tyvek® is permeable to both air and water vapour, yet repels water-based liquids and aerosols. It offers an excellent barrier against fine particles and fibres (down to 1 micron in size), is ultra-low-linting and antistatically treated. Silicon non-added
Applications include those found in pharmaceutical handling, chemical processing, the oil and gas industry, general maintenance and operations, automatic spray painting and many others
Stitched external seams
Very low inward leakage thanks to optimised design
Tyvek® auto-lock zipper and zipper flap for increased protection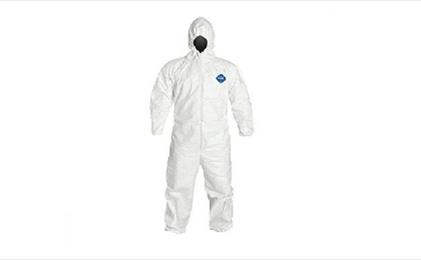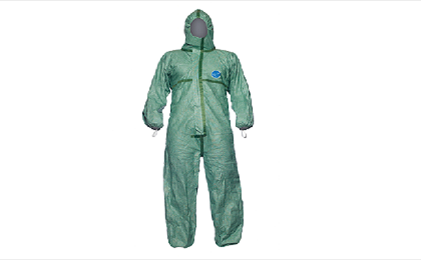 Tyvek® 600 Plus
Hooded coverall available in white and green. Robust yet lightweight (<250g per garment). Self-adhesive chin flap for tight seal of suit to the mask. Elasticated face, wrists and ankles as well as glued-in waist elastic. Elasticated thumb loops prevent sleeves from riding up.

Benefits
Composed of flash spun high density polyethylene, providing an ideal balance of protection, durability and comfort. Tyvek® is permeable to both air and water vapour, yet repels water-based liquids and aerosols. It offers an excellent barrier against fine particles and fibres (down to 1 micron in size), is ultra-low-linting and antistatically treated. Silicon non-added
Applications include maintenance and dismantling jobs in the nuclear industry, pharmaceutical manufacturing or in research and biosecurity laboratories, as well as in medical applications and when exposed to biological hazards
Stitched and over-taped seams for protection and strength
Tyvek® zipper and zipper flap for enhanced protection
Face, wrist and ankle tunnelled elastication, for good fit and contamination/linting reduction
Tyvek® 500 Labcoat PL30NP
Labcoat made out of Tyvek® material with 5 press stud closures . Available in white and in sizes MD to 2X.. Without pockets. Elasticated cuffs (not tunnelled). Stitched internal seams.Specially designed for use with Tyvek® apparel.

Benefits
Tyvek® accessories can help offer enhanced protection for body parts that are more exposed to hazardous substances
Composed of flash spun high density polyethylene, providing an ideal balance of protection, durability and comfort. Tyvek® is permeable to both air and water vapour, yet repels water-based liquids and aerosols. It offers an excellent barrier against fine particles and fibres (down to 1 micron in size), is ultra-low-linting and antistatically treated. Silicon non-added
Applications include: pharmaceutical handling, chemical protection, lead and asbestos abatement/remediation, general maintenance/operations, spray painting and general clean-up, amongst many others