DR. ABDULAZIZ SALEH ALJARBOU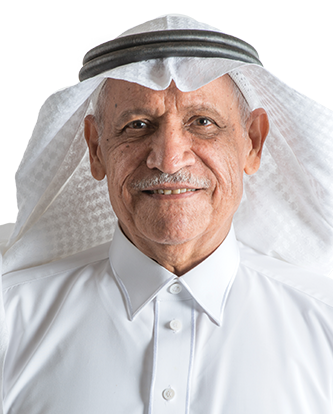 CHAIRMAN
This year, we emerged as a "New SABIC" after a transformation process that strengthened our financial performance, growth, and competitiveness. While this process is still underway, it has moved us toward our goal of becoming the world's preferred supplier of chemicals by 2025, and improved our ability to be a key enabler of Saudi Vision 2030 – the country's ambitious plan to become more economically diverse and resilient to cyclical energy prices.
Our focus on sustainability has helped to guide this transformation by ensuring that short-term growth goes hand in hand with long-term benefits to the environment, the economy, and society as a whole. Sustainability does this by guiding our strategic decisions to emphasize technological innovation; resource and energy efficiency; human capital; the environment, health, safety, and security; and social responsibility. As a result, we have increased profits while advancing our reputation as a collaborative organization that puts customers at the heart of decision making.
Our top priorities in 2018 included adopting sustainability as our guiding light in product and process innovation; providing materials for deploying renewable energy as part of our energy mix; continuing to minimize our carbon intensity; and embedding circular economy solutions throughout the value chain. Sustainable innovation and growth require talent, and we further invested in this core need by promoting employment opportunities and improving our workforce through training, development, and leadership programs. This type of investment in our people will continue to structurally improve our performance and accelerate our efforts to transform.
SABIC's portfolio of sustainability solutions – those that create less CO₂ than traditional materials during production or save more in other phases of their lifecycles – continued to drive our innovation this year. These solutions are the result of innovative research and intense collaboration with customers and experts in academia. To produce them, we must have a deep understanding of customer needs, and be responsive, agile, and innovative enough to create the solutions that can enable them to grow while meeting their sustainability goals through 'Chemistry that Matters™'.
A high priority for SABIC this year was supporting global climate negotiations. SABIC joined a high-level delegation from Saudi Arabia to the United Nations' Conference of Parties (COP24) in Katowice, Poland, in December. There, we presented our range of innovative solutions for sustainable development at the Gulf Cooperation Council pavilion. Promoting Saudi Arabia's sustainability agenda is one of the most important contributions we can make to the successful achievement of Saudi Vision 2030.
Another important and growing priority for SABIC is maximizing societal benefits from our natural resources. We do this through a commitment to the circular economy by adapting our processes to re-manufacturing and recycling, and designing products and solutions for longer life and reuse, minimizing leakage to oceans and the environment. We are committed to scaling up high-quality recycling processes for chemical recycling of mixed plastic waste back to chemicals or other plastics, and this year, we announced our intent to build a commercial plant in the Netherlands to refine a valuable feedstock from recycled mixed plastic waste otherwise destined for incineration or landfill. We are the first chemicals company to implement such a project – a statement of our intent to lead in the promotion of a circular economy.
As one of the largest diversified chemicals companies in the world – the third largest, according to Forbes in 2018 – with operations in more than 50 countries, we are well-placed to have a positive impact on the communities where we operate. In previous years, we streamlined our social responsibility and increased its impact by implementing the global RAISE strategy. RAISE promotes employee volunteering and helps to create a culture of giving in four key areas: science and technology education, environmental protection, health and wellness, and water and sustainable agriculture. This year, employee volunteers all over the world made important contributions to their local communities in each of these areas.
Efforts such as this have strengthened our brand. SABIC was recognized as the fastest growing chemical brand of 2018 and has reached the third place overall according to Brand Finance's "Chemicals 10," an annual report on the world's most valuable brands in the chemical industry.
Since 2015, when SABIC candidly assessed how it had to transform to compete at the highest level, we have come a long way. But there is much further to go. Many external challenges to our industry – such as oil prices, petrochemicals demand, trade protectionism, and changing regulations, to name a few – will always exist and be beyond our control. To succeed in this challenging environment, we must be open to new ideas and focus on the things we have the power to control.
Sustainability is one of those areas – and one where we have made considerable progress. For us, sustainability is not an exercise in public relations, it is a strategy to maximize the benefit we bring to all of our internal and external stakeholders. I would like to thank all of SABIC's employees. Without their commitment to our program, our sustainability strategy would be meaningless. As one united team, we can continue to deliver the benefits of more innovative chemicals and specialty products to customers in diverse industries globally – and multiply the benefit we bring to the world.