Sustainability governance
Our Corporate Sustainability department reports directly to our Corporate Affairs function – a structure that accelerates the pace of change by facilitating communication of progress and enabling closer relationships with external stakeholders.
Sustainability at SABIC is led by our Sustainability Council, an executive committee chaired by the Vice-Chairman and CEO, and supported by 10 senior executive leaders. Last year, we added sustainability to the scope and title of the Board of Directors Risk Committee. Key sustainability decisions and progress are presented and discussed three times each year to the Risk and Sustainability Committee.
Our internal businesses and functions are ultimately responsible for leading progress on the goals created by the Sustainability Council. Each organization appoints a sustainability champion to lead the process.
Our materiality refresh to determine SABIC's most strategic priorities is an example of the real impact of this structure.
The final recommendations were reviewed and approved by the Steering Committee and then the Sustainability Council, and will be presented to the board committee in early 2019.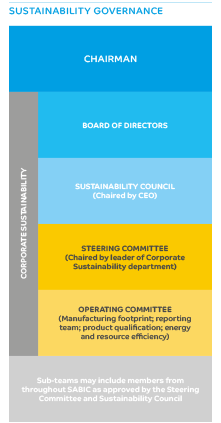 In recent years, we have successfully woven sustainability throughout our governance and corporate culture. In 2019, we will move our Sustainability department to the Technology and Innovation function, helping to further accelerate our adoption and development of new sustainable products.
Previous Article
Next Article