The SABIC Code of Ethics is the foundation of our integrity culture. Our Code of Ethics applies to all employees, management, and directors, and is communicated regularly through email outreach, mandatory online training modules, in-person trainings, and an annual integrity pledge. The online compliance training and Code of Ethics acknowledgment is completed by employees of both SABIC and our wholly owned affiliates and joint venture companies.
In order to stay abreast of the latest regulatory developments, to have a broader perspective, learn best practices, and in some cases, act collectively to impact change, we work closely with external organizations that lead on important compliance issues. Since 2013, SABIC has participated in the annual G20/B20 policy process on anti-corruption. In 2021, we were part of the Italian B20 Integrity and Compliance Task Force. In the Middle East, we are part of an organization called the Pearl Initiative – a group for Gulf-based companies to share best practices on compliance and good governance. Through these collaborations, we learn about the pioneering efforts of other companies, while also taking the opportunity to share our learnings with others.
COMPLIANCE INVESTIGATION DATA
In 2021, we investigated 99 Code of Ethics policy concerns, of which 38 were concluded to have violations. Accordingly, 71 associated corrective actions were taken.
As of December 31, 2021

Compliance concerns raised
Violations found (addressed)
Incidents Closed

Compliance concerns raised
Violations found (addressed)
Incidents Closed
SABIC and its wholly owned affiliates
99*
41*
89*
SABIC earned Ethisphere's Compliance Leader Verification™ status for 2022 and 2023. The Compliance Leader Verification process takes a deep dive view of all aspects of a company's program, including ethics and compliance program structure and oversight, training and communication, risk measurement, monitoring for misconduct, disciplinary measures, ethical corporate culture, and employee perceptions. The rigorous review process and verification signals to SABIC and our stakeholders that our compliance efforts are widely recognized.
We were also awarded a Platinum EcoVadis Medal for a second consecutive year, placing us among the top 1% of companies assessed by EcoVadis, the world's largest provider of sustainability ratings. Notably, SABIC scored 90 out of 100 for its Ethics program.
COMPLIANCE TRAINING DATA AS OF JANUARY 1, 2022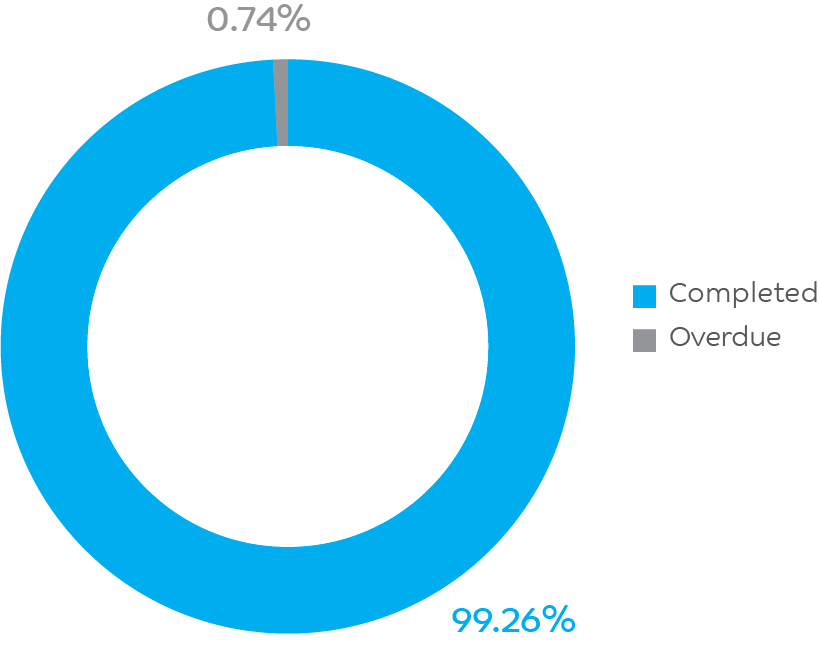 COMPLIANCE TRAINING DATA AS OF JANUARY 1, 2022*
ANTI-BRIBERY TRAINING
Under our leadership of the Saudi B20 Integrity and Compliance Task Force, an anti-bribery training and mentorship program was initiated for entrepreneurs and those working in small and medium-sized enterprises. The program gained significant attention from numerous organizations that work against corruption, including the OECD, UN Development Program, and the World Bank Group. These organizations are taking this program forward amongst their constituencies.
SUSTAINABILITY GOVERNANCE
Sustainability is integrated within the governance structure from the top down and bottom up from the Board of Directors to sustainability champions and functional units. Sustainability performance is reported to the highest level of the Company, including the Chairman, CEO, and Board of Directors.
Financial compensation of certain executives has also been linked to performance against sustainability goals. This system is being expanded to a larger pool of executives.
OUR ESG AND SUSTAINABILITY GOVERNANCE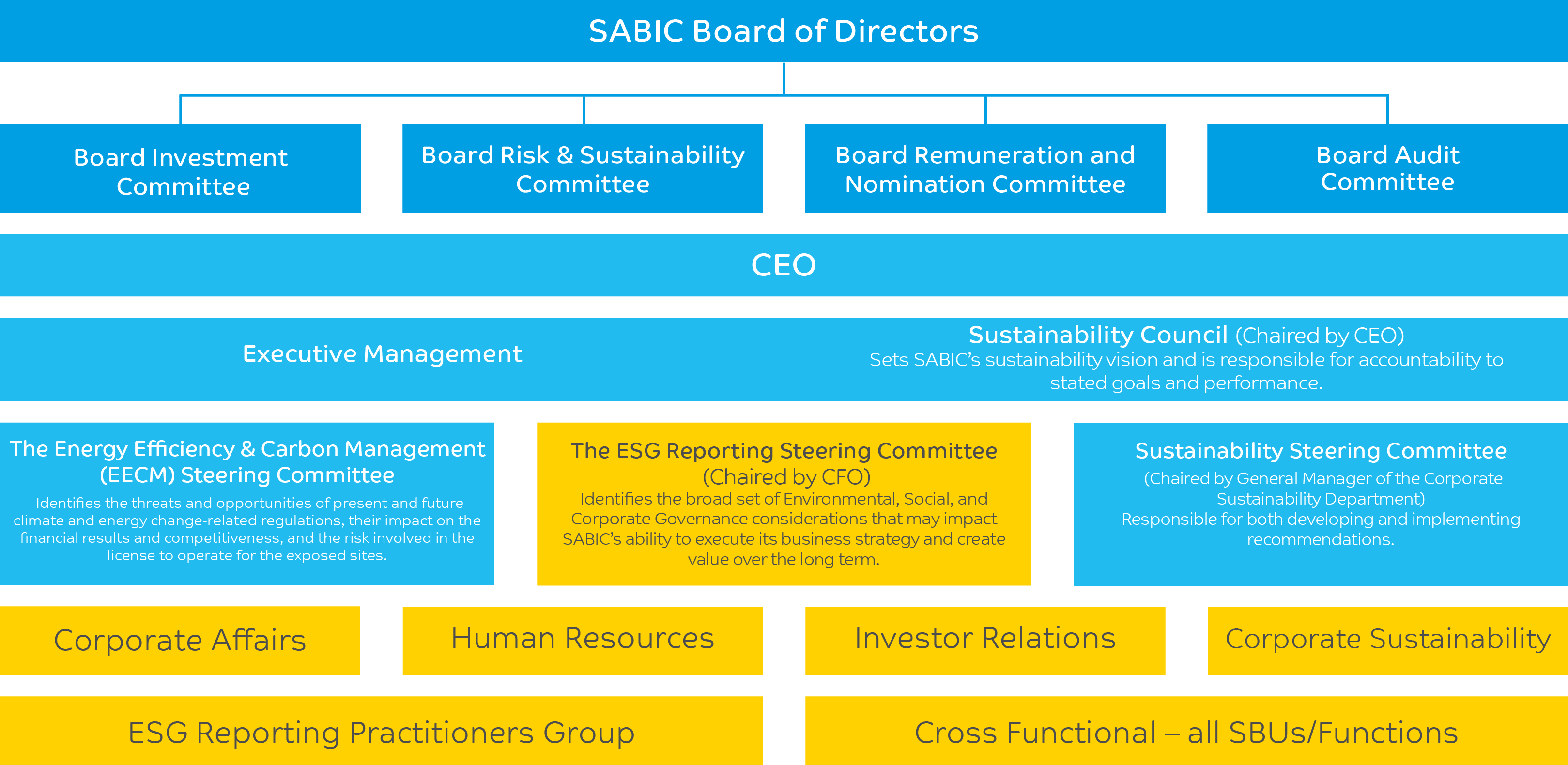 Sustainability Governance
Previous Article
Next Article