COLLABORATION
SABIC has established long-term relationships with our customers, supply chain partners, and industry peers. This places us in a strong position in the value chain, enabling us to partner with customers upstream and downstream to advance sustainable business practices in the plastics industry and beyond.
RESEARCH
DIGITAL WATERMARKS INITIATIVE HOLYGRAIL 2.0


SABIC joined the Digital Watermarks Initiative HolyGrail 2.0 to prove the viability of digital watermarking technologies for sorting of plastics for better and more accurate sorting streams, and thereafter higher quality recyclates, which would benefit the complete packaging value chain.
COLLABORATIONS WITH UNIVERSITIES
SABIC Corporate Technology and Innovation and the Manufacturing division collaborated with a team from the SABIC research center at King Abdullah University of Science and Technology (KAUST) to rapidly develop technology for multi-purpose isopropanol (IPA) production and commercialized the product this year. SABIC also collaborated with the University of Bradford, UK to successfully develop biaxially oriented polyolefin pipes.
PRODUCTS
BIAX PIPE TECHNOLOGY
We partnered with Tecnomatic, an innovative company for pipe extrusion equipment, and with Aquatherm, a world leading producer of polypropylene random pipes, to develop a commercial scale process for the newly introduced biaxially oriented polyolefin pipes. This technology offers substantial improvements over incumbent polyolefin pipes across the entire range of performance criteria.
CEPSA
SABIC is the first in industry to offer a polycarbonate-based certified renewable product, for various industries, including automotive. We worked closely with International Sustainability and Carbon Certification (ISCC) to provide proof of the incorporation of renewable feedstock in our polycarbonate production and the resulting sustainability claims were verified by independent third-party auditors.
MICROSOFT
We are an industry frontrunner in recycled ocean- bound plastics, and we collaborated with Microsoft Corporation to create the first Microsoft Ocean Plastic Mouse. The mouse has an exterior shell containing 20% recycled ocean plastic.
HENG HIAP INDUSTRIES (HHI)
SABIC collaborated with Malaysia-based plastic recycling company HHI to produce the world's first certified circular polymers through the advanced recycling of recovered mixed and used ocean-bound plastic. The recovered material is converted by HHI into pyrolysis oil through advanced recycling, which is then used by SABIC in our production process as an alternative to traditional fossil materials to make new circular polymers that have been certified under the Zero Plastic Oceans accreditation.
POLYRAY
We worked with Polyray, an innovative leader in the eyewear lens industry, to introduce certified renewable polycarbonate into eyewear applications. Polyray used SABIC's LEXAN™ polycarbonate resin that is made of certified renewable feedstock, in the lenses of several eyewear end applications such as sunglasses, safety glasses, and sports goggles.
NUDEC
We collaborated with Nudec, an industry leader in the manufacture of clear plastic sheets for numerous industries such as construction, personal, and machinery protection, to introduce certified renewable polycarbonate into building and construction applications.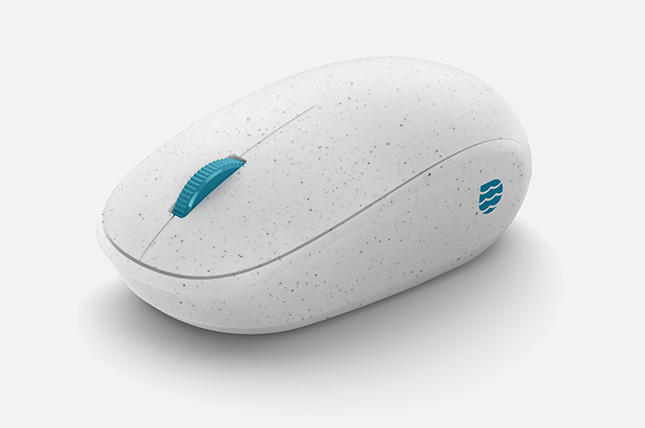 We collaborated with Microsoft Corporation to create the first Microsoft Ocean Plastic Mouse.
VALUE CHAIN
DELICA AG
Delica AG introduced a new range of more sustainable coffee capsules based on SABIC's certified renewable polymers for use in its proprietary Delizio capsule machines made of bio-feedstock based "second generation" materials from SABIC's TRUCIRCLE™ portfolio.
BEIERSDORF AND NIVEA
Beiersdorf commenced the production of more sustainable cosmetics packaging using certified renewable polypropylene (PP) from SABIC's TRUCIRCLE™ portfolio, replacing fossil-based virgin plastic. The packaging is based on the principle of mass balancing in accordance with the ISCC Plus scheme and approximately 76g of CO2 emissions are saved per jar produced, a 60% reduction compared to fossil-based jars.
ESTÉE LAUDER COMPANIES
The Estée Lauder Companies (ELC), skincare brand Origins Natural Resources Inc introduced an advanced beauty tube pack using certified circular polyolefins from SABIC's TRUCIRCLE™ portfolio.
TESCO
Tesco is introducing new plastic packaging made by an innovative process of recycling flexible packaging. Cheese wrapped in packaging from this initiative is now available in Tesco stores.
IRPLAST S.P.A.
Irplast S.p.A., a prominent global producer of simultaneously bi-oriented polypropylene (BOPP) film, has selected certified circular and certified renewable SABIC® PP polymers from SABIC's TRUCIRCLE™ portfolio for its new S-BOPP film solutions.
MULTI-BARRIER CASING FOR MEAT PRODUCTS
SABIC, in close cooperation with DSM, Cepsa, Fibrant, and Viscofan created a multi-barrier casing for meat products.
ST. JOHNS PACKAGING AND KINGSMILL
Allied Bakeries, a major UK-based supplier of bakery products, introduced bread bags made by St. Johns Packaging using SABIC's certified circular polyethylene in the packaging of their Kingsmill No Crusts 50/50.
MARS PETCARE AND HUHTAMAKI
SABIC collaborated with Mars Petcare and Huhtamaki to introduce pet food packaging using certified circular polypropylene from the TRUCIRCLE portfolio.
EFFECTIVE COLLABORATIONS
ALLIANCE TO END PLASTIC WASTE (AEPW)
SABIC is a founding member of the Alliance to End Plastic Waste (AEPW), a global cross-value chain initiative to end plastic waste in the environment.
OIL SUSTAINABILITY PROGRAM
SABIC is an instrumental participant in Saudi Arabia's Oil Sustainability Program established with the aim to sustain oil as part of the global energy mix in a way that is economically and environmentally efficient.
APPLE


In May 2021, SABIC signed an agreement with Apple to commit to the use of renewable energy in SABIC's manufacture of Apple products. Under this agreement, SABIC will consume, develop, invest in and/or procure electrical power from renewable energy sources equal to 100% of the electrical power used in its manufacturing operations related to Apple products.
THE SCIENTIFIC AND TECHNICAL ADVISORY COUNCIL (SAC)
The Scientific and Technical Advisory Council (SAC) was formed in 2020 and held its first meeting to discuss amongst other topics, SABIC's circular economy and TRUCIRCLE™ solutions. SAC comprises four non-SABIC members representing both academia and industrial expertise. The immediate focus of SAC is on differentiated materials (polymer science and processing), renewables, process break-through, feedstock diversification, and sustainability.
Previous Article
Next Article