Strategy
SABIC's sustainability strategy is guided by our ambition to be the world's preferred supplier of chemicals by 2025. Sustainability for us is about building resilience, which is essential to building the foundation that our business will thrive on in the future.
As the world struggled to establish a new equilibrium in 2021, we continued to stay the course of our sustainability strategy and reaffirmed our commitment to combating climate change at COP26, where a delegation from SABIC was invited to present. Our six sustainability materiality areas are resource efficiency, climate change and energy, innovation and sustainability solutions, circular economy, governance and ethics, and environment, health, safety, and security (EHSS). These are addressed in four strategic domains: climate change, circular economy, safer chemistry, and ESG disclosures. The ESG disclosures are aimed at ensuring increased transparency in the other three domains. The following chapters in our Sustainability Report are structured to provide our stakeholders a clear idea of how our materiality analysis cascades down to our performance.
CLIMATE CHANGE
Our climate strategy is aimed at making us carbon neutral by mid-century by building climate resilience into our business and creating roadmaps tailored to the regions in which we operate. We are already in the process of implementing a robust new ESG governance structure that embeds accountability and transparency into all our work, and we will continue to build climate resilience into our business through projects that reduce the climate impacts of our daily operations.
In 2021, we developed and unveiled our Carbon Neutrality Roadmap, which sets out a strategy to decarbonize our operations by 2050 in line with the goals of the Paris Agreement. The roadmap identifies five pathways to decarbonization – Reliability, Energy Efficiency, and Improvements; Renewable Energy; Electrification; Carbon Capture; and Green/Blue Hydrogen – along with SABIC's ongoing focus on circular, sustainable solutions, and renewable feedstock.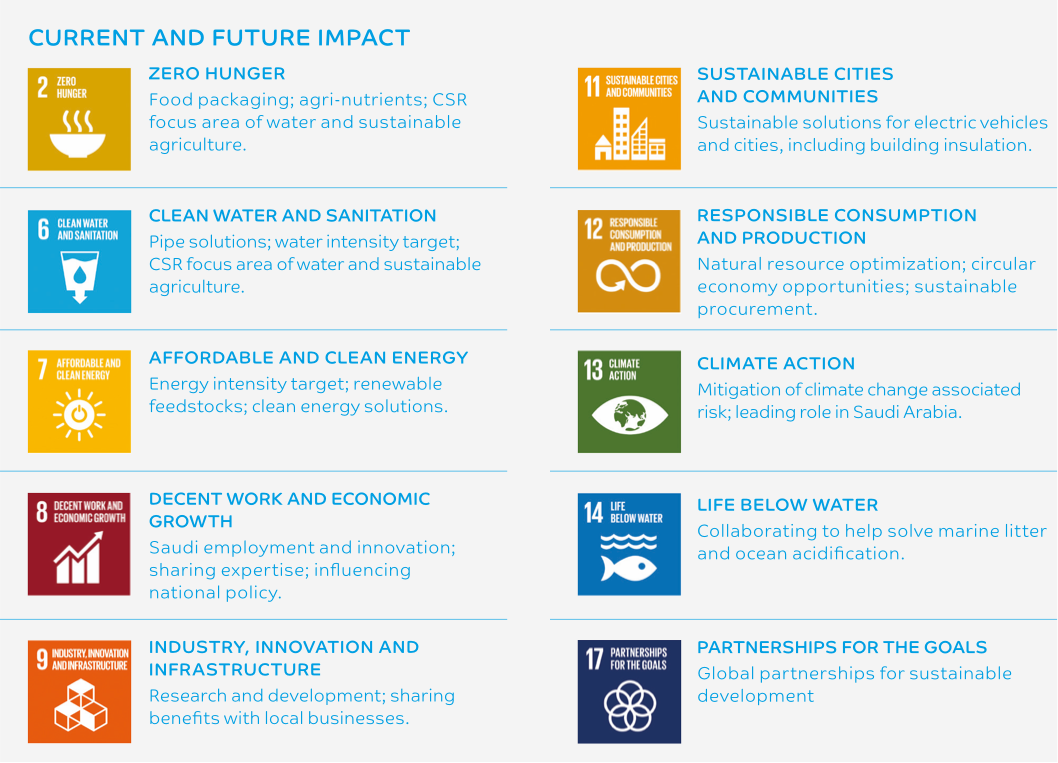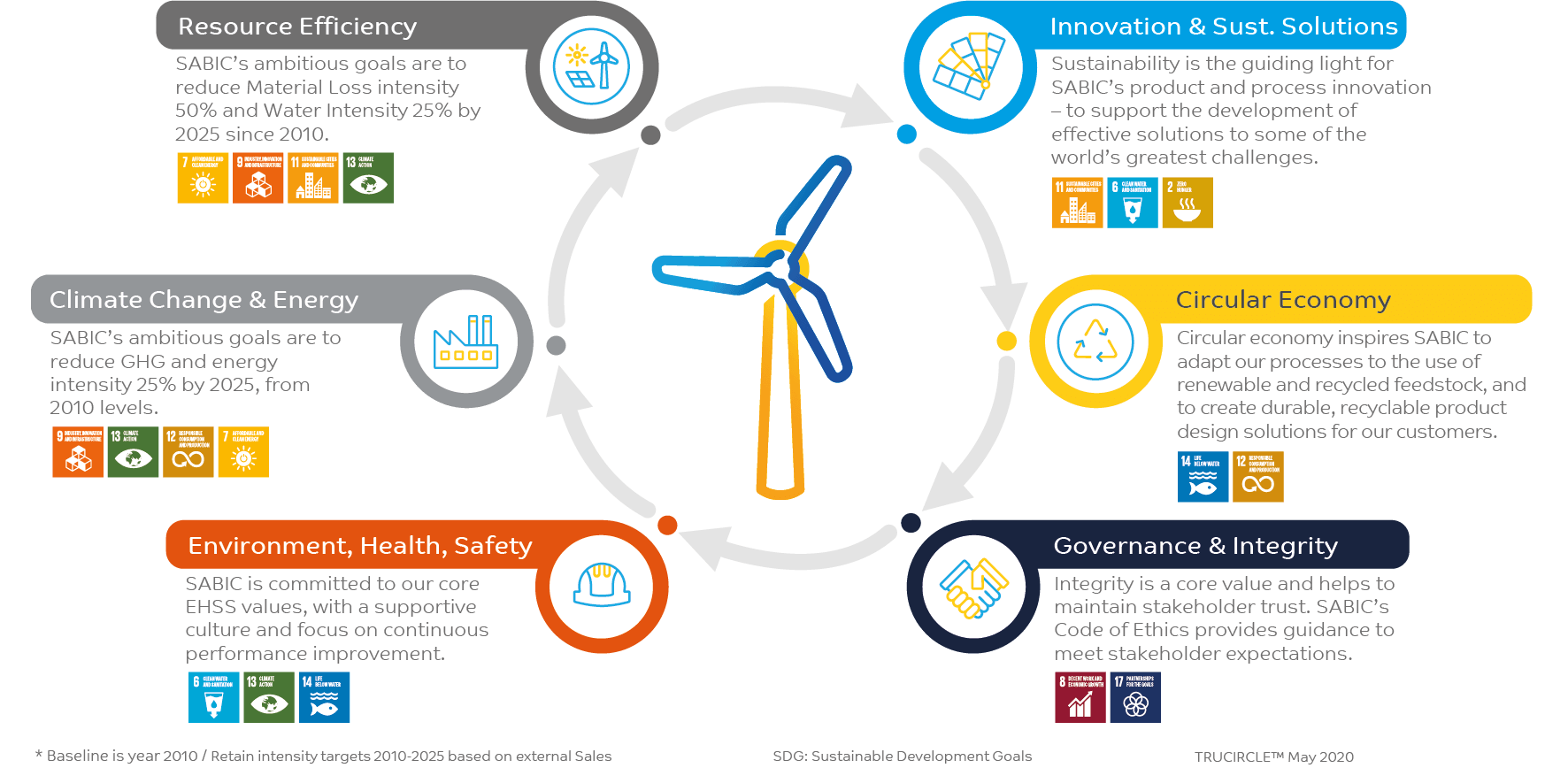 CIRCULAR ECONOMY
We are deeply committed to investment in the circular economy. The circular economy inspires us to adapt our processes to the use of renewable and recycled feedstock, and to create durable, recyclable product design solutions for our customers. Since launching the TRUCIRCLE™ initiative in 2019, we have contributed to the growth of the circular economy through various services, business models, and partnerships.
Our TRUCIRCLE™ portfolio of products and services is comprised of two initiatives: "portfolio", which includes mechanically recycled products, certified circular products, and certified renewable products; and "services", which focuses on designing for recyclability and closed- loop initiatives that involve teamwork with partners across our value chain. Together with our partners, we are developing circular solutions and fulfilling our ambition for a new ecosystem, one that closes the loop and creates a circular economy for plastics.
SAFER CHEMISTRY
Recognizing the global need to foster the sound management of chemicals, SABIC is committed to reducing or avoiding the use of Chemicals of Concern (CoC) beyond current global regulations and market needs.
Through our Safer Chemistry program, we are voluntarily removing, or reducing, chemicals of concern, and where possible, replacing these with chemicals with lower hazard footprints. While initially focusing on polymers, we are mapping all CoCs in raw materials, intermediates, and our global product portfolio. We will address the most significant CoCs in our portfolio and strive to implement Safer Chemistry principles during all stages of the product lifecycle. We will engage with our suppliers and customers to create a transition to raw materials and products with a lower hazard footprint, where viable.
ESG DISCLOSURES
ESG disclosures are a crucial component of SABIC's sustainability strategy and journey of transformation. Our aim is to look beyond identifying and managing material risks by using ESG as a lens to identify opportunities to integrate ESG considerations more deeply into our business and weigh ESG factors alongside financial factors. We took our initial steps toward telling our ESG story in a formal, systematic way with the publication of our first Sustainability Report in 2011. Our ESG reporting journey has continued over the subsequent years by way of materiality assessments, the setting of targets and KPIs, and increasing transparency.
To this end, SABIC established the ESG Reporting Steering Committee in 2020. Comprised of senior members from across the Company, the Committee's primary task is to formulate and drive SABIC's ESG reporting strategy and roadmap and promote the integration of ESG factors into core business processes and decisions.
In addition to aligning our strategies with the UN SDGs, we are also working with the World Economic Forum (WEF) framework on Stakeholder Capitalism to orient SABIC's purpose toward creating long-term value, not only for shareholders, but also our broader stakeholders. We are also actively engaged with CDP (former Carbon Disclosure Program), Ecovadis, Ethisphere Institute, WBCSD, and the Global Reporting Initiative – all of which provide us valuable guidance on our ESG disclosure journey.
In recognition of our commitment to adopting the highest ESG standards, we were honored with the Saudi Capital Market's "Best ESG Award" based on a range of key criteria, including ESG governance, frameworks used for ESG Reporting, and major ESG achievements, among other factors.
Previous Article
Next Article