Our workforce
During the pandemic, the ability to learn on-the-job and face-to-face was severely impacted. Learning experiences were transformed out of necessity, posing considerable challenges to both learners and instructors. Our HR teams have been working hard to assure learning stability by converting most of our capability building initiatives to virtual, interactive, and hybrid learning.
CONTINUING THE DIALOGUE
2021 GLOBAL TOWN HALL
The 2021 Global Employee Town Hall was held in January at SABIC's headquarters in Riyadh, and all employees across the globe had the opportunity to participate virtually. Employee questions were submitted from across the regions, and the most requested were put forward to SABIC's leadership, who addressed them "live". The town hall provided an important opportunity to bring us all together and make sure we shared the same vision and understanding of our priorities, for 2021 and beyond.
PEARL INITIATIVE
SABIC participated in a virtual panel held by the Pearl Initiative, a Gulf business-led non-profit organization that promotes a corporate culture of accountability and transparency. SABIC highlighted our approach in how we leverage employee training to build an ethical culture. We identify capable employees to train and appoint as Integrity Ambassadors across our global offices in order to disseminate a culture of compliance. The Integrity Ambassadors embody and role model a culture of integrity at SABIC, raising awareness on best practices among fellow colleagues.
SABIC LEADERSHIP WAY (SLW)
Launched in 2020, SLW 2.0 has been designed to establish the standard for companywide leadership. In July 2021, global research and advisory firm, Gartner, selected SLW as a best practice model of how to transform global business leadership in light of new internal and external challenges. Our response to the COVID-19 pandemic is a testament to the success of the SLW model.
2021 LEADERSHIP IMPACT SUMMIT
SABIC's 2021 Leadership Impact Summit was scaled up to create a collective learning experience for all mid-managers across the globe. This interactive and invigorating two-day event for SABIC's top 1,500 leaders across five time zones featured diverse speakers from across all parts of the Company and focused on personal growth.
ASIA LEADERSHIP ACCELERATION PROGRAM (ALAP)
The second batch of candidates to our Asia Leadership Acceleration Program (ALAP) was accepted in 2021. The program, launched in 2020, strengthens cross-functional communication and collaboration and provides an opportunity for all participants to improve their strategic acumen, demonstrate leadership, and create organization- wide impact.  In total, 300 employees joined workshops focused specifically on empowerment to identify bottom-up strategies, resulting in a 20% increase in empowerment in the first 12 months.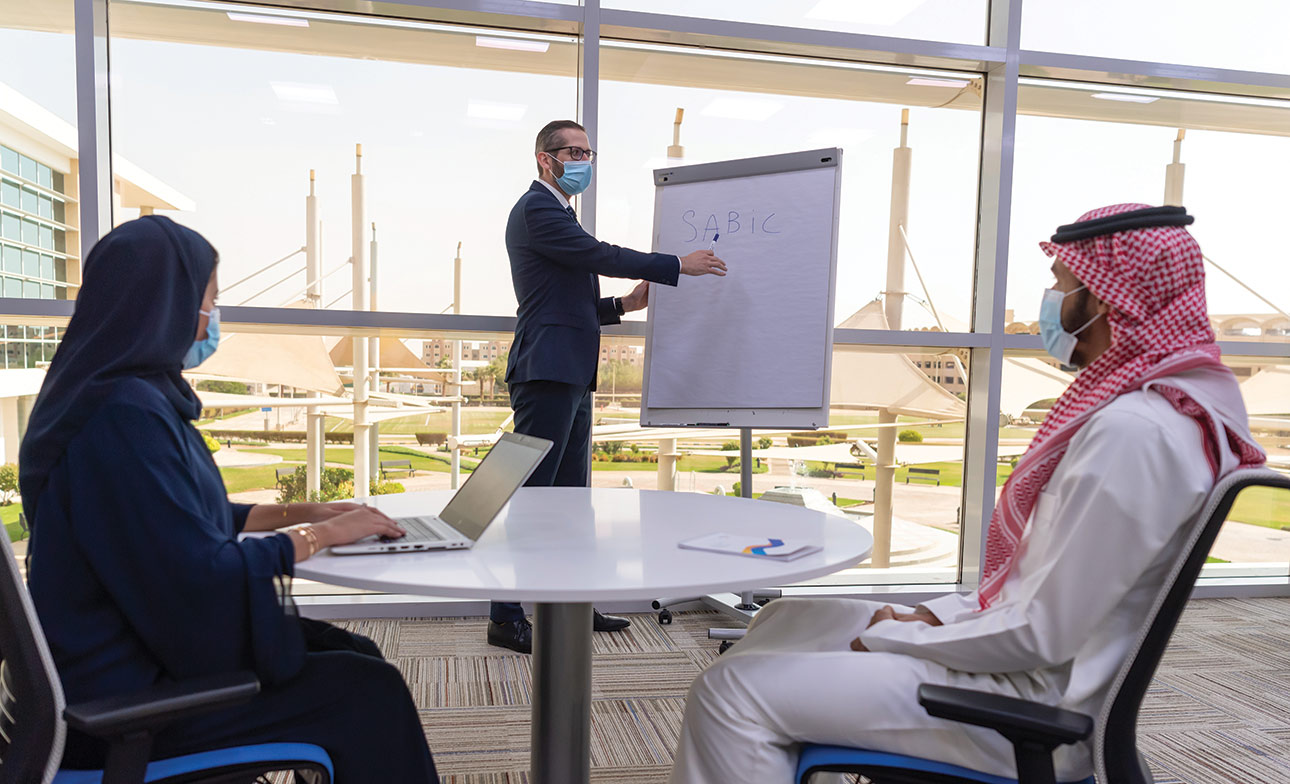 We place strong emphasis on developing and encouraging internal talent.
SABIC MENTORING PROGRAM
We place strong emphasis on developing and encouraging internal talent, as demonstrated by the launch of a mentoring program and the development of in-house coaching capabilities as a module of the HR One tool. This initiative grew from a pilot in 2020 to more than 600 mentor-matches in 2021.
NEW MANAGER LEARNING JOURNEY
At SABIC, we recognize the vital role that our managers play in developing the capabilities of their teams and motivating them. The New Manager Learning Journey is an on-the-job learning portal that focuses on providing learning support and skill building under the mentoring guidance of a manager and an HR professional. This portal is a global initiative covering all our businesses and functions (outside of manufacturing) and has fully matured during 2021, gaining significant positive feedback.
DELIVERED GLOBAL LEADERSHIP PROGRAMS

EMPLOYEES WHO ATTENDED GLOBAL LEADERSHIP PROGRAMS

EMPLOYEES WHO ATTENDED SABIC LEADERSHIP WAY 2.0 WORKSHOPS

COACHING

14

Professionally certified coaches developed

MENTORING

605

Employees enrolled in formal mentoring program

SLWAYFINDER ASSESSMENTS COMPLETED

360 SLW ASSESSMENTS COMPLETED

MID MANAGEMENT WHO ATTENDED 5 SLW SUMMITS

PARTICIPANTS IN LEADERSHIP DEVELOPMENT AMERICAS WOMEN'S NETWORK

DEDICATED TRAININGS FOR INTERNAL ESP NETWORKS
PERFORMANCE MANAGEMENT
All of SABIC's Professional population, including Executives, participate in a globally defined and managed performance annual review. In 2021, this equated to 16,018 employees (50.5%). SABIC paraprofessionals participated in locally defined and managed performance review programs that follow applicable requirements timelines. For the current talent review process performance cycle, in addition to the annual review, 79% of eligible employees completed a midyear review, re-visiting and updating their annual objectives.
THE SABIC ACADEMY
SABIC Learning played a vital role in empowering our leadership development promise by seeking design and platform adjustments that transformed significant portions of the SABIC Academy curriculum - from traditional classroom to virtual delivery. This foresight enabled 96 leadership programs courses for over 1,900 front-line and middle managers. The SABIC Academy's Digital Learning Experience (DLE) now provides greater opportunities for employees to develop their knowledge, wherever they are located.
Employees that utilized digital learning experience: 11,445
Virtual classrooms: 398
Course completions: 217,225
Books referenced: 2,074
Audio books referenced: 852
Videos referenced: 192,291
PROJECT ENDEAVOR
The second batch of participants in Project Endeavor was enrolled in 2021. Project Endeavor, introduced in our Asia Pacific region in 2020, builds employee capability by providing the opportunity for them to work on actual business projects sponsored by senior leaders - in accordance with their career interests and passions.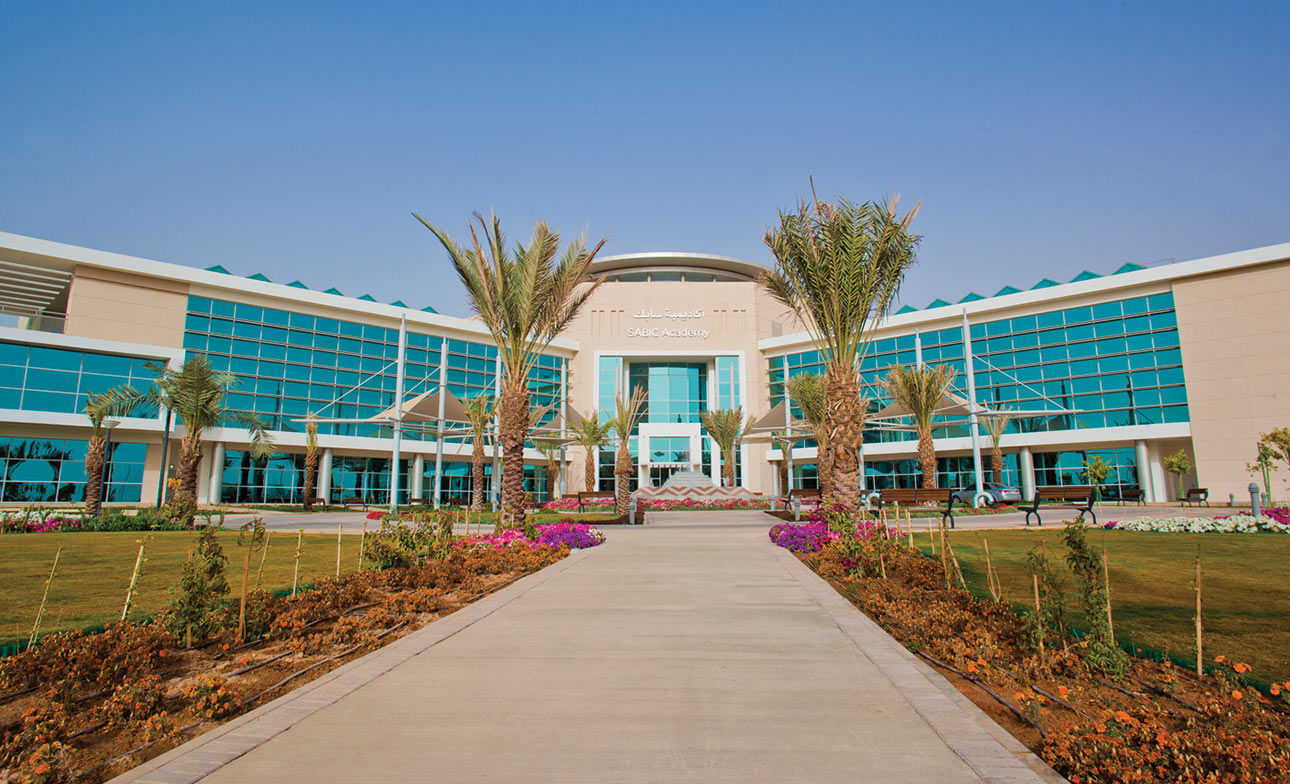 The SABIC Academy's Digital Learning Experience now provides greater opportunities for employees to develop their knowledge, wherever they are located.
EMPLOYER AWARDS
Recognizing the outstanding performance in talent strategy and longstanding commitment to personal development, SABIC was officially recognized as the "Top Employer Asia Pacific" for the eighth consecutive year in 2021. SABIC also received the "Top Employer 2021" awards in five of its key Asian markets – China for the 11th year, and India, Japan, Singapore, and South Korea for the eighth year. The award also acknowledged the Company's unwavering commitment to its employees in a year that has been shaped by the COVID-19 pandemic.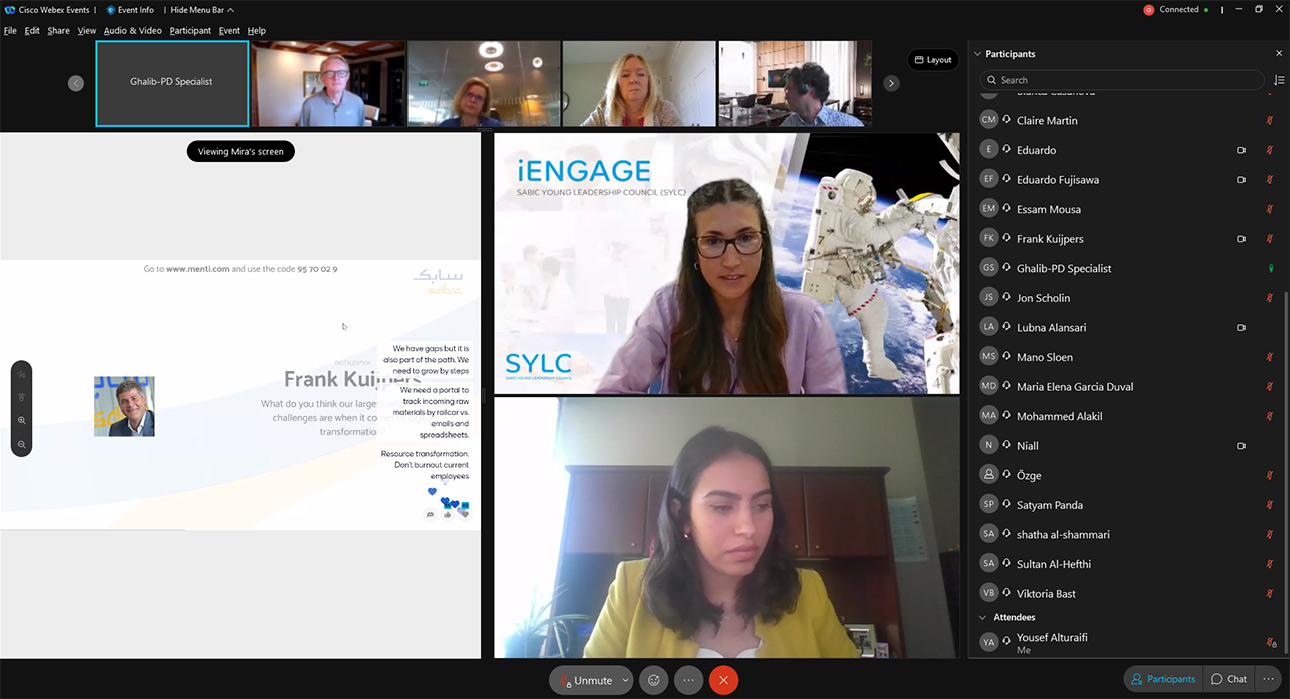 Our first iENGAGE event was held virtually for our global teams, bringing together participants from 25 countries.
SAUDI VISION 2030
QIYADAT GLOBAL-GEORGETOWN WOMEN'S LEADERSHIP PROGRAM
Aligning with the Saudi Vision 2030 to increase women's participation in the labor market to 30% by 2030, our partnership in the Qiyadat Global- Georgetown Women's Leadership Program is aimed at empowering Saudi women in the labor market. Working in collaboration with leading international experts, we aim to enhance Saudi women's competencies, preparing them to take leadership roles in various sectors, and contributing to their growth and development. The partnership is the first of its kind between a Saudi company and Georgetown University. The program benefitted women from 20 countries from the Middle East & North Africa, and the G20.
SABIC SUMMER PROGRAM FOR EMPLOYEES' CHILDREN
More than 500 male and female students, all children of employees, participated in the SABIC Summer Program 2021, held virtually under the theme "Our Children, Creativity that Matters".
RE-LAUNCH OF SWN AS "SHE"
The SABIC Women's Network (SWN) was relaunched as "SHE" with a vision of making SABIC the preferred brand for women working in the chemicals industry. The three new pillars for SHE - Women as Leaders, Women as Partners, and Women as Influencers - have been aligned with SABIC values. Supported by senior leadership, SHE aspires to influence SABIC for future success by encouraging workplace diversity, equity, inclusion, and belonging for all by creating insights and identifying areas for improvement while supporting SABIC's corporate priorities.
SABIC YOUNG LEADERSHIP COUNCIL HOLDS FIRST "IENGAGE"
The SABIC Young Leadership Council (SYLC) moved forward in its mission of uniting our global talents to shape SABIC's future by hosting its first global iENGAGE event. The virtual event brought together participants from 56 cities, 25 countries, and four regions, providing an opportunity to explore what matters to the Organization and its young leaders.
Previous Article
Next Article