Our Approach and Performance
This year, climate change became a material topic for our company.
CARBON NEUTRAL BY 2050
In 2021, we made a public commitment for all our operations to become carbon neutral by 2050. The pledge is a statement of intent and a marker that will henceforth orient all our efforts to combat the most pressing issue of our time: climate change.
To operationalize this pledge and drive us toward our carbon neutrality ambitions, the Energy Efficiency and Carbon Management (EECM) body, together with representatives from all Strategic Business Units (SBUs) and Corporate Sustainability, developed SABIC's Carbon Neutrality Roadmap. The roadmap identifies five primary pathways to decarbonization: Reliability, Energy Efficiency, and Improvements; Renewable Energy; Electrification; Carbon Capture; and Green/Blue Hydrogen. These five pathways, along with SABIC's ongoing focus on circular and renewable feedstock, will organize our efforts in the years and decades to come.
In our earlier articulations of our climate ambitions, we set out intensity-based targets and mandated reductions in our greenhouse gas emission intensity (along with reductions in energy intensity, water intensity, and material loss intensity) by 2025 from a 2010 baseline. However, evolving understandings and expectations of climate change action in the corporate landscape has prompted us to re-evaluate and reshape the targets in our roadmap. We have now set a goal of a 20% reduction in absolute greenhouse emissions (Scope 1 and 2) by 2030 to support SABIC's Carbon Neutrality commitment. The SBUs, corporate functions, and manufacturing will be actively involved in the effort to achieve the goals of the roadmap. While we will continue to report our progress on both intensity-based and absolute reduction targets through 2025, these new absolute reduction targets will be our primary focus after 2025.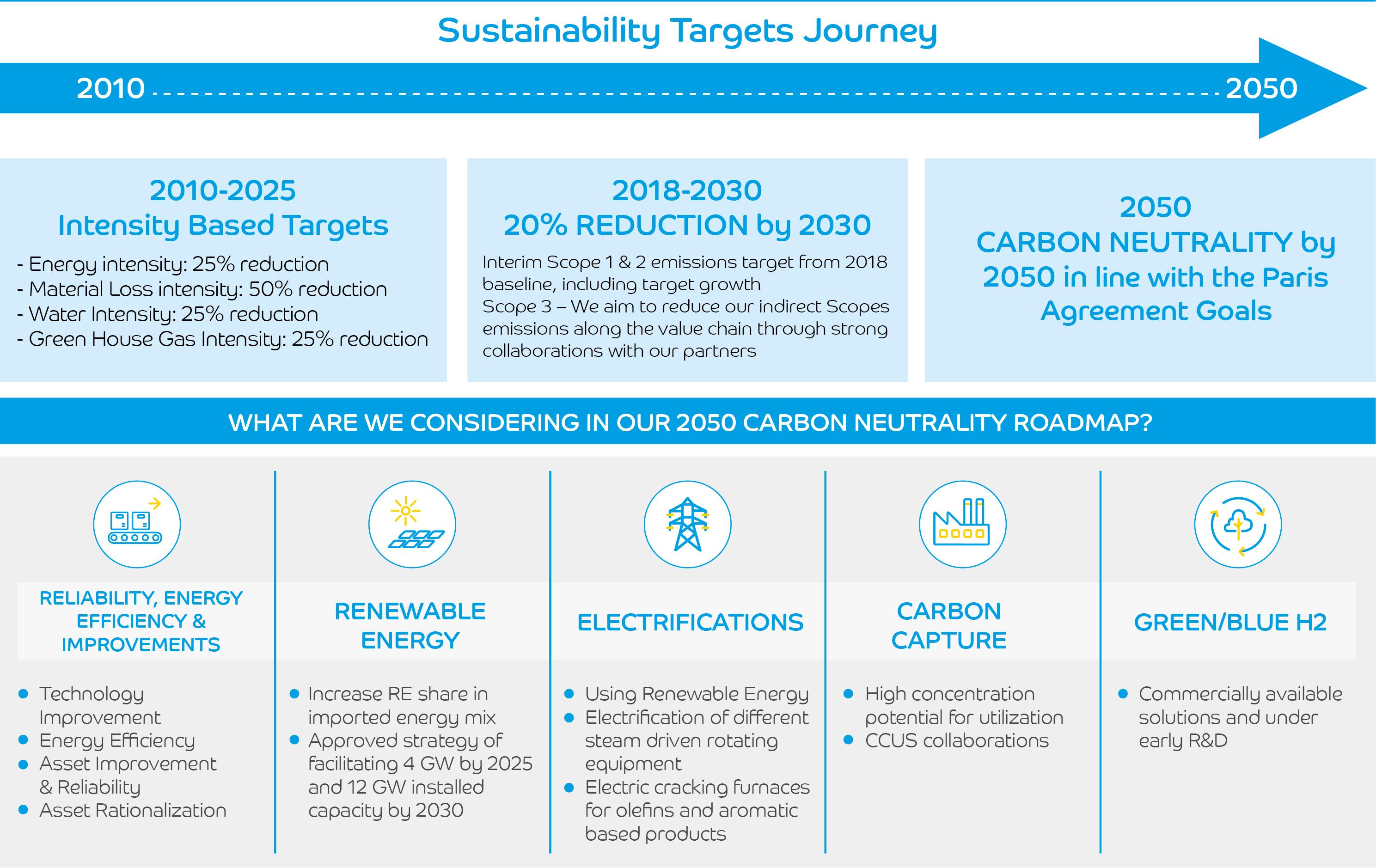 EXPLORING BLUE/GREEN AMMONIA
In 2021, SABIC continued its low-carbon journey by exploring various applications for ammonia outside of fertilizers and chemical intermediaries and expanding into power generation, shipping fuel, and acting as a hydrogen carrier. We are also exploring opportunities in green ammonia production using sustainable electricity, water, and air to reduce the carbon footprint in existing affiliates. Producing green ammonia via green hydrogen derived from water electrolysis is becoming more cost-effective and will eventually compete with conventional ammonia production using non-renewable fossil fuels. A proposal for installing a small electrolysis unit is under a feasibility evaluation. These initiatives will become vital elements of SABIC's carbon neutrality roadmap as we progress.
PLANT OF THE FUTURE
SABIC Engineering & Project Management and Corporate Sustainability co-hosted a Plant of the Future summit in 2021. This hybrid event brought together representatives from global functions in an effort to educate on sustainability and chart a path for transformational change in SABIC Growth Projects that will enable SABIC to design and build globally the most competitive and sustainable new capital assets in 2030-2050.
CLIMATE GOVERNANCE
We have strengthened our internal governance through the creation of two additional new structures aimed at meeting regulation, setting targets, and increasing disclosure.
The first structure is our Energy Efficiency and Carbon Management (EECM) body, which oversees the Carbon Neutrality Roadmap and contributes to the overall roadmap for SABIC's energy-efficiency portfolio.

The second structure, our ESG Reporting Steering Committee, which includes representation by senior managers across SABIC. This committee sets general ESG reporting strategy, which includes consideration of climate risk, goals, metrics, and disclosure.
CLIMATE RISK AND RESILIENCE
SABIC is working to improve our understanding of climate risk and build resilience so our Company can withstand the inevitable impacts of climate change. Renewable energy is our main tool to reduce Scope 2 greenhouse gas (GHG) emissions, so we have long-term targets to secure 4 gigawatts of renewable capacity by 2025 and 12 gigawatts by 2030. Construction is underway at our Cartagena, Spain site, where we will operate our polycarbonate plant with 100% renewable electricity by year-end 2023 (an expected 70 kton CO2 emissions reduction). The current renewable energy capacity at SABIC is comprised of small- scale solar installations, with 2021 added capacity highlighted in the GHG emissions Scope 2 section of this Report.
CLIMATE DISCLOSURE
Our reporting boundary for our Environmental Sustainability KPIs is in line with current financial consolidation; however we have opted to include 3.5 SABIC affiliates – Kemya, Sharq, Yanpet and 50% of SAMAC – that were moved outside financial boundaries in 2020* as part of the total numbers.
In 2021, SABIC maintained our overall B rating through our CDP climate disclosure, and we continued our efforts with the CDP Supply Chain Program. We added the CDP Water Disclosure (internal rating only) and aligned our water reporting to GRI 303 Water & Effluents, including water withdrawal, water discharge, and water consumption accounting. We are working to align our disclosure with TCFD recommendations, which help financial markets accurately assess the costs of global warming. We have also continued to use the EcoVadis sustainability ratings platform, maintaining our Platinum Medal in 2021, which is awarded to companies that score in the top 1% for sustainability practices.
SAUDI ENERGY EFFICIENCY PROGRAM (SEEP)
In line with our commitment to SEEP, our new climate governance structure, EECM, has established several virtual teams to develop a roadmap with different options that allow SABIC to support the government's 2025 SEEP goals.** To meet the more stringent targets for the second SEEP cycle, SABIC will embark on seven key megaprojects with an expected investment of US$1.1 billion to help us reduce the primary energy deficit by 13 million MMBTUs. These new megaprojects, along with previously committed projects, corporate renewable energy initiatives, and feedstock utilization credits will allow us to close the 47 million MMBTU second cycle SEEP deficit.
* Please see Note 39 of SABIC's Financial Statements 2020 for further details.
** Note that the SEEP boundary includes all SABIC-operated assets in KSA.
Our Performance
KEY METRICS
These metrics provide the changes in performance compared to 2010 for GHG emissions, energy use, freshwater use, material loss, and flaring reduction. Total CO2 utilization is the absolute usage in 2020. The intensities are based on units per metric ton of external production sales.
Greenhouse-gas intensity

17.5%

reduction

Energy
intensity

11.3%

reduction

Water
intensity

13.7%

reduction

Material-loss intensity

45.5%

reduction

Flaring (TON CO2-EQ)

1,811,884

(million)

Flaring
emissions

51.1%*

reduction

Total CO2 utilization

3.61*

(million metric tons)

Absolute Waste

11.9%

reduction