AGRI-NUTRIENTS
SABIC Agri-Nutrients supplies customers throughout the Middle East, Far East, Africa and the US with a wide variety of fertilizers, from general to highly specific, helping address the world's ever growing demand for food.
This has been a year of scientific initiatives, new sales and territories, continuing to set the pace in helping meet the increasing global need for food, while also helping to safeguard the environment.
The European Union this year led the world in recognizing plant bio-stimulants as distinct agricultural inputs. They updated regulations on polymer coated controlled release fertilizers to introduce biodegradability of the polymer coating. Germany mandated the use of urease inhibitors. Australia and New Zealand enacted new nutrient loss prevention regulations. New emissions legislation in India brought new possibilities for SABIC TGU (technical grade urea) products.
All over the world, the challenges of feeding the world – sustainably – continued to grow. SABIC continued building our capabilities to address these challenges. Our strategy within Agri-Nutrients is to maintain our customer-focused approach, which includes broadening our global asset footprints in base fertilizers, downstream integration and distribution, and increasing our share of differentiated products to 20% of the total product portfolio. We strive to develop highly efficient products and provide agricultural solutions that suit different agricultural crops in differing climatic and soil conditions.
FINANCIAL HIGHLIGHTS
Revenue in 2019 was SAR 7.12 billion, a decrease of SAR 0.82 billion, -10%, compared to SAR 7.94 billion in 2018 due to the implemention of the SAFCO-3 reliability project and performing of scheduled maintenance activities, besides non-availability of main products of Al-Bayroni due to a turnaround.
Income from operations for 2019 was SAR 2 billion, a decrease of SAR 0.3 billion, -13%, compared to SAR 2.3 billion in 2018. The decrease is attributed to lower average selling prices in addition to decrease in sales volume.
OPERATING HIGHLIGHTS
SABIC innovation is at a premium. Our scientists continued to respond to current and anticipated market demands by improving existing formulations and developing new ones, not only to increase crop yields and quality but also to address other related challenges. In 2019, SABIC focused on producing the next generation of more environmentally conscious and economically sustaining fertilizers.
SABIC has already developed and patented the world's first biodegradable controlled release urea fertilizer, formulated to deliver synchronized nutrition at exactly the time and rate the growing crop needs it.
SABIC biodegradable polymer coated urea will have the thinnest coating in the market, allowing for maximum nutrient content per product unit weight and offering superior wear and tear resistance. The spent coatings, unlike those of competitor products, are certified biodegradable polymers.
Four patent families have been filed so far to protect this ground-breaking technology.
Post proof of concept conclusion, our team is currently engaged in multiple crop trials all over the world, to demonstrate the product value proposition.
Excellent progress has been achieved in developing the necessary design and project engineering to turn biodegradable controlled release urea fertilizer into a marketable, world-leading sustainability innovation.
Another product developed by SABIC, Urea Calcium Sulphate (UCS), is the first of a kind that uses by-product calcium sulphate. UCS is a stable fertilizer, which delivers essential nutrients like nitrogen, calcium and sulfur to crops. Its key characteristic is that the release of the urea to soil is slowed, improving overall nitrogen efficiency compared to that of normal urea. The commercial trial of the product was successfully conducted at the Ibn Al-Baytar plant in 2019.
SABIC also developed Stabilized Nitrogen Urea (Seedcore®), a unique technology that will allow us to inject the urease inhibitors into the urea melt unlike other commercially available technologies. It has been scientifically proven to perform better than similar products.
We have also been successful in completing commercial trials at the Ibn Al-Baytar plant for the first water soluble NPK granules grade (Rasmadah) to address the growing demand for water-soluble fertilizers.
We continued our efforts to increase plant reliability, efficiency and production. In 2019, the SAFCO III ammonia plant's reliability improvement project was completed.
Our first direct MAP/urea shipment to Brazil represented an important milestone in our push for an increased South American presence. Our phosphate presence in Iraq was up 35% year on year, while overall global phosphate sales grew 7%, marking the first full year of commercial production at SABIC JV Ma'aden Wa'ad Al-Shamal Phosphate Company.
A new model 'Bulk in Container' offering targeted end/small users with a premium proposition, helped increase sales from 13KMT to 65KMT. Phosphate sales grew well in the US and in Brazil, where a 44% increase further strengthened our presence in this key South American market.
In our strategic partnership with the Saudi Ministry of Environment, Water and Agriculture, SABIC organized numerous activities including a field training day for farmers in Sajer, aiming to help drive improvements in farm management and optimize exploitation of SABIC products' full potential. We also sponsored key Saudi dates and fruit festivals.
SABIC was the largest exhibiting company at the Sahara International Agricultural Exhibition in Egypt – the largest industrialized agricultural exhibition in the entire MEA region. In coordination with the Arab Fertilizer Association in Cairo, SABIC helped to conduct a training course for employees of the Saudi Ministry of Agriculture on modern methods of fertilization – a first in the Arab world.
SABIC joined the Riyadh and Eastern Chambers of Commerce in the first joint cooperation on field days in Dawadmi province and AlQarih Alolia. Our field training schools continued to help raise crop productivity in Saudi Arabia. The training was extended to Oman for the first time, in cooperation with the Omani Ministry of Agriculture and the Arab Fertilizer Federation.
SABIC and SAFCO received the Industry Stewardship Champion gold medal at the International Fertilizer Association (IFA) Strategic Forum in Versailles, France. Industry Stewardship Champion recognizes companies that have participated in all IFA's most recent benchmarks related to employee safety, environmental performance, energy efficiency and CO2 emissions.
SUSTAINABLE AGRICULTURE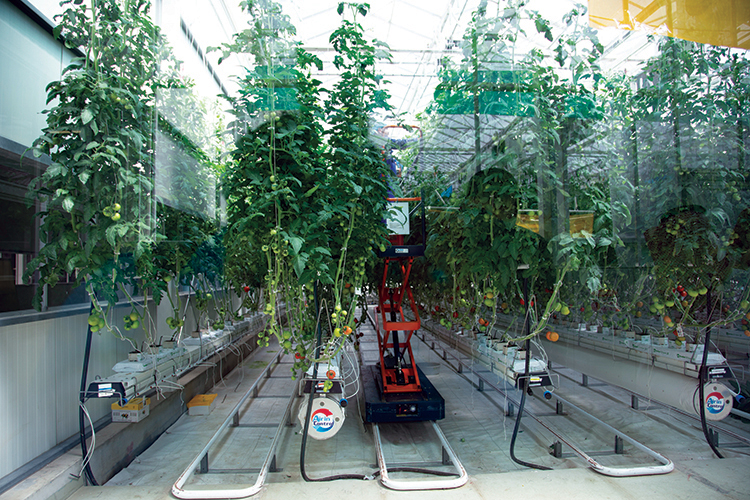 The SABIC-supported National Research and Development Center for Sustainable Agriculture (Estidamah), based in Riyadh, maintained its institutional collaboration with the agriculture sector with its applied research and training programs on innovative farming techniques. With 2,400 hours dedicated to training 150 people in 2019, the center helped spread knowledge among Saudi Arabia's growers in sustainability-related fields such as integrated pest management, water and nutrient management, crop management and greenhouse climate control. For the years ahead, the center will continue to seek to provide practical solutions to public and private enterprises, to enhance farming efficiencies and effectiveness, and to help boost the national agriculture industry.
LOOKING AHEAD
We will build our lead in biodegradable controlled release urea fertilizer, capitalizing fully on our first-mover advantage, and fast track improved methodologies for inhibitor-treated urea products. We will leverage our core competencies to build our value added portfolio of multi nutrient fertilizers such as N+S compound fertilizer, micronutrient treated urea, and other grades combining secondary nutrients with nitrogen. We will institute new reliability improvement initiatives to further reduce production interruptions and increase output without raising feedstock consumption. We also plan massive expansions in our TGU capacity by converting to non-UF (urea formaldehyde) additives, and to begin fully leveraging our existing joint ventures to bring new NPK/NPS (phosphate) products to market.
Following our share-purchase agreement with SAFCO in December 2019, we are focusing on boosting shareholder value by enhancing capabilities, making breakthrough technological advances, and exploring growth opportunities through SABIC's wide reach across global markets.
Previous Article
Next Article