Enabling Saudi Vision 2030
SABIC remains committed to being a key enabler of Saudi Vision 2030: a bold and ambitious drive to reduce Saudi Arabia's dependence on hydrocarbon exports, and build a broad-based economy for a sustainable future.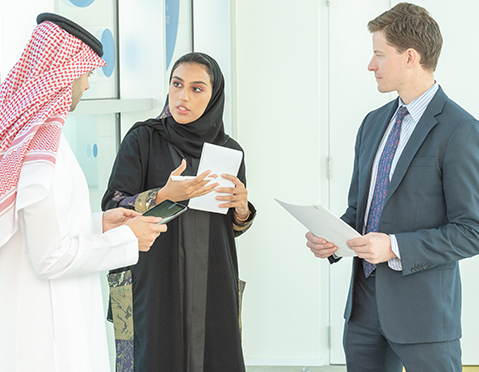 SABIC is a global and diverse organization.
SABIC is developing programs to help the creation and development of small and local businesses, leveraging its core strengths in technology and intellectual property, providing skills, materials and access to financial support, and helping disseminate global best practice. We also continue to work on developing mutually-beneficial partnerships with governments in Saudi Arabia and overseas, foreign investors, financial institutions, and complementary commercial organizations. Leveraging our global networks, industry-leading performance, innovation, and creativity in the design and execution of programs to deliver real, effective support where it's needed, we will continue to play a central role in transforming Saudi Vision 2030 into reality. 
NUSANED™
NUSANED™ is a SABIC initiative that has become a national platform, bringing together public and private sector institutions to help small businesses get started and assist established ones to grow. In 2019, we continued to support business initiatives, increase local procurement, and generally help the small and medium business sector to reduce unemployment, build local capabilities, and boost national GDP.
The NUSANED™ Council, the program's executive arm, brings together leaders from SABIC and the Ministry of Labor, Ministry of Industry and Mineral Resources, Saudi Arabian General Investment Authority (SAGIA), Small and Medium Enterprises General Authority (Monshaat), and the Local Content and Government Procurement Authority. It meets three times per year, during which it reviews progress, sets new targets, and devises strategies for their achievement. It also plays a key role in enabling partnerships, creating new initiatives, and evaluating entrepreneurs' eligibility for local investment.
NUSANED™ this year received 882 investee registrations. 453 were approved and moved to the pre-feasibility stage; 205 were moved on to the next stage; 132 were approved, having completed their full feasibility studies; and 62 graduated with full support packages, addressing 8 out of 12 targeted clusters of Saudi Arabia's national industrial strategy.
The NUSANED™ Executive Council has signed a number of agreements under its ExSABIC initiative, which seeks to create jobs for Saudi youth by providing on-job training from three to seven months at SABIC sites and affiliates in Saudi Arabia. The initiative aims to qualify national talents to support local companies that contribute to increasing local content in order to meet the objectives of Vision 2030. 
Muahal, the workforce development arm of NUSANED™, focuses on creating new jobs, localizing current ones, and enhancing local employers' capabilities. In 2019, it helped create 2,215 jobs for Saudi workers, while enhancing the capabilities of 85 women and qualifying them for rubber technology industries. Besides, 70 Saudi entrepreneurs have been qualified to start their own ventures with their business ideas – from inception to implementation.
Besides Muahal, NUSANED™ has three other pillars: Entema – an opportunity gate to invite, receive and analyze investor opportunities, evaluate them and determine their feasibility; Da'aem – facilitates SABIC support for approved investment opportunities; and Investment Funds – identifies and facilitates financing solutions for commercially feasible projects.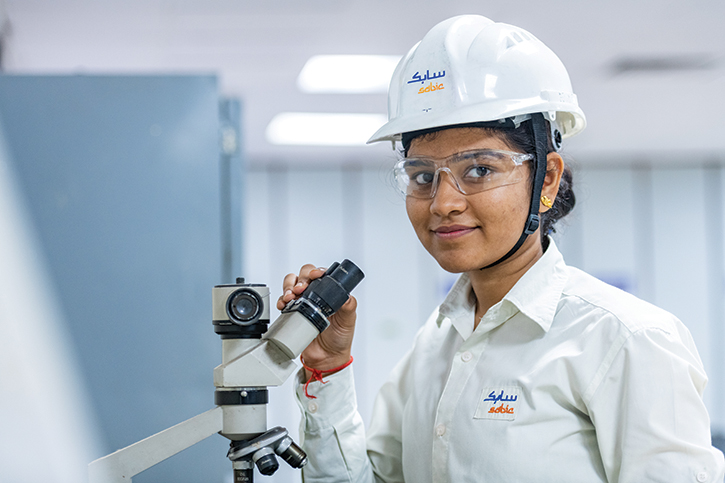 SABIC global economy centers supporting the drive for a strong national economy
IMPORT SUBSTITUTION
In support of differentiated local industries and to replace imported products, SABIC has successfully secured and delivered the first and second batches of butadiene to Global Downstream Industries (GDI) to produce sulfolane. The deal will enable GDI to set up a world-scale complex for the production of a wide-range of downstream specialty chemicals in Jubail Industrial City. The deal is expected to make a number of currently imported products available locally to various industries such as aromatic industries, pharmaceutical industries and agriculture. 
EMPLOYMENT OF WOMEN
SABIC, led by its Local Content and Business Development Unit (LCBDU) and Corporate Human Resources, launched a new initiative in November 2019 to boost the employment of women in the industrial sector.
The program aims to provide small and medium enterprises – including companies benefiting directly from NUSANED™ – with qualified female recruits whose skills have been built up by training and on-the-job experience in relevant roles within SABIC, with support and guidance from senior colleagues.
Women participating in the program are offered the chance to work in SABIC or one of its affiliates for between 4 and 12 months, gaining skills and expertise that will help them compete in the local labor market, and ultimately apply them to the benefit of their new employer.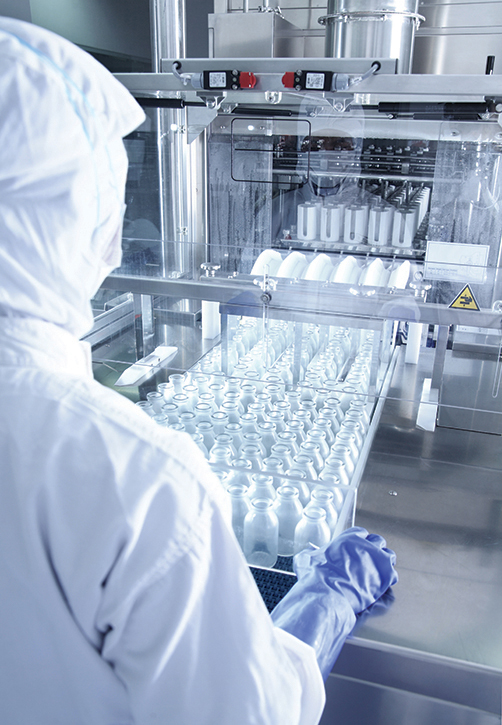 MAINTAINING MOMENTUM
Over the coming years, we will continue to leverage our resources, including the Home of Innovation™ in Riyadh and our global technology centers, in support of the drive for a strong, growing and sustainable national economy that can provide jobs for Saudis, and meet their needs into the future.
Our Local Content initiative will be key to attracting investments in innovation and technology, procurement and manufacturing, and in helping create thousands of new jobs for Saudis, to maintain our momentum and our progress toward meeting the objectives embodied in Saudi Vision 2030.
We will continue to leverage our resources in support of the drive for a strong, growing and sustainable national economy that can provide jobs for Saudis, and meet their needs into the future.