HUMAN CAPITAL
At SABIC, we believe our people are our key enablers: driving performance, delivering growth, and building relationships rooted in trust and mutual benefit.
To become the preferred world leader in chemicals, SABIC aims to attract, build and develop high performing teams. SABIC's Human Resources (HR) helps build a vibrant work environment worldwide: continuous learning, excellent career opportunities, and competitive rewards for performance.
EMPLOYEE VALUE PROPOSITION REFRESH
In 2019, we refreshed our Employee Value Proposition, to more accurately reflect the SABIC of today and the challenges of the journey ahead.
A Global Employee Survey with a participation level of around 19,000 employees saw an open and candid two-way dialogue: sharing ideas and perspectives, goals and ambitions, with a view to developing a greater common understanding between employees, workforce and leadership helped improve communication, build relationships, and establish a shared foundation for the future.
The refresh also saw the launch of HR One Platform – a project designed to integrate multiple global HR solutions into one, simplifying the system, enabling synergies, enhancing the entire process of recruitment, retention and development, and improving working life for all of our people.
The annual global CEO Dialogue Town Hall was held in January this year at our Riyadh corporate headquarters and live-streamed to sites throughout the Middle East, Europe, the Americas and Asia-Pacific, sharing our progress over recent years, the economic and environmental challenges we face today, and our plans to meet them and grow.
CONTINUOUS LEARNING
Continuous learning has always been key to SABIC. We are committed to continually improving our knowledge, ideas and capabilities, helping all our stakeholders achieve their ambitions, and empowering them to change the world for the better.
The SABIC Academy offers competency-based learning across 12 career lines via both classroom and online teaching, with a wide range of courses accessible to every one of our 33,000+ employees around the world, including programs leading to recognized certification in disciplines like Sales, Marketing, Finance, Manufacturing and Supply Chain.
Our leadership development processes support our SABIC Leadership Way: four priorities – Talent Champion, Collaboration Partner, Innovation Pioneer and Excellence Driver – to help identify, nurture and develop skills, behaviors and mindsets that drive meaningful innovations, inter-functional collaboration, and cost reductions throughout the business.
This year also saw the launch of SABIC Young Leadership Council – focused on SABIC's young leaders, and #Accelerate: a new platform to help talented and passionate employees accelerate their own development by joining critical projects or new initiatives, whether within their daily job scope or beyond it.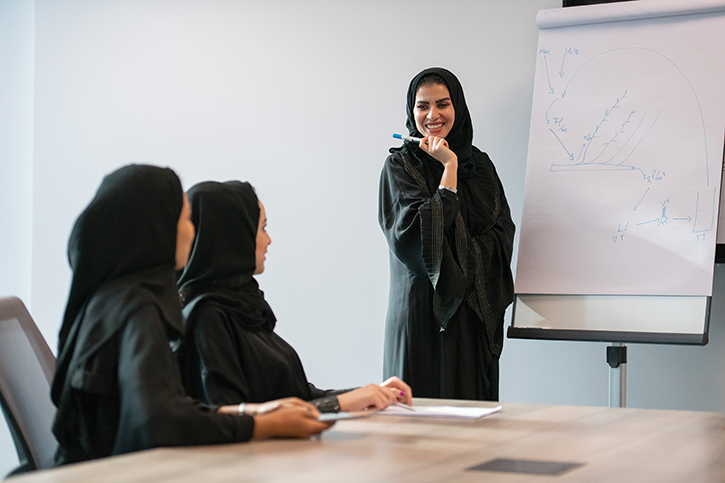 We are committed to continually improving our knowledge, ideas and capabilities.
VISION 2030
Since the 2016 launch of its Government Leadership Program, the SABIC Academy has delivered 11 sessions to more than 400 Saudi government officials – over 120 this year – developing key skills and mindsets, and enabling networking among business and government leaders.
In 2019, our annual Summer Innovation Program in Riyadh, Jubail and Yanbu emphasized three educational tracks – Manufacturing, Research & Development and Business – under the theme, "Our Youth: Vision and Aspiration." Over 400 participants used innovative media such as virtual reality, artificial intelligence, gamification and fabrication in the program, which concluded with an exhibition in each region showcasing 69 projects linked to SABIC's business portfolio.
The Saudi HR Think Tank, launched in 2018 with the Ministry of Civil Service, gained an Advisory Board, with HR leaders and influencers from SABIC and the government sector, along with a new online presence. SABIC also honored five winners of its Entrepreneurship Award – one of the programs of NUSANED™, a SABIC initiative to support local content and help Saudi entrepreneurs create and grow businesses in support of Vision 2030.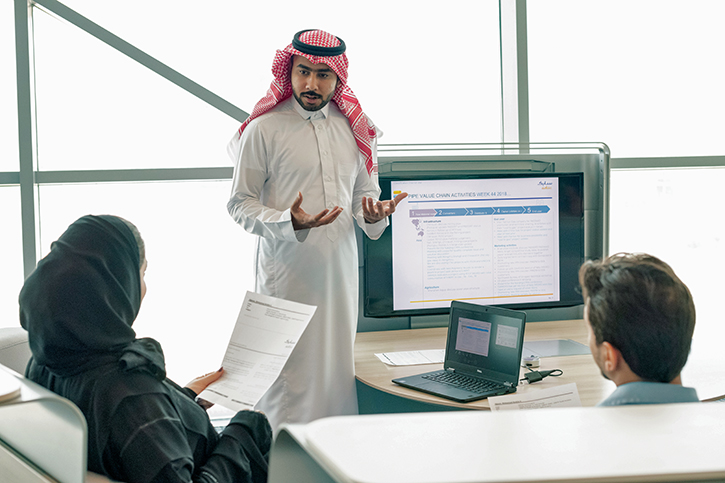 Our aim is to attract, build and develop high performing teams.
STRATEGIC WORKFORCE PLANNING
Strategic workforce planning is about having the right people in the right job at the right time – and at the right cost.
2018 saw SABIC adopt, adapt, develop and execute best practice methodology, with a five year plan identifying critical capabilities, and establishing an evidence-based decision making process to aid employee retention, talent identification and development, gap assessments, all integrated with our operational business planning cycle. In 2019, the plan was updated through running a number of "what if?" scenarios, assessing potential projects in areas like automation and artificial intelligence, as well as regional gap-closing strategies and migration paths, for their financial and workforce implications for business units and corporate functions.