SUSTAINABILITY
2019 saw the launch of SABIC's Sustainability Development Goal Roadmap, aligned to the UN 's Sustainable Development Goals (SDG s), outlining ambitious targets relating to resource efficiency, climate change, the circular economy, food security, sustainable infrastructure, and preservation of the environment.
The Roadmap, integral to SABIC's 2025 strategy and underpinning its sustainability program, encompasses the entire value chain from sustainable feedstock sourcing to energy efficiency, from sustainable product and process innovation to advocacy and multi-stakeholder collaboration.
SABIC this year received recognition as a leader in sustainability reporting for the second consecutive year by the World Business Council for Sustainable Development, whose Reporting Matters survey of 159 leading global companies commended the 2017 Making a Difference report for its strategic approach, materiality refresh process articulation, and corporate strategy alignment. In June SABIC also received recognition from the American Chemical Council, winning their first-ever sustainability leadership award in Environmental Protection and Circularity for its certified polymer initiative.
We were also among the global chemical industry's first to achieve the British Standards Institute's PAS 2060 carbon neutrality standard. Besides, SABIC's global headquarters was certified as a carbon-neutral site in 2019.
MATERIALITY ASSESSMENT
SABIC has undertaken a comprehensive refresh of our 2013 materiality process, using hard data to build on 2013's qualitative approach and set new five year priorities.
Six core materiality areas and nine for developing step-change targets were defined, with materiality focused on priority areas, and supply chain, human capital, and product stewardship redesignated as continuous improvement, partly reflecting maturing programs that now meet business needs. New step-change key performance indicators now target opportunities in areas such as renewable energy and circular plastics, while reducing impacts through waste and flaring.
A CIRCULAR MILESTONE
This year brought a major milestone in SABIC's groundbreaking project to turn mixed plastic waste into certified circular polymers. Launched in January, this key "market foundation stage" element saw pyrolysis oil feedstock produced by Plastic Energy Ltd from mixed plastic waste introduced at SABIC's Geleen site in The Netherlands.
SABIC also began production and commercialization of certified circular polyethylene and polypropylene, in preparation for the planned 2021 start-up of commercial plants to produce the alternative feedstock, accredited through the International Sustainability and Carbon Certification plus (ISCC+) scheme, which certifies circular content and standards from source to end product.
SUSTAINABLE SOLUTIONS
This year, SABIC launched numerous ground-breaking ranges of sustainable solutions, in automotive & transportation, packaging, consumer goods & appliances, personal care & healthcare, and building & construction.
AUTOMOTIVE & TRANSPORTATION
With vehicle weight reduction lowering CO2 emissions and improving fuel economy or electric vehicle range, automakers continue to seek lighter construction materials that will not compromise high strength and performance.
PACKAGING
Plastic packaging offers many benefits, from physical protection to extended shelf life. It can also play a crucial role in cutting waste in the global food supply, so long as it complies with stringent regulations on consumer safety and the environment. SABIC, having committed to make all its packaging recyclable or refillable by 2021, is at the forefront of developing greener solutions through scientific innovation and strategic collaborations.
Working with brand owners and customers, SABIC has developed four new circular packaging solutions, including the company's flagship certified circular polymers created from chemically recycled mixed plastic waste, and other advanced circular products such as certified renewable polyethylene and polypropylene, polymer resins made from mechanically recycled polymers, and products that produce minimum waste and increased recycling capabilities.
CONSUMER GOODS & APPLIANCES
Plastics play an ever-increasing role in innumerable products which have become staples in the daily life of millions all over the world. Manufacturers seek materials that will enable them to create products that are strong, light and durable, with excellent functionality and performance. Many add sustainability to that want list, along with design and aesthetic flexibility.
SABIC's decades of experience deliver, in products like Trucircle™ and other solutions, as seen in a raft of products like:
Tupperware® Eco Straw and drinking tumbler: Portable and reusable, Eco Straw and a new drinking tumbler help reduce single-use plastic waste, through both the material used and the applications. Both are made from SABIC certified circular PP polymer, from a mixed plastic waste feedstock.
Royal Philips Avent Natural Baby Bottles: The SABIC certified circular PP polymer used in the prototype new iteration of this safe, transparent feeding bottle results in a reusable product that helps reduce plastic waste.
Royal Philips Senseo® Quadrante coffee machine water reservoir: With an aesthetically refined design, the SABIC certified circular PP polymer used for this prototype water container that could be recycled enables faster cycle times thanks to a lower processing temperature than standard materials, for energy savings of up to 15%.
Calor steam iron: High flow SABIC® PPA20 impact copolymer enables an advanced design for a lighter, high-gloss, high-strength and scratch resistant product, while supporting the potential for component recyclability.
Signature Pack cartons: They are coated with plastic made from SABIC's certified renewable PE, uses a second-generation, animal free, bio-based feedstock such as waste from wood. It is an easy drop-in solution to current production processes.
SABIC's TRUCIRCLE™ initiative also includes our new polycarbonate (PC) based on certified renewable feedstock, and mechanical recycled polymers, besides our new Linear Low Density Polyethylene (LLDPE) polymer designed for creating biaxially oriented polyethylene (BOPE) films.
PERSONAL CARE AND HEALTHCARE
The personal hygiene industry is constantly seeking advanced material solutions to extend the limits of safety and convenience, function, sustainability, and cost control. Growing, more prosperous populations, increasingly preoccupied with health and personal care, are also helping drive a continual stream of innovations.
As a strategic material solutions provider to the sector, SABIC works with its customers to develop new products that deliver personal care & healthcare applications that are lighter and safer, more efficient, comfortable and sustainable, and more aesthetically and emotionally engaging.
SABIC® Purecares polymer portfolio products such as new SABIC® PP 514M12 ultra-high melt flow resin enable lightweight, breathable fabrics for nonwoven items such as diapers, sanitary products and surgical gowns, while advanced spunbond PP materials help reduce environmental impact.
SABIC helped REN Clean Skincare implement new circular solutions with a transparent look and feel, while enabling complex assembly of tight-tolerance parts, such as for airless packaging systems. Certified circular PP polymers used for the container, closure and other parts of Evercalm™ day cream airless packaging, meet the needs with no compromise on performance or aesthetics.
BUILDING AND CONSTRUCTION
The architectural, construction and water management industries constantly seek new materials to help meet the environmental challenges they face. As a leader in the development of lightweight, robust and energy efficient solutions, SABIC sustainable materials are quietly transforming pipe, energy, electrical and structural applications.
SABIC's ninth Sustainability Report details the company's performance and commitment to sustainable business practices, including its Environmental, Social and Governance (ESG ) initiatives.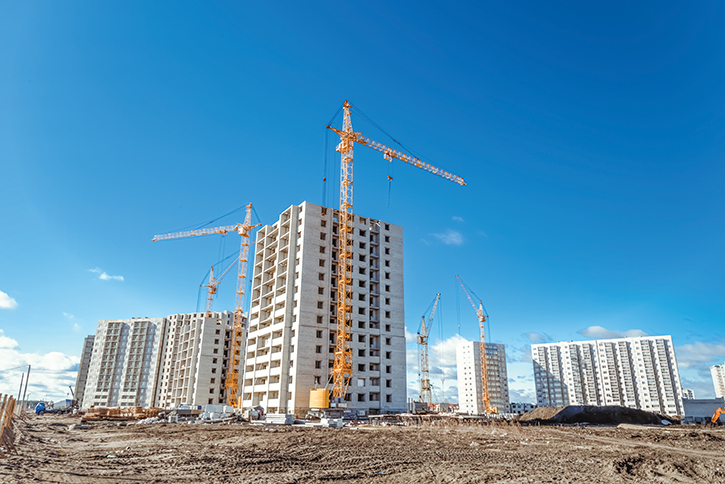 Our sustainable materials are transforming pipe, energy, electrical and structural applications.