EHSS
Environment, Health, Safety and Security (EHSS ) continues to be a core value at SABIC, which remains committed to achieving industry-leading performance.
The global EHSS organization serves as a center of excellence supporting all manufacturing operations, business units and corporate functions in continually improving our EHSS performance at sites around the world. This year we raised EHSS competencies, expanded forums and communication channels to improve global information-sharing, and continued working towards excellence in people development, digital transformation, and risk and operations management. 
Management Systems
Safety, Health & Environment Management (SHEM) Standards Audits
The SHEM Maturity Level concept was developed and implemented, supplementing auditing as the primary means of assessing sites' SHEM performance and progress. This new risk-based assessment approach was successfully implemented at eight sites, and will be used going forward to assess performance at our facilities.
EHSS Information Enablement (E-SHEM)
E-SHEM improves risk identification and management by making key EHSS information richer and more accessible through better aggregation and distribution via efficient web-based platforms and communications. Manufacturing this year introduced the electronic EHSS Risk Register, EHSS Audit Management and EHSS Calendar in Saudi Arabia to help register risk, capture findings, and track recommendations and mitigation actions. 
Global Key Performance Indicators (KPIs)
This year, we incorporated large construction and development ("mega") projects being carried out by our Engineering & Project Management function into our overall EHSS performance.
We also this year implemented a new set of leading and lagging KPIs to assess site and Company performance, along with:
A new process for SABIC affiliate data collection via a uniform global KPI template.
An applicability assessment process for small/ non-operational sites.
Quarterly reviews to monitor KPI awareness, data quality, trends, and alignment on actions, to aid continuous improvement.
Feedback workshops with regional and affiliates to evaluate interactions, data quality and trends, with a view to refining or introducing new KPIs. 
Responsible Care®
Responsible Care® embodies the global chemical industry's commitment to continual improvement in EHSS. SABIC this year updated its Responsible Care® certification to RC14001:2015, as verified through third party audits, with no major non-conformances identified over the past five years. This standard is itself expected to be replaced by ISO 45001. 2019 saw a 30% improvement in corrective actions implementation. 
Health Safety & Environment
We strengthened our health, safety and environmental competency program with specific development and training pathways for operations, non-operations and specialists.
Our environmental initiatives have this year focused on digitization, competency and risk discovery tools to help our sites detect and analyze abnormal environmental control performance, and on updating and improving our training programs.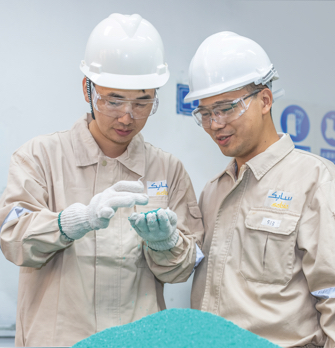 The global EHSS organization supports continually improving our EHSS performance at sites around the world.
Process Risk Management
Our process risk management (PRM) this year continued to focus on high consequence/low likelihood risks, and we enhanced our performance in:
Process safety knowledge and competency – with programs bringing training and qualification to ever-increasing numbers of the workforce.
Risk discovery and management – using proven methodologies like facility siting, hazard and operability studies, fault tree analysis, transient operations, hazard analysis and layer of protection analysis to aid integrated prevention, discovery and management.
Process safety metrics and SAFER (SABIC Assurance Program for EHSS Risks) assessments – to continue to monitor risk levels and further guide safer facility operation.
SABIC this year completed implementation of its four-tiered process safety metrics of leading and lagging indicators, based on American Petroleum Institute – Recommended Practice 754 (API RP 754). 
Preparedness and Scenario Management
Emergency preparedness
Pre Incident Planning (PIP) aims to improve our incident responsiveness. 90 scenarios devised by independent experts were undertaken this year; extension to all global sites scheduled by end-2020.
Security management
This year we launched a project to ensure our Saudi Arabian affiliates' full compliance with new directives from the Saudi High Commission for Industrial Security; implemented a digital system for managing and documenting security programs; and continued to implement a competency-based development program equipping frontline site security officers to detect and prevent criminality.
In the United States, regulatory security inspections by the US Coast Guard and the Department of Homeland Security at four SABIC sites revealed no deficiencies. We also piloted a violence prevention project, and developed a new risk assessment process based on the American Petroleum Industry's methodology, with assessments at 15 sites.
Crisis management
Crisis Management Leadership workshops were held for senior leaders in all regions. Improved crisis management plans and readiness exercises based on a variety of scenarios from natural disasters to IT outages, manufacturing mishaps and supply chain incidents strengthened our capabilities. We continued to develop and pilot new tools to improve communications during crisis incident management. 
Product Stewardship
Core programs were further built on key initiatives to develop and deploy product stewardship knowledge and competency, enhance product stewardship related communications, and improve risk discovery and management processes. This year we:
Began building a new product stewardship certification program, and completed a competency guidance development.
Identified 10 priority high risk chemicals to continue our value chain communication outreach to promote product safety management and information exchange.
Completed additional risk characterizations to ensure Responsible Care® compliance by 2020 for SABIC's top 50 high priority chemicals.
Implemented new monitoring processes for emerging regulatory environments such as Russia, Vietnam, Brazil, Thailand, Taiwan and Turkey.
Rolled out new product stewardship SHEM OMS 3114 training materials in multiple formats.
Enhanced product stewardship incident metrics across all functions to better understand risk areas, root causes, and common cause solutions.
Improved EHSS/product stewardship reviews of Technology & Innovation programs, aiding early hazard identification, risk management, and potential alternative measures.
Partnered with trade groups to promote transparency of chemical and hazard data.
Invested in tools and systems for key product stewardship operational activities, ensuring rapid, high quality support for customer inquiries, data sheets and labels. 
2019 - EHSS in numbers
Engagement and support
24 EHSS networks were active across all regions.
Eight security risk assessments were conducted for sites across the globe.
Four incident learning sessions were conducted in the Americas region.
Over 10,000 responses to customers were made for product stewardship inquiries.
Over 84,000 safety data sheets were published.
Capability building
589 security guards received firearms training.
296 engineers and other professionals were trained on Process Hazard Analysis leader qualification, facility siting, pre-incident planning, and Layer of Protection Analysis.
161 engineers graduated from process safety fundamentals training.
115 safety and environmental professionals were trained for NEBOSH (National Examination Board in Occupational Safety and Health) certification.
95 instructors were trained for new unified safe work permit and LOTO (lockout/tagout) across the regions.
10 crisis management awareness sessions were held for 140 leaders and key stakeholders. 
Previous Article
Next Article