Technology and Innovation
In 2019, SABIC Corporate Technology and Innovation (T&I) comprised 1,533 employees working on 597 research projects – across short, medium and long-term horizons – at 21 research centers around the world.
This year we met our ambitious targets in technology delivery, strengthening our pipeline, and protecting our technology, with issued patents and patent applications rising to 12,540. In addition, we are actively driving increased market-in focus on our pipeline, value delivery from innovation, and collaboration across the SBUs, T&I, and Manufacturing to increase impact and accelerate time-to-market.
Over the year, SABIC T&I continued to focus on enhancing its portfolio, executing projects, delivering on multiple fronts including process and product innovation, application development, and technology licensing, and expanding technologyventuring initiatives to bring more disruptive innovation into the portfolio. Looking ahead, we will maintain this focus, as well as looking to acquire complementary technologies from third parties. 
T&I was a key contributor to SABIC's success in 2019, and we anticipate T&I playing a lead role in SABIC's ambition for sustainable growth in the years ahead. 
Partnerships for Progress
In 2019, we continued to work with peers, customers, the broader value chain, and other external partners to develop new processes and products that help address emerging needs, from improved efficiency to performance enhancements to sustainability. Some innovations this year include:
Helping develop the new Defender
Automakers continue to seek lighter materials with no compromise in high strength and performance, for their fuel economy and environmental benefits. One such manufacturer is Land Rover, who worked with SABIC to develop their new model of the iconic Defender. This landmark vehicle now incorporates our thermoplastic solutions in more than 70 applications.
Enabling digitalization
Responding to automotive customers' requests for materials data for engineering simulations, we developed the web-based SABIC Simulation Portal. With this data, our customers can model designs with our thermoplastics easily, more reliably, and efficiently, potentially making possible significant time and cost savings.
Lightweight solutions for BMW
BMW won a second-place innovation award at the Society of Plastics Engineers Central Europe Automotive Awards with a hybrid cross car beam and glove box, co-developed with SABIC, whose STAMAX™ long glass fiber reinforced material fabrication delivers high stiffness and impact resistance while reducing weight. 
Formulations for the Future
New and improved formulations open up a world of new possibilities for SABIC and our customers.
New high heat resin for autos
Today's electric vehicles manufacturers are looking to cut weight without compromising crash safety performance. Plastic-metal hybrids can combine plastic's lightness and stiffness with the strength of metal, but the plastics need to survive high priming/ painting temperatures. SABIC this year launched XENOY™ HTX resin – a new resilient lightweight polymer – and is currently working with automakers on structural components that can fully exploit its capabilities.
Better batteries for a better tomorrow
The challenges of batteries for electric and nextgeneration vehicles include weight reduction, improved energy density and durability, and tough regulations. SABIC this year released a new set of flame retardant solutions for battery parts including housings, covers, bottom trays, modules, cell carriers and end plates, offering up to 30–50% weight savings over metals, for significant fuel economy and environmental benefits.
New ETP resin delivers sustainability advantages
New CYCOLAC™ and CYCOLOY™ ABS resins, produced globally for many applications across a wide range of industries, have a new sustainable formulation, which improves product quality while reducing reaction cycle times around seven percent, cutting energy consumption and up to 100 tons per year equivalent of hazardous waste production.
Industry-first for PC-based certified renewable feedstock
SABIC officially announced the launch of LEXAN™ polycarbonate (PC) based on certified renewable feedstock – an industry first – at the K2019 tradeshow in Dusseldorf, Germany, extending SABIC's strategic sustainability pathway beyond polyolefins, with carbon footprint reduced by up to 50% compared with fossil-based PC production.
XENOY ™ HTX resin launch expands ETP offerings
SABIC's new XENOY™ HTX's high heat cycles and excellent impact and flow characteristics make it ideal for complex geometries and a wide range of temperatures, with moisture-resistance that suits it to applications from automotive to appliances, architectural structures to marine.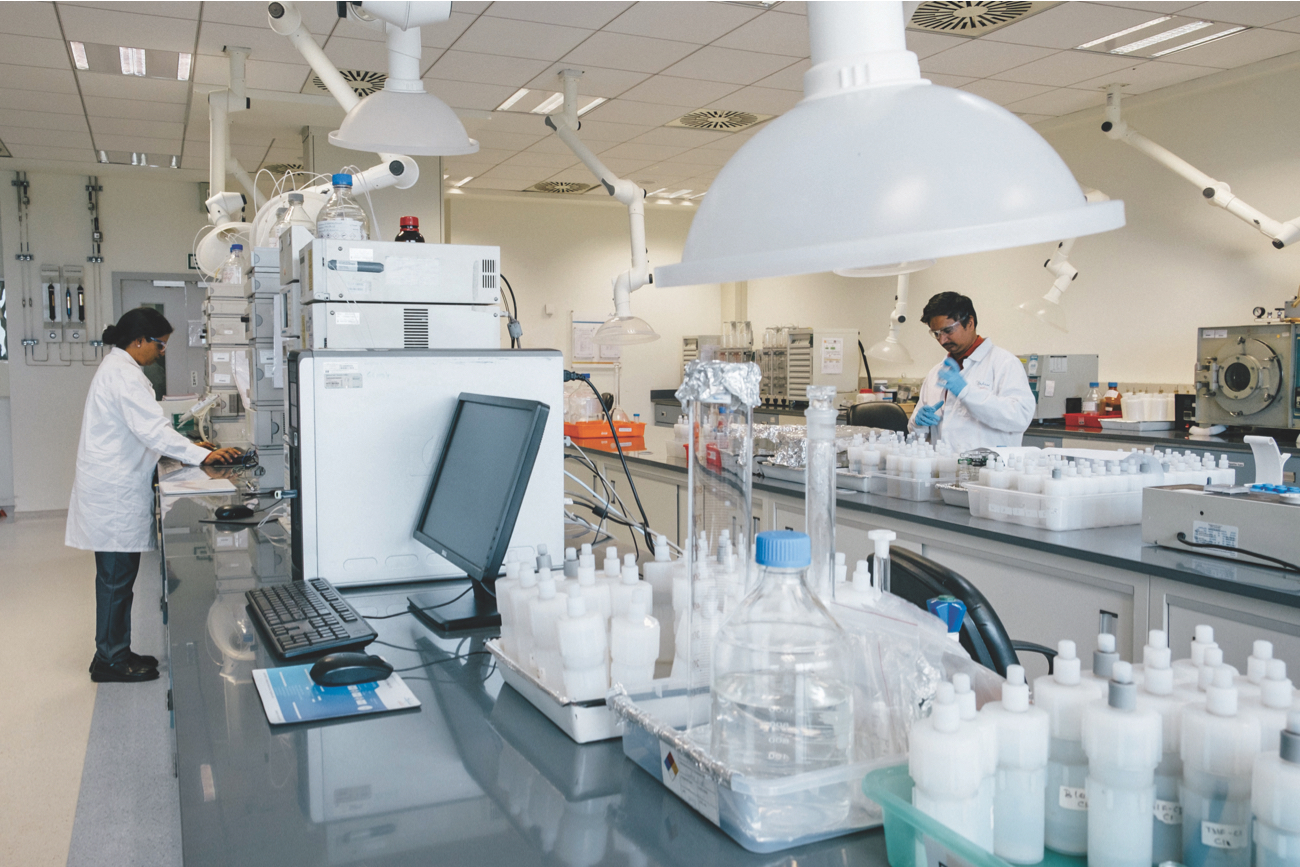 Working toward new and improved formulations.
Improving Production Technology
Better production technology makes for fewer shutdowns along with improvements to productivity and environmental performance.
New ABS Technology Center
October saw the opening of the new ABS Technology Center at the Mount Vernon, Indiana site, enabling development and cost effective production of new chemistries, sustainable processes and diversified product portfolios for our US and Saudi customers.
Global cracker technology
Global cracker technology maximized feedstock utilization by improving olefins yield at four olefins plants, and yields through optimized hydrogenation reactors at another. Improved furnace firebox performance enabled full feedstock consumption at one Saudi cracker. Sustainability-driven energy reduction initiatives brought significant fuel savings, while a fouling mitigation program saw significant benefits including shutdown-prevention.
Oleochemicals technology
Pharma grade polyethylene glycol and glycerin meet key elements of the United States and European pharmacopoeia and Food Chemical Codex standards.
Optimization brings benefits
Solutions implemented by a multi-disciplinary team reduced shutdowns at the linear alpha olefins plant from three to one in a year, delivering 100% on-stream production and a 3,300 ton year on year production increase, along with improvements to both product quality and plant carbon footprint.
Successful implementation of plant optimization measures brought a 2,300 ton increase in 2-ethylhexanol production while reducing propylene feedstock consumption by 625 tons.
A quick-wins exercise at the Ibn Zahr MTBE plant increased production by 11,500 tons up to September 2019.
A methanol recovery from waste stream initiative at Arrazi reduced environmental impact with improved performance for greenhouse gases and energy and water intensity, while production to September was up 5,700 tons. 
An ongoing effort to maximize ethylene oxide catalyst selectivity in glycol plants improved performance resulting in less consumption of feedstock (ethylene) and reduced CO2 emission.
Technology Licensing
Technology Licensing conducted robust technology assessments for several technologies with SABIC global growth initiatives potential. The key Sustainability Footprint assessment helps ensure compliance with SABIC/SEEC (Saudi Energy Efficiency Center) targets, and several studies have led to significant sustainability improvements to SABIC polyolefin technology process design packages.
Further studies in collaboration with affiliates helped maximize asset productivity, enhance efficiency and reduce energy intensity, delivering significant environmental benefits. 
Technology Venturing
The company strengthened its Technology Ventures footprint in Europe, North America and China in close alignment with its strategic technology goals. The investment portfolio currently includes ten active companies, two technology licenses and four funds.
Future Scientists
People are central to developing our innovative ideas and culture, and their support is helping to make an impact on our bottom line. We lay emphasis on building the right competency across our global innovation centers toward being a global synergized organization. Many of our future scientists complete Masters and/or PhDs at elite universities in fields such as catalysis, engineering, and differentiated polymers/materials. We complement their advanced training with our early career development and on-the-job-learning programs at our manufacturing affiliates, as part of our 2025 competency roadmap.
Previous Article
Next Article