MANUFACTURING
Manufacturing remains on course in its strategic pursuit of SABIC's targets. Improved risk discovery, calculated performance monitoring and a clear focus on prioritized objectives are key to SABIC performance.
Our Strategy Execution platform, incorporating enhanced alignment between Manufacturing and sites' priorities and improved engagement on strategy requirements, continues to make significant progress toward meeting defined objectives.
A challenging external environment presented major challenges over the course of 2019, with, for example, an increase in domestic feedstock curtailment. Despite such pressures, production performance was down just 3% year on year.
RELIABILITY AND ASSET LIFE IMPROVEMENTS
In our ongoing pursuit of best quartile performance for all assets, the year saw a number of notable achievements. Increased production at Petrokemya, a new propane recycling process at Sharq, on-schedule commissioning of styrene butadiene rubber at Kemya, and completion of reliability improvement projects at SAFCO III (with a new 1,800 MTPD design capacity) and SAFCO IV assets are good examples of our pursuit of best quartile performance.
Meanwhile, the planned shutdown at Ibn Zahr (MTBE 2 and Polypropylene 3 units) was kept to a minimum, while taking advantage of some unplanned outages to undertake targeted maintenance that should significantly reduce future planned shutdowns at Petrokemya. Strategic feedstock management efforts have also paid off in providing a buffer against external pressures, with maximized methane, propane and naphtha use, generating above plan production for selected key focus products.
The Asset Integrity and Reliability (AIR) program, implemented at 21 operating sites this year, concluded its first cycle, launched in 2017. The plan is to implement the AIR program in a three-year cycle. The Asset Life Assessment (ALA) program, focusing on aging or obsolescence issues, is also in operation, looking to introduce operational changes, interventions and replacements to mitigate problems and extend asset life.
AIR, along with the Reliability-In-Design concept embedded in project gating process and Advanced Process Control Applications, are helping deliver steady progress against our reliability and asset lifetime targets.
ENERGY OPTIMIZATION
Manufacturing continues its drive for optimum energy efficiency in support of SABIC's sustainability objectives.
Opportunity assessments identifying and evaluating potential conservation measures to reduce our overall footprint were carried out at four major sites in 2019. Such assessments also play an integral part in the evaluation process for any proposed mega projects, to ensure optimal sustainability performance.
The Site Energy Optimizers Program, which began in 2018, continued to deliver positive results, with comprehensive deployment at eight sites during 2019, both producing immediate energy savings from quick wins and enabling improved energy system operating strategies.
To support capability building and develop the human capital and internal talent key to enhancing our sustainability performance, our Certified Energy Expert training program – a comprehensive, interactive course focusing on key competencies – this year qualified 40 engineers from SABIC affiliates. In addition, 150 operators and technicians also received sustainability basics training in 2019.
SABIC OPERATIONS MANAGEMENT SYSTEM (OMS)
In 2018, Manufacturing launched the Operations Management Systems (OMS) initiative. Building on our legacy Safety, Health and Environment Management System, OMS integrates EHSS and Work Process Management systems in one framework to safely operate and optimize performance of SABIC assets. Key success factors were identified in the sites deployment phase. The main theme of the OMS is to ensure quality procedures and efficient embedding of changes at organizational levels, from management to frontlines.
The focus in 2019 was on developing site-specific Operating Management Systems, to reduce risk and increase productivity and efficiencies.
WORKFORCE DEVELOPMENT
Growth opportunities for engineers saw programs like SABIC Engineers Early Development, Technical Ladder, and Jump Start for Leaders. Peer review panels with input from relevant stakeholders supported a focus on change management for the frontline, with a unique immersive, interactive environment: OMS Connect – The Frontline Experience. SABIC this year also graduated its first batch of Frontline Supervisors.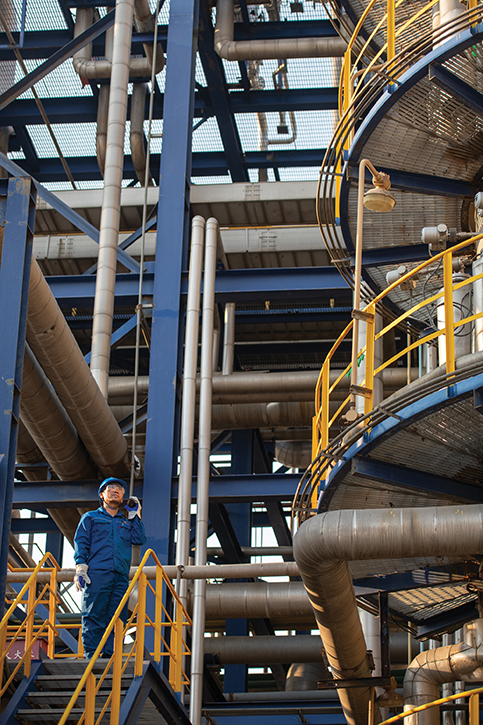 SABIC continues its drive for optimum energy efficiency in support of its sustainability objectives.
OPERATIONS DISCIPLINE
SABIC continues to enhance performance drivers. The Operations Discipline program launched in late 2018 was completed this year at our Saudi sites. The program looks to ensure compliance with critical operational elements during manufacturing processes, capitalizing on best operational practices and complementing other corporate programs, such as SHEMS and OMS. Implementation is set for our European and Americas sites during 2020, with all sites tasked to plan gap closures by the end of 2020.
The program will lay the foundation for best in class standards, while creating an environment of empowerment within our manufacturing community to strengthen ownership and drive for results through commitment and innovation.
Over the long term, Manufacturing will continue to work on building and maintaining a working environment that empowers, inspires and connects, with our global networks offering access to diverse assignments and an extensive depth and breadth of experience. Full compliance with the new OMS standards is anticipated in 2020.
Previous Article
Next Article