CULTURE OF CONTINUOUS IMPROVEMENT
Integrating EHSS and manufacturing excellence.
The field of EHSS is dynamic; we keep up to date with trends and stay on top of issues by embracing a culture of continuous improvement. Our drive to improve systems inspired a shift this year to a new Operations Management System that integrates EHSS and manufacturing excellence
OPERATIONS MANAGEMENT SYSTEM
For more than 10 years, our Safety, Health, and Environment Management Standard (SHEMS) promoted best-in-class EHSS at all of our manufacturing sites, and our Manufacturing Excellence Management Standard (MEMS) complemented that standard since 2015. In March this year, we took these standards to the next level by launching the Operations Management System (OMS) charter, an innovative approach that incorporates both standards, ensuring SABIC's manufacturing can excel in EHSS performance and reliability, while creating value by aligning priorities for site stewardship. 
We believe this new system will empower our global manufacturing community to take ownership and drive results through commitment and innovation.
EHSS PERFORMANCE
SABIC measures EHSS performance using important key performance indicators, such as the EHSS Rate, which incorporates a comprehensive range of incident types, including accidental releases to the environment, process-safety events, occupational health and safety injuries, illnesses, and security incidents. Incidents are rated on the basis of severity, and the rate is given for every 200,000 person-hours. We have a long-term strategic goal to reduce our global EHSS Rate to no more than 0.25 by 2025. 
Since 2010, the combined EHSS Rate of SABIC's manufacturing affiliates has improved by 73 percent, with a 14 percent improvement since 2017. Between 2017 and 2018, the Total Recordable Incident Rate rose slightly, from 0.12 to 0.14, and the Process Safety Total Incident Rate remained low at 0.01. We are pleased to report that no fatalities occurred in 2018. 
EHSS RATE TREND FROM 2014 TO 2018
IMPROVING OUR KPIS
To improve EHSS performance, we continue to develop new tools and promote the sharing of best practices across our global sites. In consultation with internal EHSS experts, we recently replaced our set of leading and lagging key performance indicators (KPIs) for manufacturing affiliates with more strategic KPIs focused on leading indicators and risk factors.
MAKING EVERYONE ACCOUNTABLE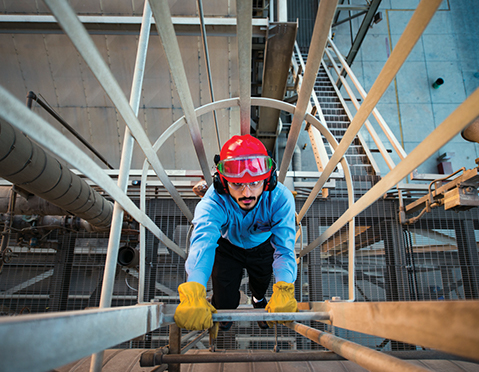 Safety is the highest priority at SABIC.
In May this year, EHSS launched a global campaign to raise the sense of accountability among front-line employees for the environment, health, and safety at work sites.
In addition to improving awareness and practice, the campaign helped us to identify and address potentially unsafe situations at sites.
Previous Article
Next Article