Leadership Insights Vice-chairman and CEO
YOUSEF ABDULLAH AL-BENYAN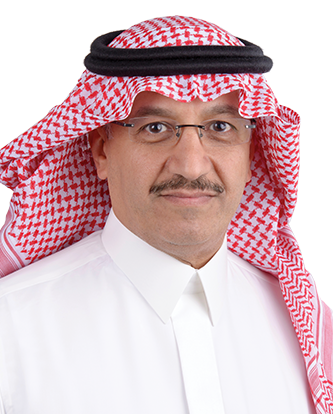 VICE-CHAIRMAN AND CHIEF EXECUTIVE OFFICER
We have demonstrated once again that we can maintain our position as a successful and leading global player in the chemical industry, and continue to drive performance for our shareholders.
Our success in 2019 can be attributed to the strong support from our key stakeholders, loyalty of our customers, and commitment to excellence by our global employees.
We posted a net income of SAR 5.6 billion in 2019, sales of SAR 139.7 billion, while production reached 72.6 million metric tons.
The petrochemical industry, including SABIC, was impacted in 2019 by additional new supply in key products coming on-stream, coupled with a moderation in global growth which resulted in lower profitability compared to 2018. However, our strong focus on safe and reliable operations and cost controls mitigated some of these challenges in 2019. This is evident by the 4% reduction in our SGA (Selling, General & Administrative Expense) in 2019 compared to 2018.
We maintained our third position among global diversified chemical companies in the Forbes annual ranking of the world's biggest companies. This ranking is a strong reflection of our continued emphasis on executing objectives against our robust transformation program to further streamline our operating model, increase portfolio focus, boost competitiveness, and accelerate growth.
We are proud of the growing strength of our global brand, demonstrating the success of our long-term brand strategy. Our brand value increased by 9.3% from US$ 3.96 in 2019 to US$4.33 billion this year reflecting the increasing perception of SABIC among our customers and other stakeholders. This recognition from the independent brand valuation consultancy, Brand Finance, came at a time when we launched our first-ever global brand advertising campaign, as part of our strategic effort to raise brand awareness and perception of SABIC amongst relevant global target groups.
We continue to believe that innovation is indispensable to our success. That is why in 2019, we initiated changes in our Technology and Innovation organization to make it more focused, lean, and agile, and become one of the main drivers of our growth. The organization will continue to support profitable innovation by developing the right portfolio, including processes, assessments, and metrics, toward becoming a market-focused innovation powerhouse.
We remain committed to support Saudi Vision 2030. Our Nusaned™ local content program advanced in 2019 with the qualification of 40 entrepreneurs to invest in the Saudi market. The sixth meeting of the Nusaned Executive Council announced a series of projects that will contribute about SAR 6.1 billion to the GDP and create 3,149 job opportunities.
Saudi Aramco's agreement to acquire a 70% stake in SABIC from the Public Investment Fund, pending regulatory approvals, will help foster strategic synergies between the two companies, taking us closer to our vision of becoming the preferred world leader in chemicals. I would like to assure our shareholders that their interest in SABIC is only expected to grow, as we continue to strengthen our presence in key markets around the world.
Effective 2019, key global equity and debt indices upgraded Saudi Arabia's stock exchange, Tadawul, from a standalone or frontier market, to an emerging market. Following this, we have further increased our level of disclosures, with even more proactive engagement with local, regional and international investors. The reclassification of Saudi Arabia as an emerging market is a big milestone for Saudi Arabia, recognizing Tadawul's efforts to improve transparency, disclosures and governance over the stocks listed on the Saudi Stock Exchange.
Our transformation program, which was first launched in 2015, has gone beyond being an undertaking, project, or task, and is becoming an entrenched competitive advantage, hardwired in the way we do business.
Our partnership with ExxonMobil on Gulf Coast Growth Ventures in Texas is well on track with the construction phase of the petrochemicals complex launched in September. We expect the project to start up in 2022.
In 2019, we agreed to defer discussions on the possible merger of our specialties business with Clariant AG because of market conditions. We will resume discussions with Clariant once stability returns to the market as we maintain our strategy to become one of the leading players in the specialties business globally.
Another strategic move in 2019 was our share-purchase agreement with SAFCO, under which it will acquire the newly formed SABIC Agri-Nutrients Investment Company in exchange for shares, thus increasing our shareholding in SAFCO to 50.1%.
We also merged two of our manufacturing affiliates, Sadaf and Petrokemya, to create a more efficient platform to optimize assets and utilize the full potential from the synergies between their product streams. The move is also expected to create more effective and streamlined operations, maintenance and project execution.
The success of our Environmental, Social and Governance performance was reflected in the key initiatives we took in 2019. In April, our global headquarters in Riyadh was certified as a carbonneutral site. SABIC was also among the global chemical industry's first to achieve the British Standards Institute's PAS 2060 carbon neutrality standard. Our investment in carbon offsets covered the nearly 44,000 metric tons p.a. of greenhouse gas emissions from our Riyadh global headquarters. UN-issued carbon offsets for efficiency projects at our Jubail manufacturing facility helped make SABIC the only Saudi company to achieve UN carbon credits.
Our strong ethical culture won recognition when we were accorded the prestigious Compliance Leader Verification from the Ethisphere Institute. We were also recognized for our inclusive, open and safe work culture when we were ranked the "Top Employer Asia Pacific 2020." We were also honored as the "Top Employer 2020" in five of our key Asian markets – China for the tenth year, and India, Japan, Singapore, and South Korea for the seventh consecutive year.
We continued to combine sustainability and innovation to respond to the dynamic needs of our customers and help create new solutions. As a founding member of the Alliance to End Plastic Waste, we have scaled up the chemical recycling of plastic waste back to the original polymer. Under our newly launched TRUCIRCLE™ initiative, we are also focusing on advanced circular products such as certified renewable polyethylene and polypropylene.
SABIC's strategy of creating growth through its talent has long been one of our priorities. Our leaders are expected to take personal responsibility to develop the next generation. Toward this direction, in 2019, we maintained the pace of our "SABIC Leadership Way" journey through a series of interactive sessions with our leaders across 50 global sites, looking at how we could further develop our people and help them thrive, along with our business.
Safety remains the mainstay of our work culture. It is independent of any cyclical business environment or financial performance. Realizing that safety has assumed a new dimension in this new world of hyper-information, we have sought to reinforce the sense of responsibility in our workforce. Our intense cyber security campaign in 2019 advised employees on how best to secure SABIC data and be the first line of defense against any possible cyberattack.
Additionally, we are leveraging advances in global digitalization technologies, to help us become more competitive by creating a digital work environment for employees, with automated solutions to increase productivity. Our corporate digitalization strategy aims to improve our commercial capabilities considerably in many areas including pricing, manufacturing, supply chain and innovation by capitalizing on artificial intelligence, machine learning, and by becoming a more data-driven company.
Besides digitalization, we initiated two new programs in 2019: Manufacturing Fixed Cash Cost Optimization (MFCCO) and @Europe. While MFCCO is driving more efficient, safe and reliable production, @Europe addresses asset repositioning and improvement in industry and cost positioning in the face of ongoing challenges in Europe. We are earnestly advancing these ambitious programs.
For the coming year and beyond, we will continue to maintain capital discipline and invest in our people and safe and reliable operations while supporting profitable long-term growth as we move toward a vibrant future and strengthen our purpose of 'Chemistry that Matters™'.  
Previous Article
Next Article