Leadership Insights - Chairman
DR. ABDULAZIZ SALEH ALJARBOU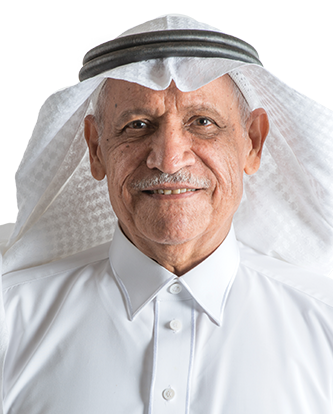 CHAIRMAN
Through sound strategic planning and a strong commitment to excellence from our management, our global employees, and all other stakeholders, we continued to maintain profitability and sustain the pace of our global transformation.
Being part of a cyclical industry, we faced a challenging market landscape in 2019. However, such challenges are not new to SABIC. Our strategy is geared towards stable and long-term growth, and enables us to remain resilient to the headwinds.
Our annual performance demonstrates our long-standing ability to respond to market uncertainties, while we continue to plan ahead for the future, with the strength of our global scale and our customer-focused investments that help drive sustainability and innovation.
Our transformation program is designed to make substantial contributions to our bottom line,while delivering our 2025 ambitions with optimal levels of capital investment. To achieve this, we continued developing our leadership and talent, building our global brand, and helping advance Saudi Arabia's development agenda.
To sustain our winning formula into the future, we understand the need to invest smartly to help us become more competitive. That is why we have been pursuing this strategy across our global operations.
In the US, we have broken ground on our Gulf Coast Growth Ventures joint venture project with ExxonMobil.
In Europe, we have placed an increased focus on our assets, enhancing our structural competitiveness and improving operational performance.
In Asia, we have carefully reshaped and recalibrated our operations to better address customers' current and future needs. Our two dedicated hubs – Greater China and Rest of Asia – can now deliver more intuitive and localized services.
All in all, we are investing across our business to leverage the advances of global digitalization technologies and ensure we remain competitive.
We are also responding to the structural challenges in the global marketplace by restructuring our businesses, driving cost discipline and increasing growth.
SABIC is already seeing the positive gains of change – for instance, through the successful reorganization project for our Agri-Nutrients business. This has effectively streamlined operations, maintenance and project execution.
SABIC has also maintained its momentum to enable Saudi Vision 2030 by helping stimulate the national economy and local content. Our Nusaned™ program is our local content initiative designed to promote growth, diversification and job creation toward achieving the Vision. Our global partnerships and presence in more than 50 countries around the world helps attract investments and bring in international expertise. These efforts contribute to enhancing the capabilities of local industries to compete and grow globally. SABIC is also helping raise the level of exports, achieve trade balance, and drive GDP growth.
Acknowledging our excellence in Investor Relations activities, Institutional Investor recognized us for "Best Investor Relations Program in Chemicals" covering the emerging Europe, Middle-East and Africa regions.
We launched a global brand campaign in 2019, connecting our vision and purpose to real world benefits. Earlier in the year, Brand Finance magazine ranked our brand as the third most valuable among the world's chemical companies, making us among the top 500 global brands – a matter of tremendous pride to all of us.
As SABIC's future growth and development is largely dependent on creating solutions for the major issues facing society today and tomorrow, we remain committed to providing successful, sustainable solutions that create value for global communities as well as generate growth for our business. We have developed circular solutions with chemically recycled mixed plastic waste, and in January 2019, we joined the newly formed global organization, Alliance to End Plastic Waste, as a founding member.
SABIC also maintained its pace of investments in people and talent development to help our customers and partners navigate the shifting and unpredictable global macroeconomic environment, help solve society's challenges, and drive sustainable development – as we move toward a vibrant future.
We have adopted a realistic approach for 2020 in the face of a slowing global economy and volatility in oil and petrochemical product prices. As our history has demonstrated time and again, we are confident of growing our brand and shaping our future growth and competitiveness – and continue delivering 'Chemistry that Matters™'.