SABIC has long-standing formal policies that uphold our standards of behavior and integrity.
CODE OF ETHICS
Our Code of Ethics lays out clearly defined principles that apply to all of our employees, and we communicate these regularly. SABIC's online compliance training and Code of Ethics acknowledgment is completed by employees of both SABIC and 35 of our affiliates and joint venture companies. The overall SABIC training completion rate as of 1 January 2021 was 99.2%.
Our International Trade Controls Policy requires that our employees screen all transactions for restrictions on certain sanctioned countries, persons, and prohibited end-uses. We forbid transactions with any entities subject to sanctions administered by the United Nations; the European Commission; UK's HM Treasury; United States Department of Treasury Office of Foreign Assets Controls; Japan's Ministry of Economy, Trade, and Industry; and others.
COMPLIANCE
An essential part of our compliance program is an official platform that allows employees, suppliers, customers, and other stakeholders, including community members and civil society, to report any concerns around business integrity. In 2020, we took in 90 reports from persons with concerns. Of these, we closed 69 and confirmed 30 as violations.
We also launched our Ethical Leader Toolkit, which includes scenario training for managers. The Ethisphere Institute delivered an anonymous "Integrity Engagement Survey" to our employees, and the 2020 results showed significant advances over the 2017 survey.
As a member of the UN Global Compact, SABIC adheres to and supports the principles that promote awareness and respect of human rights. In 2020, we designated a senior member of our Legal Compliance Team to have functional responsibility for human rights. Also in 2020, SABIC's Legal Compliance Team participated as co-chair of the Integrity and Compliance Task Force of the B20 Saudi Arabia, the voice of the private sector making policy recommendations to the G20.
Through the Integrity and Compliance Task Force leadership, SABIC initiated an anti-bribery training and mentorship program for female entrepreneurs and women working in small and medium-size enterprises.
In December 2020, SABIC won the EcoVadis Platinum medal for sustainable business performance—a medal reserved for companies that score in the top 1% for ethics, environment, labor, and sustainable procurement practices.
COMPLIANCE INVESTIGATION DATA
As of December 31, 2020

Compliance concerns raised
Incidents closed
Violations found

Compliance concerns raised
Incidents closed
Violations found
Saudi Basic Industries Corporation and its wholly owned affiliates
90*
69*
30*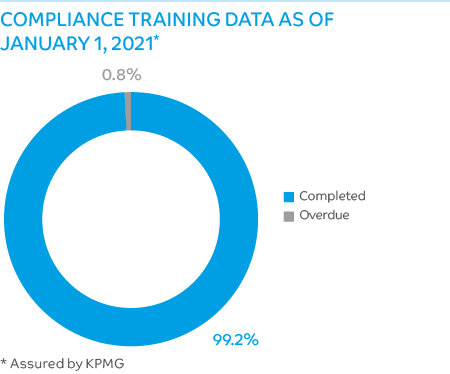 SUSTAINABILITY GOVERNANCE
Our approach to governance is integrated and comprehensive. We regularly analyze SABIC's sustainability performance, report that performance to the highest levels of our company, and we tie the financial compensation of certain executives to performance against sustainability goals.
Our overarching sustainability governance program has several structures and lines of accountability. The structures include:
Sustainability Council (chaired by SABIC CEO Yousef Abdullah Al-Benyan): sets SABIC's sustainability vision and is responsible for accountability to our stated goals and performance.
Board of Directors Risks & Sustainability Committee: reports to the full board on sustainability progress and decisions.
SABIC Corporate Sustainability Department: guides our sustainability work across the organization.
ESG Steering Committee: launched in 2020 to ensure that SABIC considers ESG factors alongside traditional business factors in all decision-making.
Sustainability Steering Committee: develops and implements recommendations.
Sustainability sub-teams and champions: lead project implementation and performance achievement within their business unit, function, or sustainability topic area.
These structures meet regularly, creating a governance system that is both strong and nimble, allowing our business to adapt to changing needs, risks, and opportunities to deliver sustainability value to our organization, partners, and the world.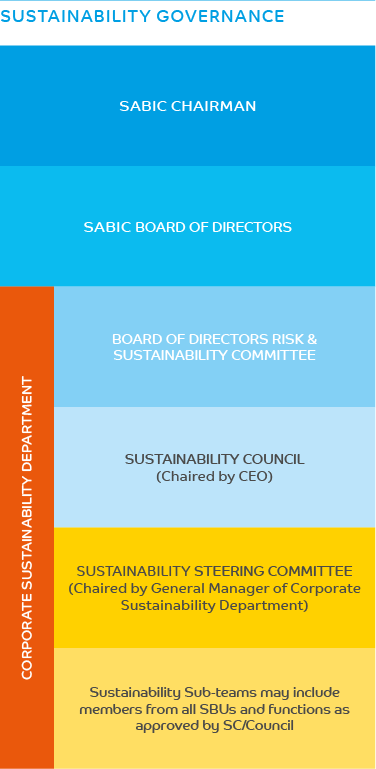 Sustainability Governance
Previous Article
Next Article