HUMAN CAPITAL
At SABIC, we believe our success as a company starts with our employees. The people who make up our workforce are critical to our success, and they directly affect our ability to grow and flourish as a business. As a result, we strive to be an Employer of Choice and to lead the chemical industry in attracting, developing, and retaining the very best talent.
We strive to lead the chemical industry in attracting, developing, and retaining the best talent, and our human resources model encourages continuous learning, open dialogue, and career development. The three core pillars of our model—strategic business partnerships, operations, and specialized communities of expertise—help us leverage best practices to elevate the SABIC employee experience.
In 2020, we began a journey to assess progress and areas for improvement. This included a workshop that revealed 36 potential opportunities, and we are planning to implement new policies and practices to address these areas.
A major part of our efforts in 2020 were in response to COVID-19. We created a dedicated portal for employees to access advice on physical and mental health information, as well as telehealth options. We also provided virtual education, experiences, and exposure to leaders to ensure efficient, effective remote work. And we encouraged employees to support local relief efforts, matching their donations dollar for dollar. A pulse survey revealed that employees felt positive about our COVID-19 response, including people's feelings about remote work, employee wellness and physical safety, and community and communications.
PERFORMANCE METRICS
Workforce distribution

MEA: 64.2%

Europe: 15.5% , Asia: 8.9% , America: 11.4%

Women in the workforce

7.4%

of total workforce

Sabic Scholarship Program

400+

Male & Female Students

Sabic Leadership Learning

330+

Participants

Learning & Development Programs

Training Programs Participants

Turnover

4.6%

of total workforce

Average hours of training per employee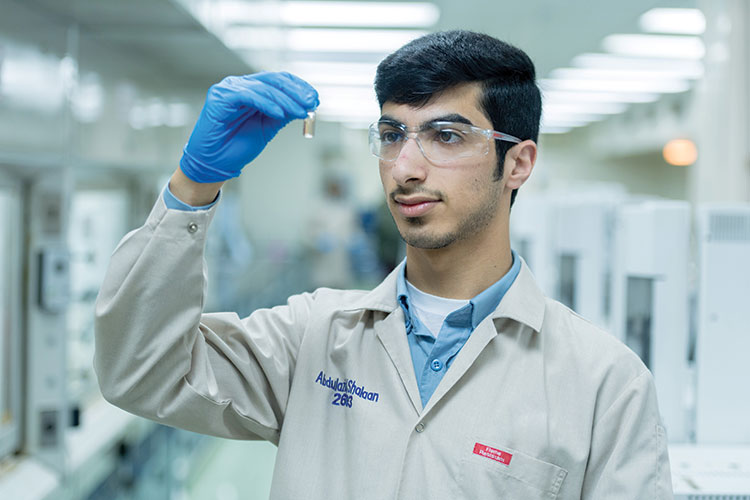 We seek to refine our employee experience, drive continuous improvement, and support resilience on the people side of our business.
Previous Article
Next Article