SOCIAL IMPACTS AND COMMUNITY RELATIONSHIPS
Our global Corporate Social Responsibility (CSR) initiatives help make life better for millions of people every day. In 2020, a large part of our focus was supporting authorities and NGOs worldwide to help overcome the COVID-19 pandemic.
Our efforts are focused on four priority areas: Health & Wellness, Science & Technology Education, Environmental Protection, and Water & Sustainable Agriculture. In 2020, we invested over US$ 39.6 million in 274 Global CSR programs, including 212 programs to mitigate the impact of COVID-19, reaching around 35 million people in 34 countries. To support the Saudi Vision 2030, we also partnered with the Ministry of Human Resources and Social Development in outlining a national social responsibility strategy aimed at enhancing Saudi public, private, and nonprofit participation in social programs and initiatives.
Also in 2020, our CSR efforts were recognized externally: We received the Excellence Award for Sustainability in the Innovation and Sustainability 2020 Excellence Awards and Forum for Corporate Social Responsibility, hosted by China's Shanghai Daily, and we received the Community Chest's Community Spirit Gold Award in Singapore for supporting vulnerable families affected by the pandemic.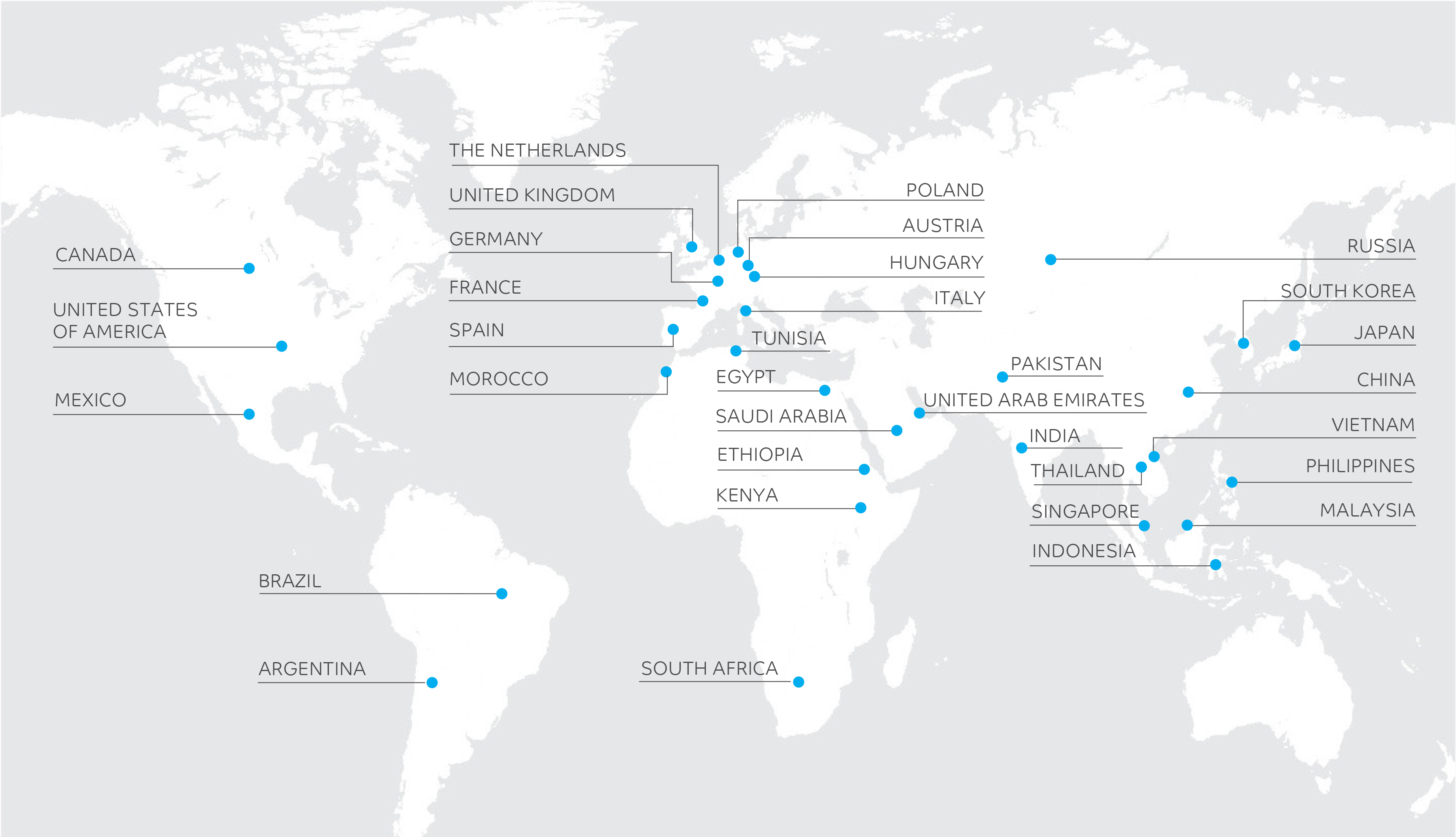 Our Global Corporate Social Responsibility activities address specific community needs in each country.
SCIENCE & TECHNOLOGY EDUCATION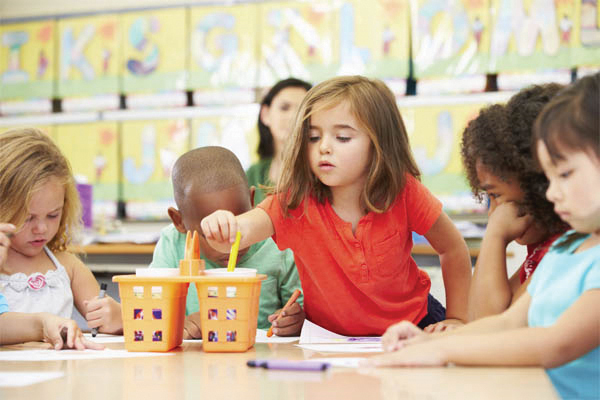 Our Global Back to School Initiative reached 13 countries in 2020.
To promote lifelong learning, we support STEM (science, technology, engineering, and mathematics) education. Despite pandemic restrictions, we were able to continue our educational programs in 2020 using virtual formats.
Our Global Back to School Initiative benefited 120,000 students in 13 countries with school supplies and programs. In China, our Love Shoes program provided 196 students with hand-painted shoes and schoolbags, and we also helped students who needed digital-learning tools in remote areas of the country. In Vietnam, we donated 40 bicycles to help students in rural areas get to school. In India, SABIC collaborated with the Central Institute of Plastics Engineering and Technology to provide skills training to 90 young people, and we supported remote learning in that country by constructing classrooms equipped with digital learning technology.
Through our Global Initiative for Education and Innovation, we partnered with Junior Achievement Worldwide and INJAZ Saudi Arabia on a distance learning initiative that benefited more than 12,000 students in 13 countries with the help of over 250 SABIC volunteers.
ENVIRONMENTAL PROTECTION
Environmental stewardship is an integral part of our CSR strategy and vital to our broader efforts against climate change and other threats to communities, ecosystems, and economies. In 2020, we continued our global environmental protection initiative in nine countries, with virtual programs focused on plastic waste, recycling, and climate change. In Spain, we partnered with the Cartagena Oceanographic Research Institute and Cartagena Polytechnic University to create Ocean Hackathon 2020, supporting more than 100 teams of students who developed apps to address oceans challenges.
WATER AND SUSTAINABLE AGRICULTURE
Clean water is critical to efficient, quality food production. In 2020, we continued our three SABIC Agricultural Field Schools at Al Madinah and Al Ula to help farmers, scientists, and researchers collaborate on ways to improve agricultural production and efficiency. We also participated in the Al Qassim dates festivals as well as a citrus festival in Al Hariq.
HEALTH AND WELLNESS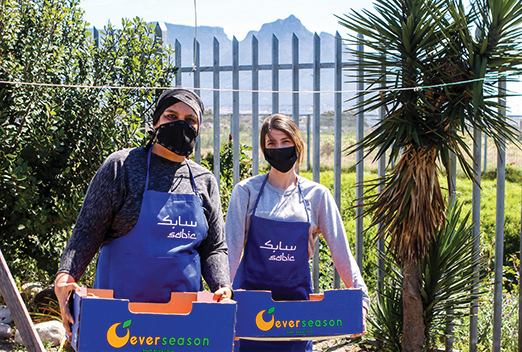 Our contributions in health & wellness toward COVID-19 pandemic relief reached 30 countries.
SABIC is committed to supporting health and wellness in our global communities. In 2020, we supported more than 212 programs that helped address the impacts of COVID-19, and we also continued our efforts to address health and wellness in other areas.
We collaborated with health and government organizations in Saudi Arabia, as well as the World Health Organization, Harvard University, and the University of Michigan, to launch the Mental Health and Life Stress Survey project, which gathered data from more than 10,000 respondents across 13 regions to improve mental health treatments. We also continued the SABIC Award for Mental Health to encourage innovative ideas for addressing mental health challenges.
Together with the Zahra Cancer Association and the Saudi Ministry of Health, we helped launch six breast cancer screening clinics, which now reach more than 4,800 women annually. SABIC also supported a medical insurance partnership with Kanaf Association that improves the health and well-being of 3,000 orphans in Saudi Arabia.
OUR RESPONSE TO COVID-19–COOPERATION, COLLABORATION, AND COMMUNITIES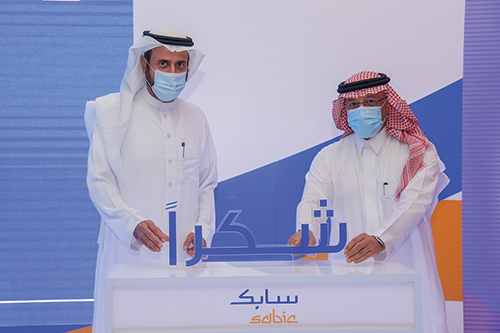 SAUDI MINISTER OF HEALTH TAWFIQ AL-RABIAH (LEFT) AND SABIC VICE CHAIRMAN AND CEO YOUSEF AL-BENYAN AT THE LAUNCH OF SABIC'S THANK YOU INITIATIVE IN SAUDI ARABIA IN PARTNERSHIP WITH THE MINISTRY OF HEALTH.
Through our "Together We Overcome COVID-19" campaign, we supported community outreach programs and worked with government authorities and NGOs to address people's needs promptly and effectively.
We contributed over US$33.4 million in monetary and in-kind donations, delivered across 212 activities and reaching more than 35 million people in five continents. We also committed to matching donations made by our employees to charities responding to COVID-19.
Shortly after the initial outbreak, we swiftly responded to the Chinese government's calls to support frontline medical workers with a US$1.1 million donation to Hubei Charity Federation. Throughout the rest of Asia, our investments supported local food banks, hospitals, and NGOs through 13 programs, benefiting over 1 million people.
In Saudi Arabia, we partnered with government authorities through 26 programs in partnerships with the Ministry of Health and National Unified Procurement Company, as well as other government entities and NGOs. Elsewhere in the Middle East and Africa, our investments supported 12 programs, bringing medical supplies and personal hygiene products to government entities, hospitals, and NGOs.
In Europe, we supported communities through 115 programs that helped the elderly, schoolchildren, frontline workers, and more. In the UK, our Technology and Innovation team created a new protective facemask design, and we provided 22 tons of material, allowing 500,000 facemasks to be rapidly produced by injection-molding.
In the Americas, SABIC donated to food banks and NGOs, helping people in the U.S., Canada, Mexico, Brazil, and Argentina through 44 programs. We also contributed with products and materials used in the fight against the virus.
OUR PERFORMANCE
global programs

invested in US$

countries reached
Previous Article
Next Article