Our Approach and Performance
This year, climate change became a material topic for our company.
SABIC recognizes the profound effects of climate change and the equally profound opportunity for business to carve the path toward a low-carbon economy. 
Since 2010, we have set targets and taken action to reduce our greenhouse gas (GHG) intensity, increase energy and water efficiency, and reduce material loss. More recently, we have embarked on the development of a holistic new climate strategy that will guide our long-term goals.
CLIMATE STRATEGY
SABIC's new climate strategy includes creating climate roadmaps for different regions of our business, developing science-based targets, and aligning our work with government and industry initiatives.
SABIC's climate roadmaps live under the direction of our Strategic Business Units to ensure that they are relevant to our work in different markets. Even as we finalize our roadmaps, we have begun the work necessary to establish science-based goals for our Scope 1, 2, and 3 emissions, including through collaboration with industry peers in the Science Based Targets initiative's (SBTi) Chemicals Expert Advisory Group.
As a global enterprise, SABIC is also committed to supporting and influencing the government climate agenda in the regions where we operate. We are working with the Saudi Arabian Ministry of Energy and the Saudi Energy Efficiency Center (SEEC) to meet national regulations. We have also supported Saudi Arabia's G20 activities focused on climate, and we have been involved with the Circular Carbon Economy (CCE) National Program.
Outside of our home country, we are working with the Dutch and EU governments to participate in discussions regarding climate targets, and SABIC has also joined chemical industry and clean energy initiatives led by the World Economic Forum and the Hydrogen Council.
CLIMATE GOVERNANCE
We have strengthened our internal governance through the creation of two new structures aimed at meeting regulation, setting targets, and increasing disclosure.
Our Energy Efficiency and Carbon Management (EECM) body contributes to the overall roadmap for SABIC's energy-efficiency portfolio and engages with SEEC. Our Environmental, Social, and Governance Reporting Steering (ESG) Committee sets general ESG strategy, which includes consideration of climate risk, goals, metrics, and disclosure. The committee also manages SABIC's alignment with the Task Force on Climate-related Financial Disclosures (TCFD).
CLIMATE RISK AND RESILIENCE
SABIC is working to improve our understanding of climate risk and build resilience so our company can withstand the inevitable impacts of climate change. 
Renewable energy is our main tool to reduce Scope 2 emissions, so we have long-term targets to use 4 gigawatts of renewable energy by 2025 and 12 gigawatts by 2030.
CLIMATE DISLOSURE
SABIC is committed to measuring and disclosing our carbon footprint, and we are also broadening our climate disclosure to include risk.
In 2020, SABIC maintained our overall B rating through our CDP climate disclosure, and we continued our efforts with the CDP Supply Chain Program. We are also working to align our disclosure with TCFD recommendations, which help financial markets assess the costs of global warming. And we have continued to use the EcoVadis sustainability ratings platform, earning a score of 75/100 for our environmental and climate disclosure.
Saudi Energy Efficiency Program (SEEP)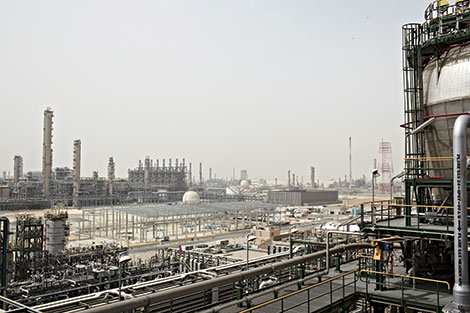 Through a vent recovery system, we reduced flaring in the production of polyethylene at our Sharq affiliate.
Our new global Energy Efficiency and Carbon Management structure steers our engagement with the Saudi Energy Efficiency Program (SEEP), which has set targets for energy savings and energy efficiency in different sectors.
For the first SEEP cycle between 2011 and 2019, SABIC implemented 170 energy-savings and operational improvement projects that reduced the primary energy deficit by 47.2 million MMBTU from base year 2011 to target year 2019. To close the obligation of remaining gap, SABIC shut down three legacy assets and completed projects that improved the efficiency of our operations in 2020.
Greenhouse-gas intensity

15.5%

reduction

Energy
intensity

10.5%

reduction

Water
intensity

14.2%

reduction

Material-loss intensity

46.3%

reduction

Flaring (TON CO2-EQ)

1.6+

(million)

Flaring
emissions

56%*

reduction

Total CO2 utilization

3.72*

(million metric tons)