Circular Economy
We are collaborating with partners upstream and down to reinvent our way into a circular economy—and make sure used plastic never ends up in the environment, landfills, or in our oceans and instead is reused and remade into valuable new products.
SABIC TO BUILD WORLD-FIRST COMMERCIAL UNIT TO PRODUCE CERTIFIED CIRCULAR POLYMERS
SABIC partnered with Plastic Energy to build the world's first commercial unit to produce certified circular polymers made from the upcycling of mixed and used plastics. The projects is part of our TRUCIRCLE™ portfolio.
TRUCIRCLETM PORTFOLIO OF PRODUCTS AND SERVICES
In 2020, we revamped our TRUCIRCLE™ program to encompass two overarching initiatives: The initiative is built around five key principles:
Portfolio focuses on product circularity, and we have further refined this to include three pillars: Mechanically Recycled Products, Certified Circular Products, and Certified Renewable Products.
Services focuses on collaborations around circularity and includes two additional pillars: Design for Recyclability and Closed-Loop Initiatives.
Together, these five pillars ensure that circularity is integrated into all of our businesses and functions and across our global petrochemicals and specialty product portfolios in key industries and markets.
SPOTLIGHT ON VALUE CHAIN COLLABORATION WITH TESCO
SABIC's position in the value chain gives us unparalleled opportunities to work with upstream and downstream partners to close the loop on used plastic.
In 2020, we partnered with Tesco Plastic Energy, Sealed Air, and Bradburys Cheese to create a closed-loop recycling system. Tesco collects post-consumer flexible packaging that customers deposit in retail stores. Plastic Energy then converts that waste into pyrolysis oil, which SABIC uses as feedstock to produce certified circular polymers. Sealed Air uses these polymer pellets to produce film for Bradburys Cheese products, which are then sold at Tesco.
This trial demonstrates for the first time that flexible plastic can be continuously recycled into safe, food-grade packaging.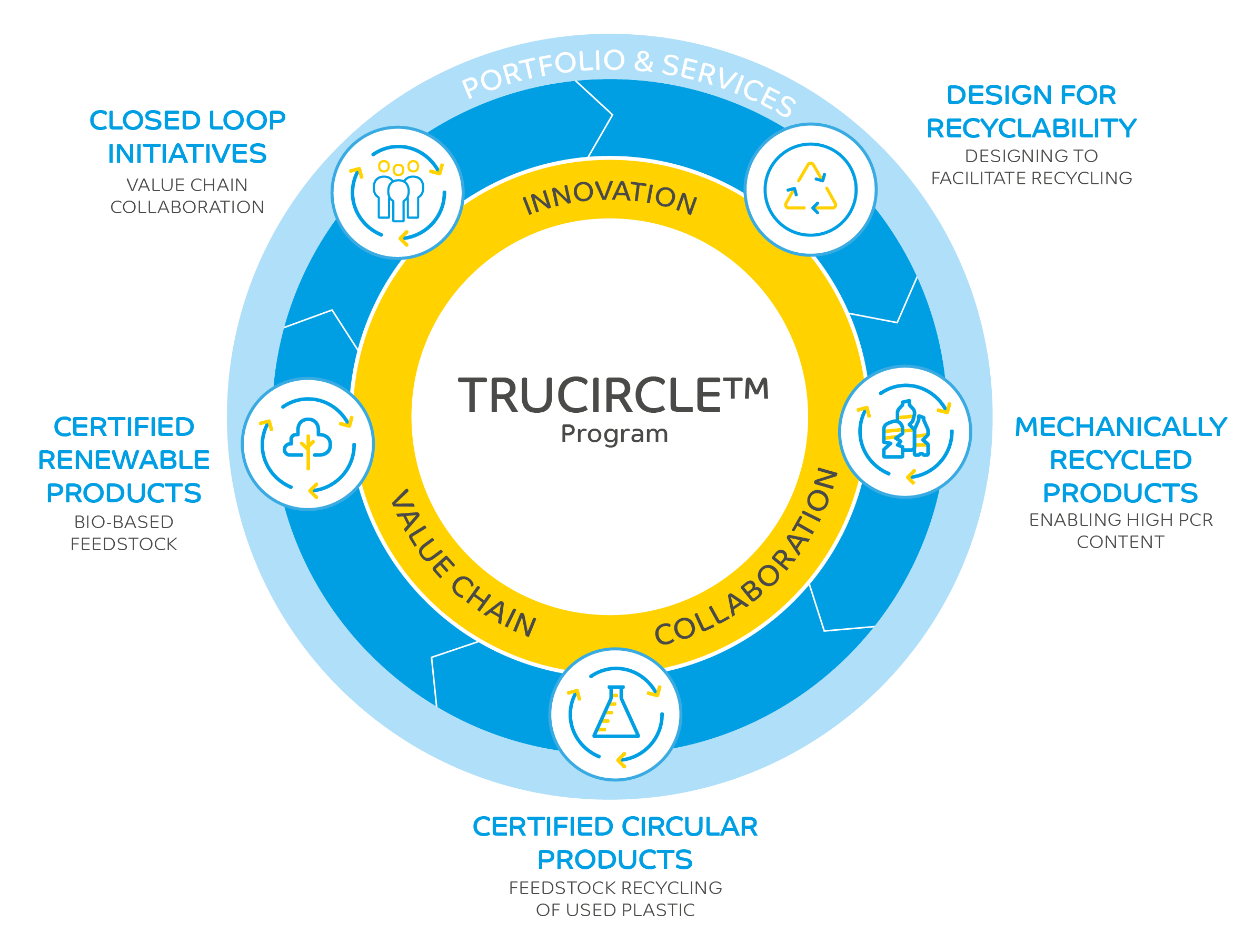 Previous Article
Next Article