SABIC GOVERNANCE FRAMEWORK
SABIC's governance framework to achieve strategic goals and enhance sustainability.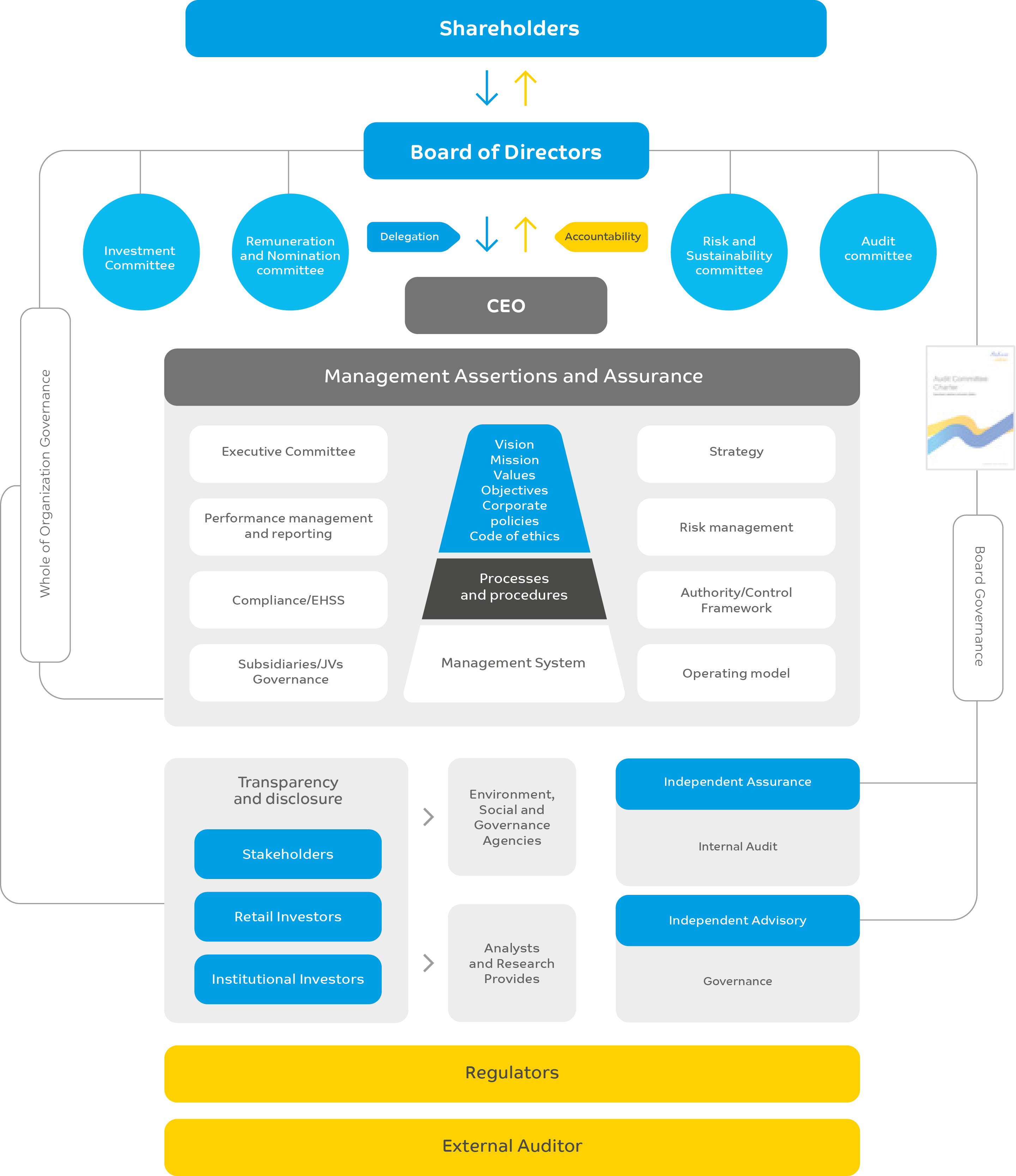 Corporate Governance Structure
CORPORATE GOVERNANCE STRUCTURE
SABIC adheres to the corporate governance principles and best practices and believes in the effect of such adherence on enhancing the Company's added value. In addition, the Company adheres to the Corporate Governance Regulations issued by the Capital Market Authority.
SABIC has developed its own corporate governance framework, which sets out roles, responsibilities, and methods of decisionmaking, putting into action and following up. It also includes the main governance bodies of the Company and clarifies the relationships among them and how they are integrated and their activities are coordinated. SABIC believes that governance, through its Corporate Governance Framework and its governance bodies is a key enabler towards achieving its goals and enhancing its ability to sustain and to build and maintain strategic relationships with various stakeholders./
The structure of SABIC's Board of Directors includes four committees helping the Board to fulfill its prescribed duties. These are the Audit Committee, the Nomination and Remuneration Committee, the Risk and Sustainability Committee, and the Investment Committee. The performance of the Board and these committees is subject to periodic review and assessment in order to enhance their effectiveness in achieving the targeted goals.
The SABIC Governance Framework also embodies the shareholders' rights and the manner of enabling them to exercise such rights in accordance with the relevant regulatory provisions and the global best practices of governance. This includes enhancing communication with shareholders through the Shareholders Management, as well as providing tools that aim to enhance the effectiveness of such communication.