SUPPLY CHAIN
SABIC Global Supply Chain continued to deliver in the face of the COVID-19 pandemic and the resultant turbulence across countries. Despite the challenges, SABIC has outperformed, relying on its resilient supply chain network and customercentric operating model, while remaining strongly committed to environmentally responsible practices.
Working closely with our customers and logistics service providers, we successfully delivered 37 million tons of products to around 12,000 customers in over 140 countries – with more than 18,000 stock-keeping units flowing through around 200 distribution centers, and around 500 logistics service providers worldwide collaborating to process almost 500,000 sales orders annually.
Our infrastructure proved resilient and our people adaptable. Service levels were improved, and efficiencies achieved through the efforts of cross-functional teams, with targets met, inventories well managed, and product delivered, including urgent supplies to address the crisis caused by the pandemic.
Throughout the year, SABIC Global Supply Chain continued its ongoing program of becoming ever more efficient, responsive and reliable.
INITIATIVES WORLDWIDE
Our initiatives around the world this year included:
Japan – with the first direct shipments from Saudi Arabia to Japan.
Europe – where new supply chains will enable transition towards circular feedstock and products.
China – with a new ship to forecast model cutting lead-times from 45 days to 10, and increased use of DDP (delivered duty paid) arrangements building customer loyalty by saving time and hassle.
India – where strategic rescheduling actually reduced costs while maintaining deliveries despite the lockdown.
UK – where all preparations have been made for a smooth and seamless transition to the post-Brexit new year.
OPTIMIZATION AND EFFICIENCY
While coping professionally and efficiently with the many new challenges arising out of the pandemic, we also continued seeking opportunities to enhance the efficiency, agility and reliability of our services to customers.
AI INTELLIGENCE
Efforts continued across our global organization to explore the full potential of digitalization and Artificial Intelligence to eliminate error and systematize success, and drive waste and delay out of the supply chain, enabling both lower costs for SABIC and enhanced service to customers.
In China, upgraded digitalization solutions for SSTPC (Sinopec Sabic Tianjin Petrochemical Co. Ltd – a 50/50 joint venture with China Petroleum & Chemical Corp) and the Chongqing plant enabled online real time tracking and enhanced safety, through applied AI technology.
HIGH SEA SALES
High sea sales shipments, with pre-booking linked to customer orders with goods in transit, brought significant savings in both time and money – five days eliminated from the Order to Cash cycle.
COSTS DOWN, SERVICE UP
Many other innovations were this year developed and delivered by agile, cross-functional teams, delivering significant cost, time and transparency benefits to both SABIC and its customers, including:
Introduction of increased weight per pallet, educing movements and handling
Implementation of local stock-points in Rotterdam in The Netherands, Alexandria in Egypt, and Marin in Spain to cut lead times and improve reliability
Automated business processes for real time tracking and tracing of goods from our China production affiliates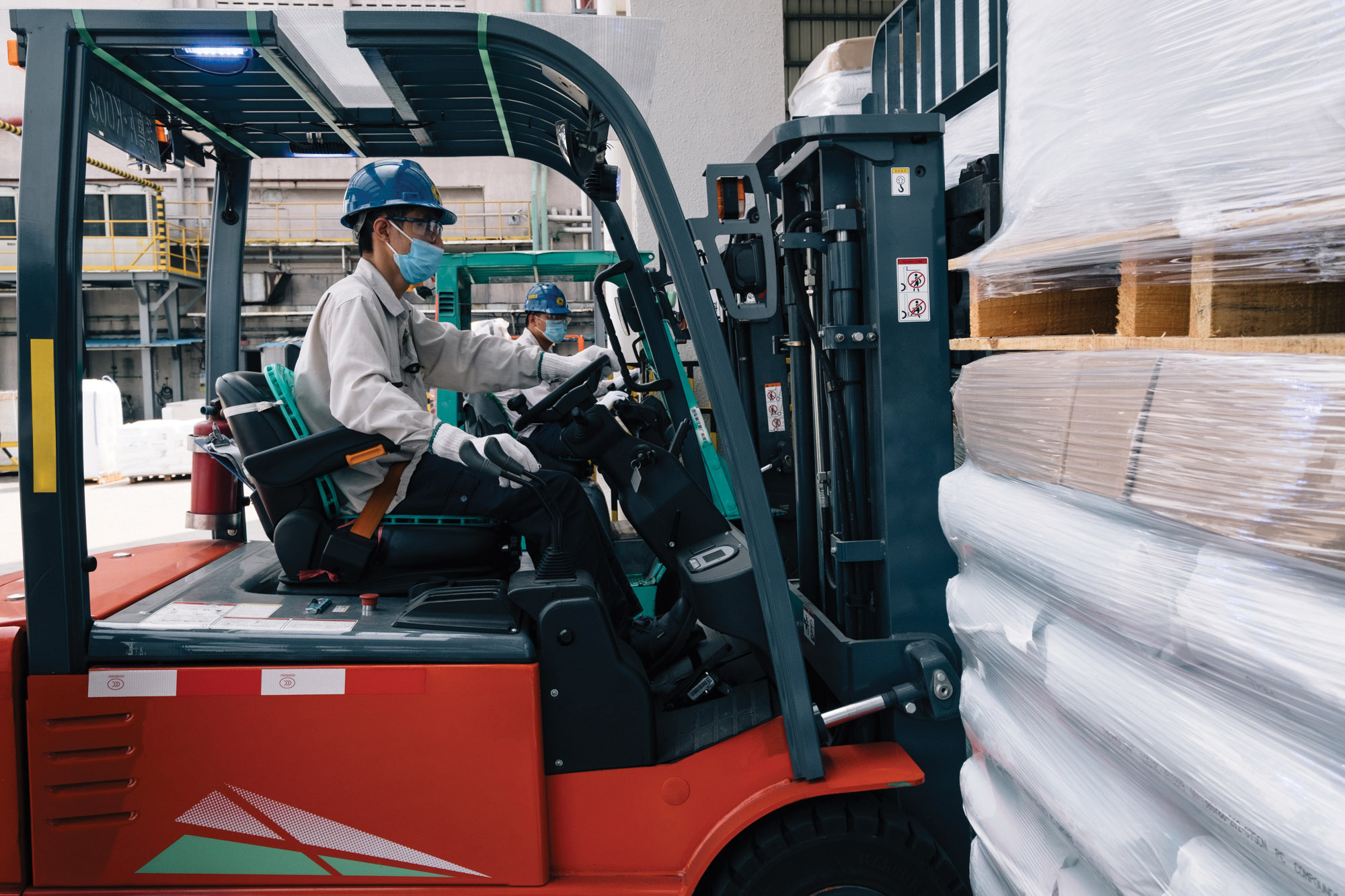 SABIC Global Supply Chain continued seeking opportunities to enhance the efficiency, agility and reliability of our services to customers.
NETWORK & PLANNING OPTIMIZATION
A special Global Value Chain Planning & Optimization team this year worked through a number of business scenarios with colleagues from various units throughout the regions to assess and assure preparedness for Covid-19's potential effects on global inventory and sales volumes. These preparations proved their worth in the way operations were maintained despite the pandemic's multiple impacts.
Meanwhile, a number of improvement projects were in hand, including:
Plant to port performance - introducing a new holistic operating model designed to improve both physical and information flows, aiding seamless, performance-driven operations from affiliates to port in Saudi Arabia
Liquids stock posting automation - automating daily stock posting for liquid products in KSA to ensure inventory record accuracy in real time, at all times.
Production planning optimization - replacing Excel-equipped personal experience with a world-class production planning solution built on 'best in class' technology: a major move towards optimized value-driven planning for all olefins crackers..
2020 ADAM SMITH AWARDS
SABIC Asia Pacific Pte Ltd, along with its banking partner HSBC, was announced winner of Asia Pacific's Best Fintech Solution at the Adam Smith Awards Asia 2020, reflecting our supply chain excellence.
The award recognized a fully digitized letter of credit trade transaction between SABIC Singapore and a Malaysian customer – Malaysia's first trade blockchain transaction.
The solution paves the way for smoother crossborder trade in the region, accelerating speed of processing by as much as 60% while potentially also cutting costs for customers.
AMERICA DISTRIBUTION CENTER MODEL
We successfully transitioned the Americas region to a Distribution Center Model with a fully rearranged network, comprising seven new US distribution centers positioned to serve 99% of SABIC customers within a two-day reach. With this initiative, SABIC has upgraded service capabilities, improving EHSS and operating standards, and brought a sustainability impact by reducing distance travelled and consequently a reduction in CO2 emissions. In South America, the network was expanded to support growth through a new distribution center in Santa Catarina, Southern Brazil, and by converting the Diadema, Sao Paulo, state facility into a SABIC branch for enabling customer reach and service ease.
ROBOTIC PROCESS AUTOMATION
Robotic Process Automation (RPA) proof of concepts for Export Permit Declarations at our Singapore hub went live in November. The RPA enabled routine processes to be automated with greater accuracy at half the amount of time and allow our customer service personnel to focus on value added activities and improving customer satisfaction.
INDIA E-INVOICE PROJECT
As part of its crackdown on tax evasion and fraud, the Government of India recently launched its e-invoicing project, designed to promote digitization and standardization, eliminate data re-entry and aid error-reconciliation, reducing payment cycles and processing costs and preventing disputes between transacting parties. As part of this initiative, all invoices generated by SABIC will now be validated and recorded through a government server for tax purposes. Each invoice will carry a unique reference number and QR code for tax compliance, with full end-to-end visibility for the transacting parties.