Leadership Insights Vice-chairman and CEO
YOUSEF ABDULLAH AL-BENYAN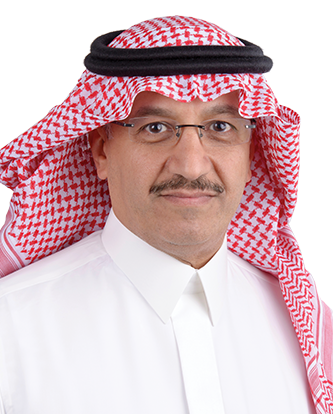 VICE-CHAIRMAN AND CHIEF EXECUTIVE OFFICER
SABIC's resilience is defined by our business model, operational efficiency, and effective customer engagement. These strengths exist because of the dedication, creativity and professionalism of our global teams. I extend my sincere gratitude to all our employees for their outstanding commitment and contributions during an extraordinary year.
As COVID-19 brought disruption to all corners of the global economy, the value of our careful long-term strategic planning and continuous transformation of our operating model were made clear. We were among the first to recognize the imperative for global businesses to reassess their operations and capitalize on digitalization. The advent of the 'new normal' accelerated the trends we first identified five years ago. Our early actions positioned us ahead of the curve in our industry.
In facing the challenges of 2020, we further embraced innovation and the new future of work, while remaining focused on our long-term growth ambitions and leveraging the strength of our global supply chain, operational efficiencies, and capital discipline. These measures enabled us to mitigate short-term challenges and positioned us to thrive in the new economic landscape.
Our 2020 results underlined the resilience of our business and the strength of our long-term growth strategies. Despite external factors, including COVID-19 impacts on our end-use markets and lower prices, we recorded improved performance in sales, capital expenditure (Capex), and General and Administration (G&A) costs. In 2020, SABIC posted a net income of SR 67 million, sales of SR 117 billion, and production of 60.8 tons. These outcomes indicate that we have learned to adjust to the "new normal" and positioned the business for success as the global economy returns to growth.
SABIC's resilience is defined by our business model, operational efficiency, and effective customer engagement. These strengths exist because of the dedication, creativity, and professionalism of our global teams. I extend my sincere gratitude to all our employees for their outstanding commitment and contributions during an extraordinary year. I am extremely proud of SABIC's accomplishments during these times and of how our values inspire our teams and the communities in which we live and work.
Our 2020 performance was delivered with our usual uncompromising focus on our customers and delivering innovative sustainable solutions of the highest quality. At SABIC, we also understand the importance of investing in future generations through a range of Corporate Social Responsibility (CSR) initiatives that improve lives around the world. This year, in addition to our usual efforts, we collaborated closely with governments and NGOs to overcome the challenges of COVID-19.
As global responses to the pandemic demanded action, we stepped up our support -mobilizing our combined resources and donating monetary and in-kind support where it was most needed. In all regions where we operate, our efforts helped provide materials for much-needed supplies to frontline medical staff, including Protective Personal Equipment (PPE) for healthcare practitioners and other vulnerable groups.
In Saudi Arabia, our NUSANEDTM local content program, a key pillar in our support for the Kingdom's Vision 2030, collaborated with health authorities - while various means of support were extended to local companies producing PPE. This included SABIC technical centers and intermediate component manufacturers volunteering support to identify the best raw materials to develop new health protection solutions.
The pandemic was a real test of our Environmental, Health, Safety, and Security (EHSS) readiness and resilience. We worked tirelessly to raise our EHSS competencies, focusing on driving product stewardship and managing process risk management effectively, while safeguarding our frontline staff. EHSS will always remain critical to our business, and we are fully committed to excellence in this area through training and upskilling our employees.
The development and rollout of vaccines is welcome news and raises hopes for a global economic revival during 2021 and beyond. Our optimism is accompanied by our deep commitment to operate as an essential industry, maintaining output levels to help secure essential goods and meet humanitarian needs globally.
In June 2020, we entered a new era in our history and became the chemicals arm of Saudi Aramco, following its share acquisition of a 70 per cent stake in SABIC from the Public Investment Fund for a total purchase price of SAR 259.125 billion (US$ 69.1 billion).
Both SABIC and Saudi Aramco are global organizations that understand the global market. In the third quarter of 2020, we began the implementation phase of our alignment - positioning us to achieve long-term growth and deliver value for our stakeholders. SABIC's share in value creation and synergy is expected to amount to a recurring annual value of between $1.5 billion and $1.8 billion, which we expect to achieve by 2025. Approximately 80 percent of this annual is set to be generated from six business areas which include procurement, sales and marketing, supply chain, stream integration, feedstock optimization, and maintenance.
Our two companies' portfolios, strategies, global reach, and human capabilities strongly complement each other – and will set us up to achieve our long-term growth ambitions. Synergies with Saudi Aramco will play an important role in our future and, likewise, our transformation journey is continuing to reshape our business so we can unlock new sustainable growth.
We enjoy a leadership position in the global petrochemicals industry and aim to become a leader in the Agri-Nutrients and Specialties sectors. During the fourth quarter of 2020, SABIC announced the completion of its share purchase agreement with SAFCO. The resulting new entity, SABIC Agri-Nutrients Company, also now owns SABIC's share in National Chemical Fertilizers Company (Ibn Al Baytar), Al Jubail Fertilizer Company (Al Bayroni), and 33.33 percent of Gulf Petrochemical Industries Company (GPIC). This strategic move will provide more focus and agility for the agri-nutrients business and provide SABIC with a platform for sustainable growth as both a national champion and a global leader in the agri-nutrients industry.
In Specialties, we achieved another important milestone in our growth ambitions this year with the establishment of the business as a standalone operation. This will unlock further growth potential and also enable it to evolve its business model to better meet customer requirements. Our leadership credentials in Specialties was also enhanced further in 2020 as we raised our stake in Clariant from 25% to 31.5%.
Digitalization is a key element of our growth strategy as the world increasingly moves toward a digital economy. We see the massive potential of digitalization to further transform our business as we steadily unlock the power of big data, machine learning, and artificial intelligence to improve our competitiveness and strengthen our leadership in the chemical industry.
At SABIC, we have laid digitalization foundations which will allow us to progress our journey to become the preferred world leader in chemicals. In 2019, we initiated a five-year digital transformation strategy, and in 2020, we kicked off 22 digitalization initiatives across our organization, including in Technology & Innovation, Sustainability, Procurement, Petrochemicals, and Agri-Nutrients, in addition to earlier pilot projects in Manufacturing. Our 2021 plan is to scale up and expand successful digitalization pilots across the company, as well as launch new ones.
SABIC is committed to maintaining our strong identity and leadership position in relation to sustainability and Environmental, Social, and Governance (ESG) matters. In 2020, I had the privilege of chairing the Business Twenty (B20) group during the G20 summit, presided over by the Kingdom of Saudi Arabia. The key takeaway from the engagement was the central importance of sustainability, which has always been part of our integrated strategy for responsible business and long-term success.
For example, in 2020 we signed a deal for the construction of a photovoltaic solar plant at our polycarbonate facility in Cartagena, Spain. Once complete, this will be the world's first large-scale chemical production site to be run entirely on renewable power. During the year, our global technology centers also worked to create a roadmap to drive the growth of our circular economy business in line with our strategic TRUCIRCLETM portfolio. These sustainability initiatives, along with our earlier social and governance milestones – such as recognition as the Top Employer across Asia, as a diversity leader in Europe, and as a company that operates on the highest ethical and governance standards – demonstrate how we have embedded key ESG factors successfully into our business practices.
Coinciding with the B20 discussions, SABIC also hosted the first open Circular Carbon Economy Forum to raise awareness beyond the industry and reflect the carbon cycle's interactions between social and environmental systems. Meanwhile, we advanced towards higher levels of excellence in ESG with the launch of our ESG Reporting Steering Committee. This body will oversee the integration of key ESG factors into our business strategies and ensure that we follow transparent, robust, complete, and value-driven ESG reporting.
The "New Normal" is here to stay and we must embrace it then adapt to it for the long run. In the year ahead, we will continue to concentrate on maintaining capital discipline, cost management, as well as our ability to uphold a strong balance sheet and credit rating. Our strategy will remain focused on fulfilling our priorities, which include a strong emphasis on EHSS, talent development, customer intimacy, sustainability, and market-facing innovation. Our value creation with Saudi Aramco will continue to gather momentum and place us on a stronger growth path by bringing additional scale, technology, investment potential and growth opportunities.
Overall, we anticipate a recovery in the global economy in 2021 that would take us into 2022 in a much better business environment. As we continue thriving with resilience, we expect consumers to emerge progressively from the setbacks of the year. We remain strongly committed to helping them meet ever-changing market requirements with sustainable and differentiated products – in the true spirit of our value promise and purpose, 'Chemistry that MattersTM'.
Previous Article
Next Article