Our Strategy
SABIC's vision is to be the preferred world leader in chemicals and a true global powerhouse across key sectors of the chemical industry by delivering 'Chemistry that Matters™'.
To realize this vision, our strategy lays out a roadmap to transform SABIC into higher growth, sustainability-driven, more resilient, and more agile chemical company, while playing a key role in Saudi Vision 2030.
Under this strategy, SABIC will continue its focus on addressing customer and market needs, delivering innovative products and solutions, advancing technology and innovation, furthering its commitment to sustainability, delivering strong operational excellence, and sustaining its unshakeable emphasis on safety. We will ensure long-term success via an effective and efficient organization, a robust and consistent performance culture, and a strong set of values around inclusiveness, diversity, and integrity.
Our strategy seeks to deliver sustainable profitable growth and create value for our broad stakeholder base, including shareholders, customers, employees, regulators, and local communities. We will remain committed to being a key enabler of Saudi Vision 2030.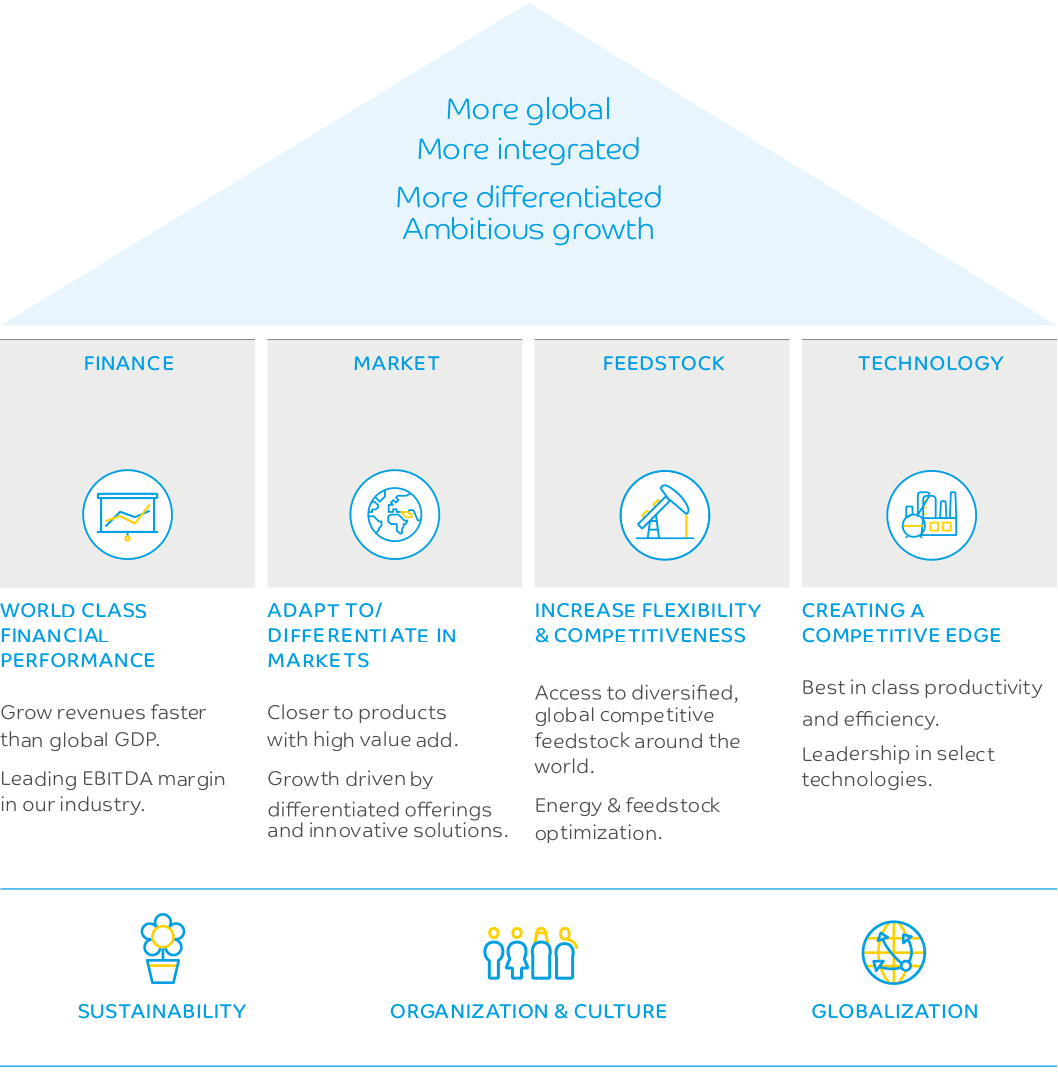 BUSINESS PORTFOLIO
PETROCHEMICALS
The SABIC Petrochemicals Strategic Business Unit (SBU) strategy aims at enhancing our leadership position, by growing in fast-growing and emerging regions while addressing a range of end-user markets including packaging, automotive, building and construction, healthcare and personal hygiene, and consumer and household goods. It does so by providing products and solutions with a customer-focused mindset, and by leveraging technology, innovation and sustainability.
On June 17, 2020, Saudi Aramco announced the successful completion of its share acquisition of a 70% stake in SABIC from the Public Investment Fund (PIF), the sovereign wealth fund of Saudi Arabia. The completion of this historical transaction positions SABIC to become Saudi Aramco's chemicals arm and the national chemicals champion in Saudi Arabia while strengthening its leadership position in the global chemical industry.
Our joint efforts with Saudi Aramco in petrochemicals will be strengthened by leveraging our strong customer and market positions and attractive product portfolio to address the growth markets of China, India, South East Asia, and North America. These markets will be served through a range of feedstock asset platforms and associated investment models. These growth platforms will be located mainly in Asia, Saudi Arabia, and North America and will be enabled by a combination of competitive advantages derived from both Saudi Aramco and SABIC, including advantaged and liquid feedstock, refinery petrochemical integration, advanced technology, such as our crude-oil-to-chemicals project, and strong strategic partners where relevant.
AGRI-NUTRIENTS
SABIC Agri-Nutrients SBU continues to advance its transition to becoming the national agri-nutrients champion and a global leader in the agri-nutrients industry. Our strategy within Agri-Nutrients is to maintain our customer intimacy and market-focused approach, by selectively expanding our downstream positions, increasing our product differentiation, and growing our global assets globally.
We laid the groundwork for the legal integration of all SABIC nitrogen assets under SAFCO, due to be completed in 2021; and SAFCO was re-branded SABIC Agri-Nutrients Company. The SABIC Agri-Nutrients Company will be the platform to accelerate the expansion of our global agri-nutrients footprint to key attractive growth regions such as Africa and the Americas.
SPECIALTIES
Our Specialties SBU focuses on addressing complex and often one-of-a-kind customer needs through differentiation, sustainability, and speed to market.
The Specialties SBU was established as a fully independent and standalone entity in November 2020, with the intent to unlock its growth potential, add value by making it a more agile and focused company, and meet its specific business model and customer requirements.
In addition, SABIC increased its stake in Clariant from 24.99% to 31.5% earlier in 2020. This development is part of our long-term growth strategy to remain committed to product differentiation and create value for our customers. It is complementary to our existing specialties business and is well in line with our strategy of opening up new growth opportunities in specialty chemicals.
METALS (HADEED)
In Hadeed, we remain focused on cost controls and further improving reliability to increase the profitability of the business while maintaining stability of supply of prime quality to the local market, supporting Saudi demand.
STRATEGIC PILLARS
Our strategic ambitions rest on eight pillars that are critical to who we are: Customer Focus, Market Focus, Operational Excellence, Innovation and Technology, Portfolio Management, Transformation, Localization Engine, and Environmental, Social and Governance (ESG).
Customer focus
We work hard to understand the evolving needs of our customers in terms of service, product differentiation, and solutions
Market focus
We aim to accelerate growth both organically and non-organically by being close to regional markets. In our Petrochemicals business, for example, we aim to establish an asset base in the US to take advantage of shale gas opportunities, to expand in Asia where the maximum market growth is, to strengthen our asset base in Europe, and to deliver further growth in Saudi Arabia while taking advantage of our proximity to Middle East/Africa markets.
Operational excellence
We aim to improve efficiencies in our core areas of manufacturing, commercial, supply chain, and cost management.
Technology and Innovation
We strive for competitive advantage selectively through process, catalyst and application development. Sustainability is central to our focus on how we run our business and address current and future challenges.
ESG
We aim to integrate ESG factors into business strategies and company values.
Portfolio management
We aim to prioritize strategic options and capital allocation within SABIC's portfolio of businesses.
Transformation
We will continue enhancing SABIC's organizational effectiveness by investing in leadership, training and culture and by improving our operating model
Localization engine
We aim to further develop the communities within Saudi Arabia. We work hard to catalyze further local content growth in Saudi Arabia through a structured program of leveraging SABIC capabilities.
Previous Article
Next Article