HUMAN CAPITAL
Our people have proved to be the true heroes of 2020. We extend our sincere gratitude to everyone, especially our frontline employees, who worked throughout the pandemicaffected year to secure and protect business continuity and help us remain on track to become the preferred world leader in chemicals.
We will continue to attract, retain and develop the best talent in the industry, while the safety and wellbeing of our employees remain our highest priority. The pandemic gave us the opportunity to develop and implement a number of innovative ways of global communication and connectivity. Being "connected" helped us deal with the response even at a personal level, and sustain our high safety standards and stay firmly on course to achieve our business goals.
In 2020, we evolved our observable behaviors using our core values and the SABIC Leadership Way (SLW) framework to encourage an enhanced collaborative way of working, anchoring our Employee Value Proposition that is centered on two-way dialogues. We focus on exploring what matters together and on sharing ideas, goals and ambitions – openly and candidly.
Our employees are our greatest asset and the critical factor in sustaining our success and accelerating growth.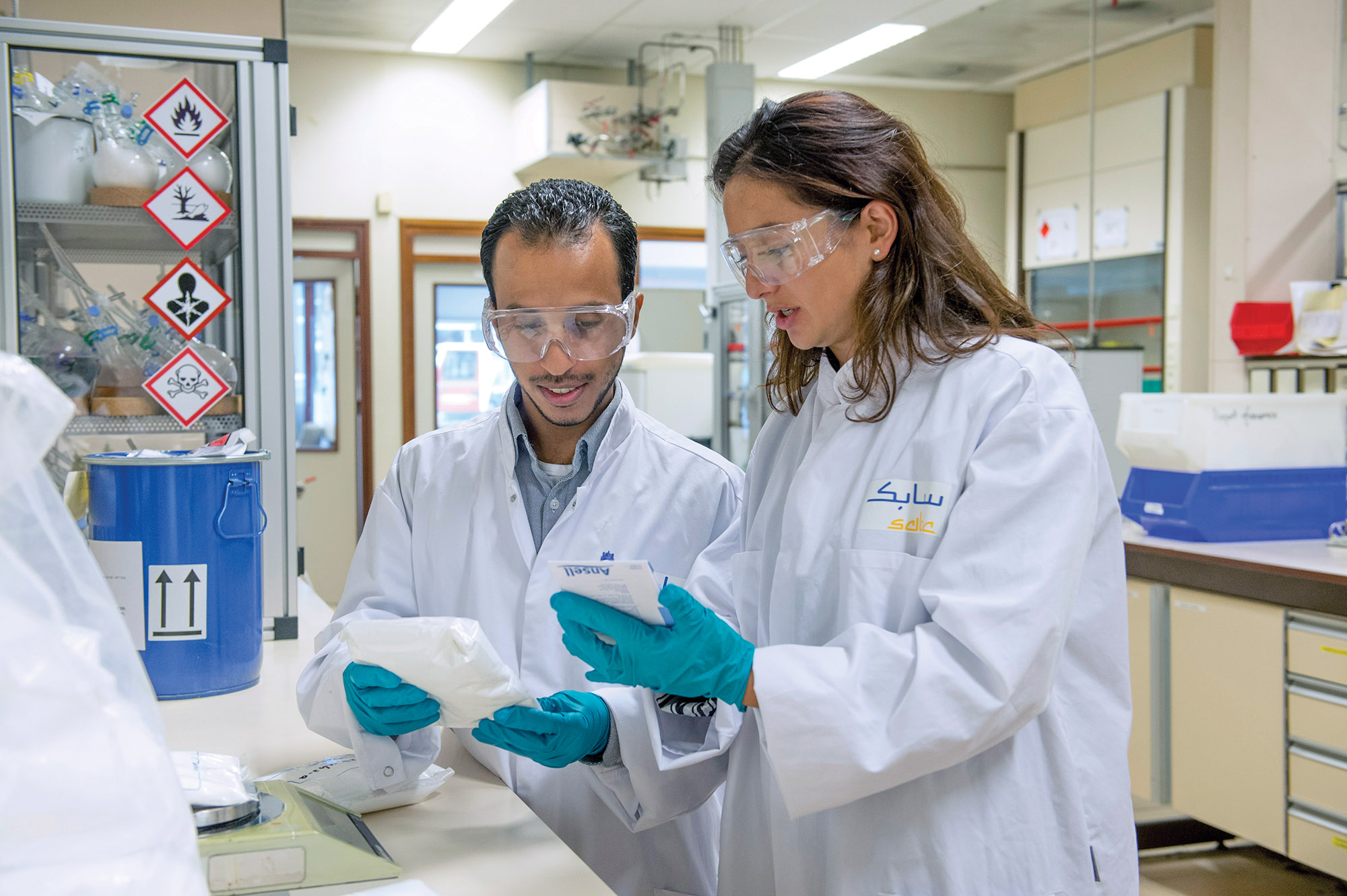 SABIC Leadership Way inspires our people to "Be the impact."
RESPONSE ACTIONS TO THE PANDEMIC
Our global employee network worked tirelessly to organize our response to the people's needs. With a footprint in over 50 countries, our sites were proactive in their response to COVID-19 safety measures in addition to mobilizing a significant portion of our workforce to work from home (WFH).
The HR community enabled a rapid, flexible approach to enhance and expand policies to meet the ever-changing needs of employees, their families and our communities. We also provided a number of digital platforms for people to stay connected which included dedicated channels for real-time health and wellbeing advice.
Additionally, leadership communication campaigns addressing on-the-ground concerns were launched to support and uplift employee morale. This was a heartfelt and creative space which included stories of WFH experiences relayed across to employees through short videos, selfies, actual life experiences, challenges and questions. This, in turn, increased our sense of resilience via a program we initiated: "Together We Overcome COVID-19."
PULSE SURVEY
In May 2020, our global employees received a link to an anonymous, confidential and externally conducted survey. The survey architecture consisted of 25 questions which were targeted across seven specific areas, to gauge the employees' views on our company's response to the global pandemic. The participation level and overall results were very positive, with most respondents rating our pandemic-related actions as highly effective.
SABIC LEARNING
This function plays a key role in providing learning opportunities that impact the development paths of all our employees. By improving knowledge, skills and capabilities, we were also able to transfer many face-to-face interactions to digital learning and engagement platforms to mitigate against the challenges presented by COVID-19. The Digital Learning Experience Campaign offers and promotes a variety of global virtual classrooms and online learning options, globally accessible to our employees.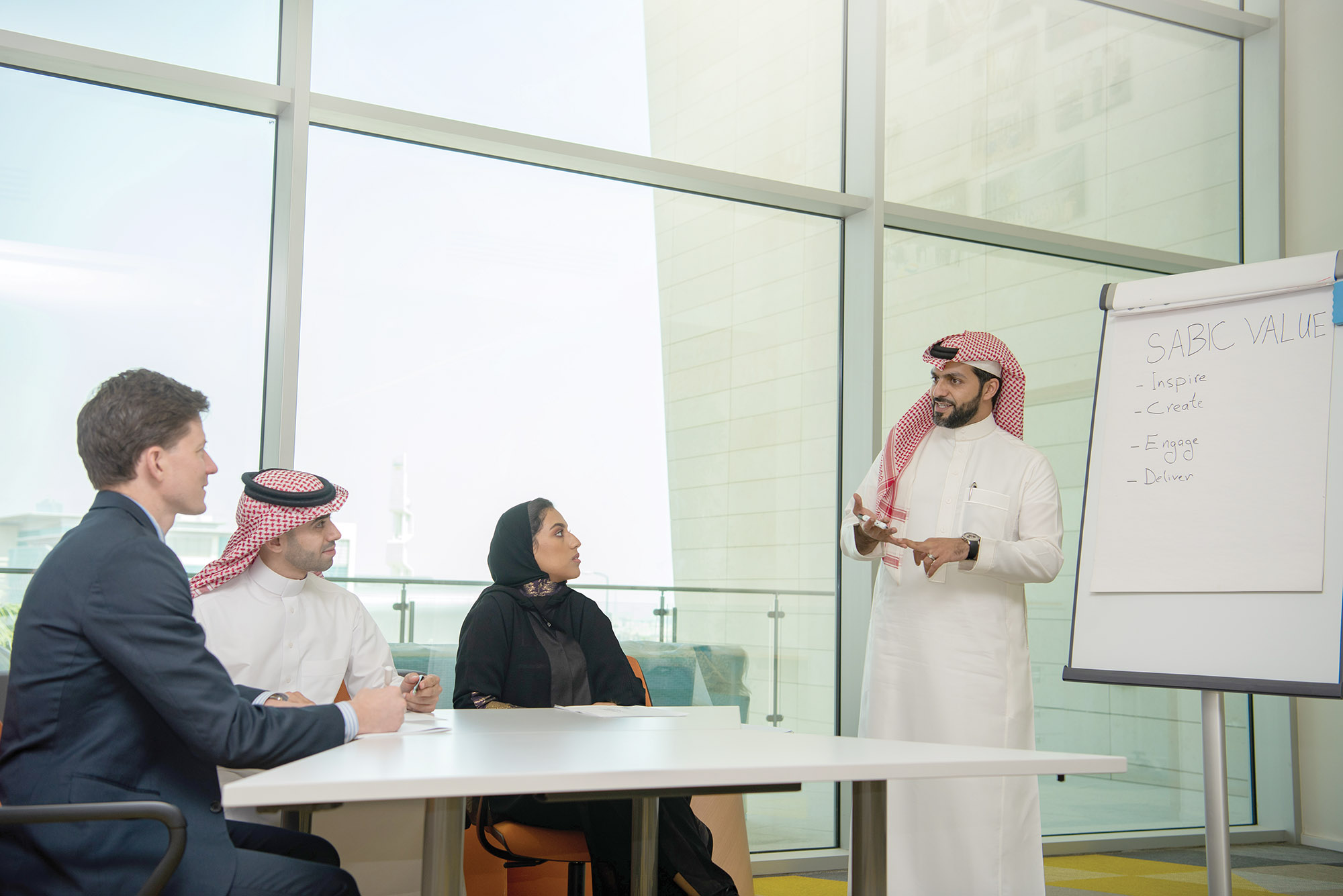 Employees proved to be our true heroes throughout the pandemic-affected year, helping to secure and protect business continuity.
BEING THE IMPACT
SABIC Leadership Way inspires our people to "Be the impact." This year our employees have lived that phrase to the full, displaying courage, adaptability and calm professionalism to stay positive and keep working effectively, for the benefit of our work, workplace and workforce.
Within the new working environment, employee development might have been expected to take a back seat, but not at SABIC. While our approach and methods, tools and techniques, have had to change, to take account of the year's very specific circumstances, the work of continuously improving our skills – at every level of the organization – continued.
Alongside capability-building, we also undertook a number of initiatives to safeguard and improve employee health and wellbeing, extending access to resources that support their physical and mental health via enhanced digital and tele-health capabilities to our existing regional Employee Benefit platforms.
BUILDING SKILLS
HR ONE
"HR One" went live in February 2020 bringing together recruitment & onboarding and learning within a single integrated system, simplifying and streamlining our global process for attracting, retaining and developing talent.
MENTORING PROGRAM
A global effort in 2020 saw the launch of our Mentoring Program (on a virtual platform) to connect our employees with internal coaches, to develop and target plans to achieve their aspirations.
PERFORMANCE ENHANCEMENTS
Stakeholders' feedback during 2020 was instrumental in rolling out a number of key enhancements to our Talent Review Process including a revised timeline and performance differentiation approach, a new tool kit for managers on Career Potential and improved data access for the HR team.
BUILDING TEAMS
SABIC IMPACT – LEADERSHIP SUMMIT
This year, our top 150 leaders, from six time zones, came together virtually for a four-day interactive Learning Summit focusing on employee engagement, professional leadership and strategic communication. The event exemplified our commitment to developing leaders, instilling and building a sustainable growth mindset.
SABIC YOUNG LEADERSHIP COUNCIL
A hundred young "influencers" were selected from over 400 of our employees worldwide to join the SABIC Young Leadership Council (SYLC) this June in developing bold new "step change" ideas to enhance our workplace and our business. SYLC looks to harness the broad diversity of our workforce so we can inclusively drive strategic and transformational change throughout our global organization.
GLOBAL EMPLOYEE TOWN HALL
The 2020 Global Employee Town Hall took place at our headquarters in Riyadh, with leaders livestreamed throughout the regions to communicate key messages on performance and our long-term plans, with an uncompromising focus on safety, compliance and talent.
BUILDING FOR THE FUTURE
EXTERNAL LEARNING PROGRAM
Human capital development is at the very heart of the Saudi Vision 2030 program. We worked this year with various governmental and educational entities to help prepare a diverse pool of Saudi youth and leaders for the new economy, building their skills and potential through the SABIC External Learning Program. The cohort this year was a diverse mix of trainees of over 5,000 delegates.
LEADERSHIP PROGRAM
The work of the SABIC Leadership Program for government officials, created in 2016 to share our experiences with government, continued this year despite the challenges of 2020. The planned cohort for 2020 was circa 250 leaders working in Saudi government-led ministries and institutes.
VALUES 20
Values 20 is an emerging global community that came together this year to actively engage with the activities of the G20. Six delegates were selected from SABIC as experts who contributed to and helped build this hub for continuous knowledge sharing.
Previous Article
Next Article