ENVIRONMENTAL, SOCIAL AND GOVERNANCE (ESG)
SABIC has been a sustainability story from its very foundation, capturing the gas that was flared into the air from the oil fields in Saudi Arabia.
This core principle was very clear when we released our first annual report in 1977, but it was not until 2011 that we began our Environmental, Social and Governance (ESG) reporting journey, with the publication of our first sustainability report. The journey has continued over subsequent years by way of materiality assessments, the setting of targets and KPIs, and increasing transparency, to the point where we are ready for this – our first formal ESG disclosure in the Annual Report.
In reflection of our strong tradition of sustainable business practices and socially responsible investments, Capital Finance International (CFI.co) has recognized us as the Best ESG Responsible Petrochemical Company in Middle East/Africa for 2020. We have also received a platinum medal for sustainability from EcoVadis, a leader in evaluating the sustainable performance of businesses around the world. As the highest possible distinction, the platinum medal is only awarded to companies that score in the top 1% for sustainability practices. 
At Davos in 2017, over 140 CEOs, including SABIC's, from the World Economic Forum International Business Council (IBC), issued the Compact for Responsive and Responsible Leadership, declaring that 'society is best served by corporations that have aligned their goals to the long‑term goals of society,' and identifying the UN's Sustainable Development Goals (SDGs) as the roadmap for that alignment.
We are also supporting the WEF framework focused on Stakeholder Capitalism, whereby SABIC's purpose is oriented toward creating long-term value, not only for shareholders but also our stakeholders. We are active members of the WEF ESG practitioners group and we consider the WEF metrics a good guidance to enhance the standardization and value orientation of the ESG disclosures.
At SABIC, we recognize ESG's central importance to business success in today's global marketplace, and it soon become, if not already, a license to operate. We are actively looking to integrate these ESG factors into our core business strategy, to ensure that everyone at SABIC shares a common understanding of the megatrends that will affect our company and society over the decades ahead, and a common approach to addressing the ESG issues those trends raise. We also recognize the need to integrate our response to demands for disclosure into the very fabric of our processes, tools and priorities, whether regulation demands it or not.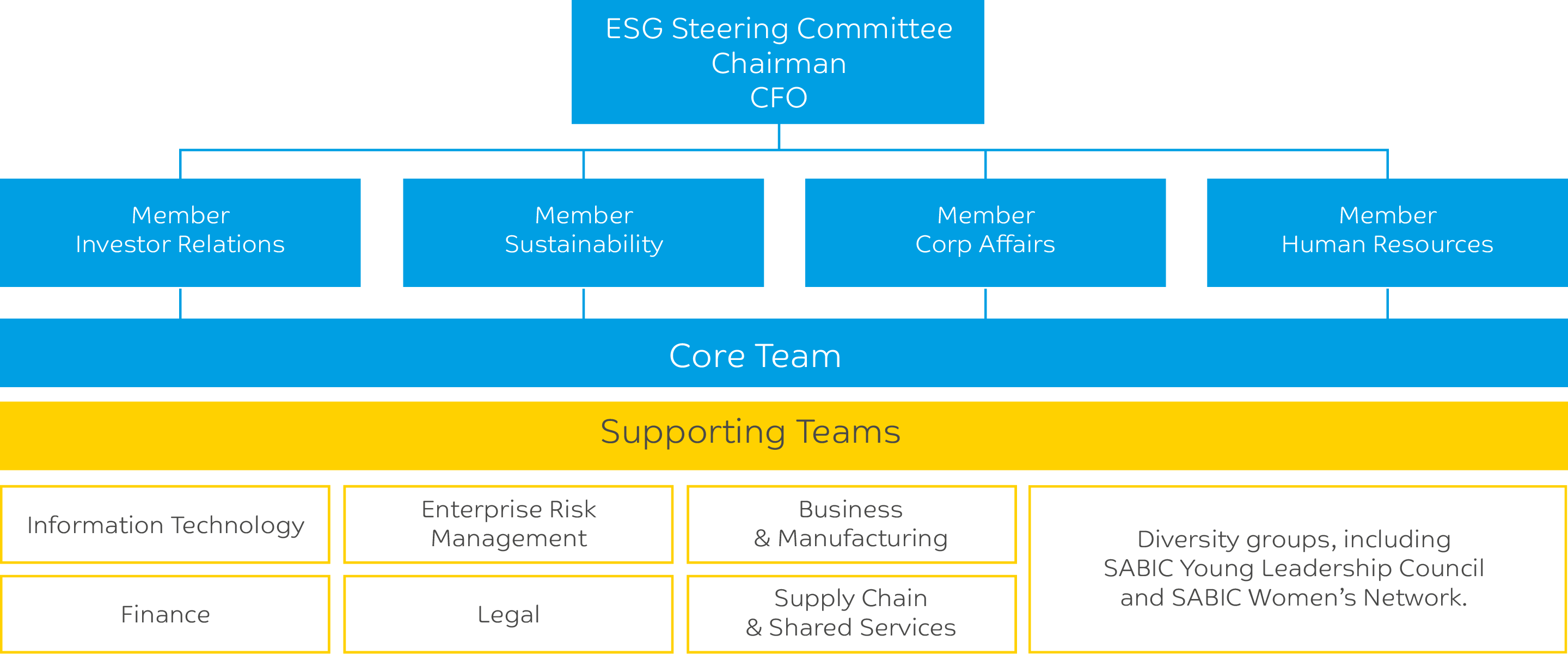 Such recognitions led to SABIC's establishment of an ESG Reporting steering committee, to take charge of our ESG reporting strategy and roadmap. Headed by our CFO, the committee includes cross-functional representation from our Human Resources, Sustainability, Corporate Affairs, including Corporate Social Responsibility and Global Communications, and Investor Relations departments. Their deliberations inform the work of the ESG core working team, which has direct support from numerous functions throughout the organization, including Legal.
The aim is to embed ESG into decision-making at every level and in every area of the organization, while ensuring that a holistic approach is taken. The ESG reporting steering committee is the enabler to promote the integration of ESG factors into core business processes and decisions.
The ESG steering committee is responsible for:
Understanding ESG performance and identifying the most relevant ESG disclosures for the company
Identifying and proposing general ESG policies, and prioritizing current and emerging ESG issues that may affect operations
Establishing a clear and well-defined ESG charter for the organization, along with a roadmap for its fulfillment, by capturing the ESG priorities from the businesses and functions.
Improving the company's understanding of ESG matters
Supporting the evaluation of ESG risks and opportunities, and seek ways to monetize them.