Intellectual Capital
In 2020, SABIC Corporate Technology and Innovation (T&I) comprised 1,605 employees working on various research projects at 20 centers around the world, with a patent portfolio of 9,946, to deliver differentiated and sustainable product and application solutions and sustainable cost-advantaged process innovation to meet the needs of our customers and the value chain over the near-, mid- and long-term horizon.
Despite a challenging environment this year, the T&I organization continued its focus on elevating the capabilities of our people, improving our innovation portfolio, and strengthening our innovation model to increase return on investment and further strengthen SABIC's ability to compete in the global market. We further focused on optimizing our use of global resources and capabilities, developing a more robust succession-planning pipeline, and strengthening the innovation portfolio focus on delivering on our sustainability priorities. 
IMPROVING PRODUCTION
Numerous projects this year aimed at generating additional value and improving our cracker assets worldwide, in areas including yield improvement, furnace optimization, capacity and feedstock margin maximization, fouling mitigation, energy intensity improvement, benzene extraction, and alternative feedstock processing.
We worked closely with our manufacturing affiliates and addressed chronic plant challenges. For example, we helped resolve the longstanding PK-3 1-butene quality issue, enabling the production of all LLDPE grades. Such efforts have brought substantial cost savings by averting production losses in 1-butene and PE plants.
This year saw the first commercial demonstration of a new High Space Time Yield (HSTY) technology, offering the prospect of 10% productivity enhancement over Normal Super Condensed Mode in the LLDPE gas phase process/reactor. In addition to boosting productivity, the new process also offers material product benefits – plans are in hand to deploy it in other SABIC LLDPE gas phase reactors.
Further initiatives, which were part of our MTBEFBD4 improvement strategy and implementation of our catalyst strategy at the Petrokemya MTBE plant, resulted in an unprecedented boost in MTBE production and a significant reduction in catalyst losses from 2005. The significant catalyst savings were equal to more than 50% compared to the baseline. Reliability improved as well by sustaining operations with minimum unplanned shutdowns.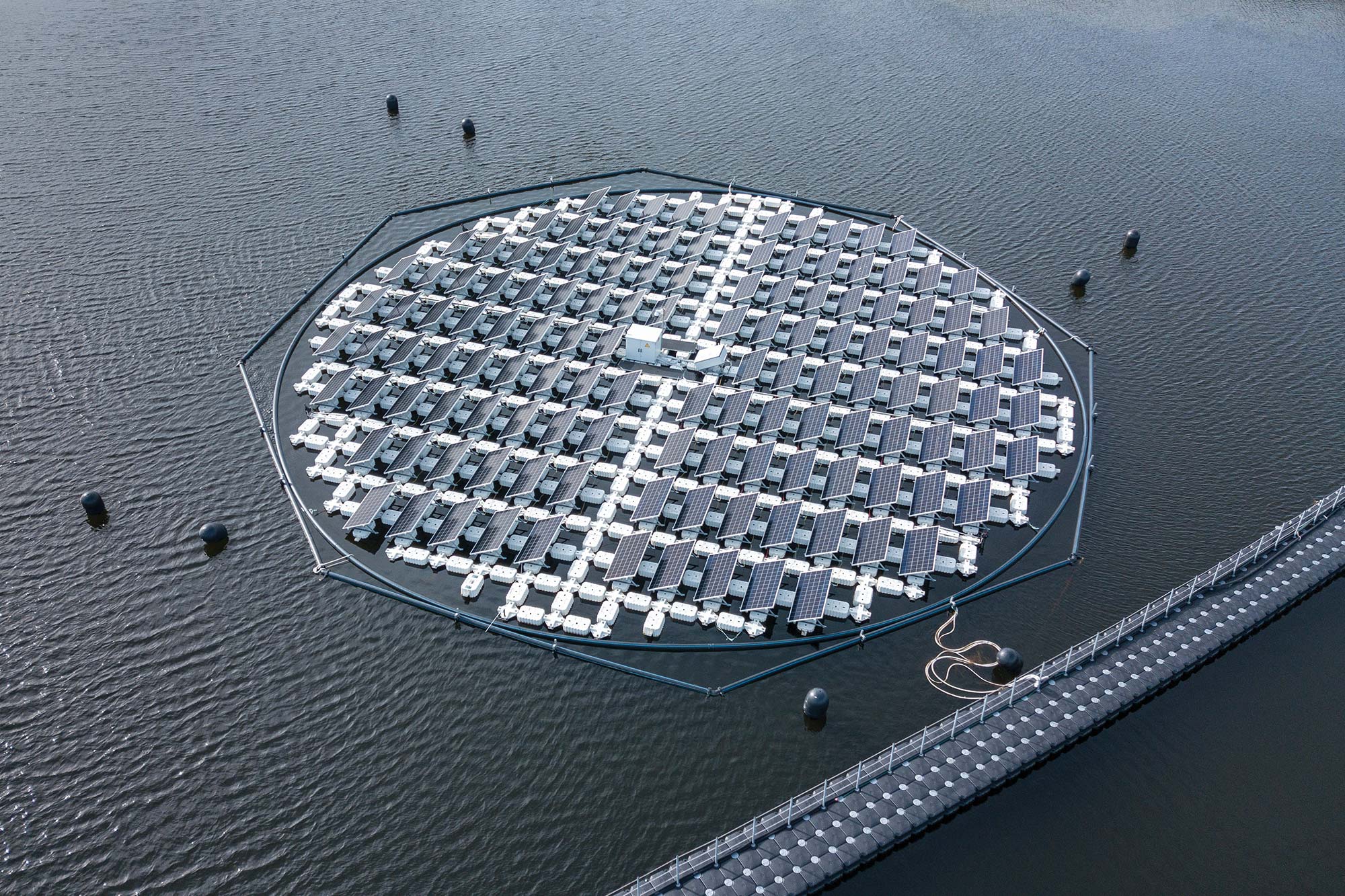 Aerial view of a floating island of solar panels in Oostvoornsemeer, The Netherlands, built mostly from SABIC material – an example of how we are building our innovation portfolio to further strengthen our ability to compete in the global market. The floatation devices are made from our PP compound 1650U and the connections are from 1520U
PRODUCT INNOVATION
As consumers demand ever more higher performing and more sustainable products, in everything from piping to packaging, auto to electronics, personal hygiene to agri-nutrients, our expertise and ingenuity helps customers all over the world overcome their challenges. 
AUTO APPLICATIONS
The release of next-generation STAMAX™ products with improved aesthetic properties is helping us maintain our leadership in the auto sector and build our share of the valuable global tailgate business. New formulations of XENOY™ HTX resins and flame retardant SABIC® PP resins serve multiple applications in the booming electric/ hybrid vehicle market, from honeycombed plastic-metal hybrid rocker panels for battery crash protection to structural battery components.
FLOATING STRUCTURES FOR PHOTOVOLTAIC
Two new products – HDPE for blow molding and PP for injection molding – designed for photovoltaic floating devices for the fast-growing renewable energy market offering good processability and mechanical properties, gained positive feedback from European and Asian customers.
FLEXIBLE PACKAGING
A new SABIC POP (polyolefin plastomer) based solution for liquid container liner applications was successfully launched, with three tailor-made offerings targeting different level of CTQs (Critical to Quality criteria) on flex-crack resistance and dart impact performance. Significant weight savings compared to conventional rigid packaging along with better leakage resistance offer customers significant cost savings, as well as reductions in leakage-related failures.
In addition, BCT18F, which is a new high impact polypropylene for flexible packaging, helps meet increasingly demanding gel count specifications.
NEW MELTBLOWN GRADE
A new enhanced variant of our existing PP514M12 meltblown grade offers enhanced properties and processing in the final application for lower T&P (temperature and pressure), better HH (high heat resistance), and lower fiber-fly, positioning it for numerous medical and hygiene applications.
ELECTRICAL AND ELECTRONICS
New short and long glass filled polypropylene grades were launched, realizing first successes to serve 5G antenna cover applications. We continue to improve formulations, supporting customer programs, and providing better transmittance, lighter, and tougher next generation solutions.
AGRI-NUTRIENTS SOLUTIONS
Two new platforms for nano-fertilizers and bioenhanced fertilizers were established to enrich our agri-nutrients portfolio. Moreover, we worked closely with "SABIC Agri-Nutrients Company" to develop technological solutions to meet new regulatory energy requirements. We also worked on improving plant reliability and on lowering energy consumption and CO2 emissions.
INNOVATION EXCELLENCE
We continued this year to improve operational excellence on many fronts: maximizing value creation from our global sites and other assets; increasing the efficiency of the organization and our delivery to the T&I community and other SABIC businesses; and leveraging our resources more efficiently, for a faster, more agile response to internal and external stakeholders.
Key areas of focus included efforts to improve leadership across sites, exploit resource synergies more effectively, improve communication, with more information more frequently, and greater transparency, enhance external collaborations, tighten the focus of the T&I portfolio, and continue to build an organization equipped to deliver sustainable disruptive innovations.
We also this year began looking into the results of the SABIC-Saudi Aramco synergy assessments, developing the broad outlines of an effective collaboration and value delivery plan.
Technology Licensing
This year brought an increased focus on external collaborations with universities and institutes, start-ups, and other third parties, with a view to adding more value through existing activities, and acquiring, developing and effectively leveraging complementary technologies from third parties.
We strengthened our technology-ventures footprint in Europe, North America and China, ensuring close alignment with its strategic technology goals. The investment portfolio currently consists of ten active companies, two technology licenses and four funds. 2020 investments included UK-based Void Technologies and New Leaf in the US, in support of SABIC's differentiation and growth strategy in its target markets. 
Technology Venturing
Technology Licensing works to secure state of the art technologies for SABIC and its affiliates' global growth initiatives, helping to maximize affiliates' asset productivity, enhance efficiency and reduce energy intensity, ensure compliance with SABIC/SEEC targets, and deliver significant environmental benefits. Technology Licensing is also active in deploying SABIC proprietary technologies to growth projects of both SABIC and selected third parties. SABIC this year, for one example, through its partner Technip FMC, licensed the use of its proprietary acrylonitrile butadiene styrene (ABS) technology at a plant in China.
As we and the world emerge from the trials of 2020, we will continue to build the skills, commitment and morale of our people, build flexible teams, improve retention and succession, and enhance an agile and resilient innovation culture. We will continue to strengthen our innovation model, with coordinated centers of excellence, costs cut, efficiency boosted, and the full benefits of our innovation capabilities captured and optimally leveraged for ongoing and sustainable improvement to our Return on Investment.
Future Scientists
People are central to developing our innovative ideas and culture, and their support is helping to make an impact on our bottom line. We lay emphasis on building the right competency across our global innovation centers toward being a global synergized organization. Many of our future scientists complete Masters and/or PhDs at elite universities in fields such as catalysis, engineering, and differentiated polymers/materials. We complement their advanced training with our early career development and on-the-job-learning programs at our manufacturing affiliates, as part of our 2025 competency roadmap.
Previous Article
Next Article