PETROCHEMICALS
Petrochemicals is SABIC's largest business unit, responding to the demands of our global customers for improved performance and sustainability.
The portfolio includes the fundamental building blocks for much of the world that surrounds us - chemicals, polymers, and other materials, used in the manufacture of everything from automobiles to healthcare, buildings to household goods, as well as sustainable solutions for the packaging industry. Our products include olefins, methanol, methyl tertiary butyl ether (MTBE), aromatics, glycols, linear alpha-olefins, polyethylene, polypropylene, polyethylene terephthalate, polyvinyl chloride, polystyrene, polycarbonate, acrylonitrile butadiene styrene (ABS), and many other engineering thermoplastics and blends.
While the ongoing pandemic has presented challenge after challenge, we have continued to come up with global solutions.
Supporting the Saudi Ministry of Health with ethanol supplies for hand sanitizer and disinfectant producers; supplying Mindray Medical International Limited, one of China's leading medical equipment manufacturers, with the materials to produce vital ventilators for two new Wuhan hospitals; launching SABIC PurecaresTM personal hygiene portfolio, aiding rapid development of an affordable, reusable COVID-19 mask; in Saudi Arabia and around the world, we have delivered what was needed, while continuing to build for the future.
Financial highlights
Petrochemicals and Specialties revenues amounted to SAR 101.84 billion in 2020, a decrease of SAR 15.64 billion or -13%, compared to SAR 117.49 billion in 2019. The decrease was mainly attributable to the decrease in average selling prices despite the increase in sales volumes by 1%
Income from operations was SAR 4.61 billion (including Specialties SBU), a decrease of SAR 5.9 billion or -56%, compared to SAR 10.50 billion in 2019. The decrease was mainly attributable to lower average selling prices, in addition to the lower share of results of integral joint ventures.
OPERATING HIGHLIGHTS
IMPROVING PRODUCTION
- More sustainable glycol production
Savings in raw material (ethylene) were achieved in 2020 through optimization of ethylene oxide catalyst performance at glycol plants. Engineering solutions have been proposed to enhance CO2 recovery and heat integration, with a view to improving our sustainability footprint. Both initiatives are part of our ongoing program of reducing feedstock consumption, improving energy efficiency, and mitigating heat exchanger pressure drop and fouling while continuing to meet or exceed product specification and shelf-life expectations.
SABIC affiliates fuel/feedstock optimization
SABIC continued optimizing fuel/feedstock reutilization at SABIC affiliates, taking into account supply and processing capacities. The initiative is already feeding through to significant bottom-line benefits, and it will be maintained over the coming years.
Ibn Rushd transformation/Phase-II project
Ibn Rushd continued transforming to restructure its business and improve its financial performance. This included standardizing the operation and management of plants in collaboration with Yansab, with the aim of optimizing assets utilization, achieving Capex efficiency, recruiting national talents, and optimizing handling materials and feedstock. Ibn Rushd will continue supplying the Saudi Arabian market with PET (polyethylene terephthalate. Furthermore, the transformation actions include the closure of a number of plants, including aromatics, PTA (purified terephthalic acid), AA (acrylic acid ), and associated utility units by the end of 2020.
Production volume
Million MT
2020
2019
Chemicals
37.3
37.0
Polyethylene (PE)
4.1
4.1
Performance Polymers and Industrial Solutions (PP and IS)
6.8
6.7
Total
48.2
47.8
Sales volume
Million MT
2020
2019
Chemicals
23.6
23.4
Polyethylene (PE)
6.9
7.0
Performance Polymers and Industrial Solutions (PP and IS)
6.9
6.7
Total
37.4
37.1
IMPROVING PRODUCTS
Bio-MTBE
SABIC is the first producer of bio-MTBE in Europe (in addition to fossil MTBE – methyl tertiary butyl ether), a fuel additive widely used to reduce emissions. SABIC's unique material is made from bio-methanol produced from biogas sourced from manure, sewage sludge, and organic municipal waste.
Chemicals going circular
With the world increasingly aware of the environmental impacts of discarded plastics, technological innovation is beginning to provide solutions, both reducing waste and creating sustainable feedstocks for petchem operations.
As part of our TRUCIRCLETMprogram of circular solutions, in 2020 we saw the large-scale production of our certified circular products, from advanced recycling of used plastic. These materials provided solutions for a range of applications and industries, including for the production of seven million ice cream tubs for Unilever's Magnum™ brand. This represented both a world first as a recycled container with food application approval and a significant sustainability shift for the industry toward a circular economy.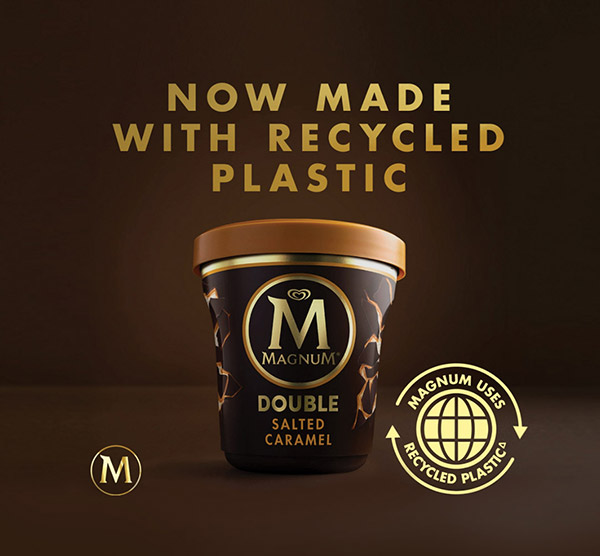 Ice cream tubs made from SABIC's certified recycled plastic material – a world's first as a part-recycled container gaining food application approval
New grades, new products
Further product/grade initiatives included:
Development of new PEG (polyethylene glycol) PH grades, SAPEG 400 PH & SAPEG 600 PH, for the pharmaceutical, personal care and cosmetics industries.
Launch of a new lightweight CSD (carbonated soft drink) cap grade, with excellent slip performance.
New PHF random PP and impact PP TWP (thin wall packaging) grades for the MEAF and APAC markets.
New mechanically-recycled polymers for automakers.
New low melt viscosity grade PVC 57S for pipe-fitting application.
NEW APPLICATIONS
5G network station antenna
A global leader in telecommunication and information technology in China selected SABIC's STAMAXTM resin to create a high-quality, high-efficiency antenna cover for its 5G network base station.
Optimizing automobile battery packs
Vehicle electrification is accelerating. Recognizing this, a dedicated SABIC team has been developing solutions to help automakers optimize the battery packs of electric vehicles (EV). These efforts led in 2020 to a ground-breaking use of thermoplastic for the battery cover of a plug-in hybrid EV. SABIC's emerging portfolio of materials for EV applications – and related expertise – is positioning us as an emerging leader in serving this rapidly growing space.
PV floating barrel
SABIC successfully launched a new product, HDPE B5308, targeting the PV (photovoltaic) floating barrel market – an increasingly important part of the renewable energy industry. Floating photovoltaics represent increasing opportunities with leading manufacturing companies in China and India, as they play a key role in meeting their material solutions needs. Additional sales were achieved by expanding the grade's applications into IBC (intermediate bulk container) rigid packaging – a market with significant volume potential.
Piping for Bangladesh pipeline
September saw the passage of the longest convoy ever to pass through the Suez Canal since its 1869 opening: 6,722m of 2.3m diameter pipes made of SABIC RELY 5924, on its way from the fjords of Norway to the shores of Bangladesh, where it will be used in creating a power plant offshore cooling water pipeline system.
Better polymer, better pavement
Asphalt modification by polymers improves pavement durability by improving resistance to rutting and thermal cracking, fatigue damage, stripping, and similar degradations. A number of polymers are used, including styrene butadiene styrene (SBS), styrene-butadiene rubber latex, crumb rubber, ethyl vinyl acetate (EVA), and ethylene copolymers. SABIC COHERE 8170D is currently under investigation as a binder for this application.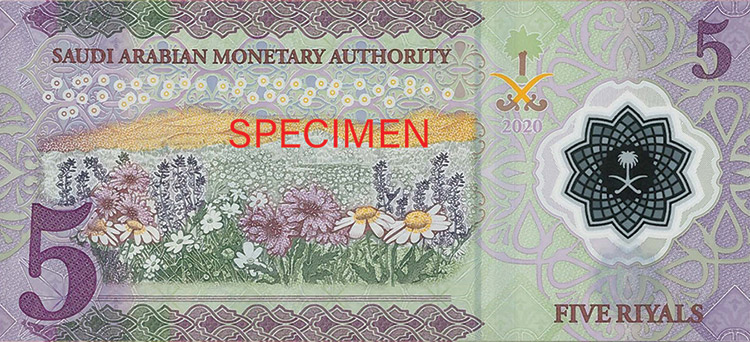 SAUDI ARABIA'S FIRST POLYMER BANKNOTE - Saudi Arabia this year issued its first polymer currency, with a five-riyal banknote made from SABIC polypropylene. The new banknote uses Guardian™ substrate from CCL Innovia that is made from SABIC® PP polymer which was chosen because of its distinguishable durability and strength. The environment-friendly notes start life as polymer pellets produced by SABIC which are then transformed into Guardian™ polymer substrate film, used only for banknotes. Once the banknotes have completed their working life, they can be recycled by turning them back into polymer pellets. These can then be used for a wide range of products, including kitchenware and building materials.
Expanding PCR and renewable offerings
In 2020, we expanded our portfolio of engineering thermoplastic resins incorporating high levels of post-consumer recycled material (PCR) destined for applications in the consumer electronics business and electrics and electronics industry. The mechanically recycled PCR material is blended with the virgin material. It can help improve plastic recyclability, lower emissions, and drive toward closing the loop on used plastic.
2020 also saw advances with solutions for customers and value chain partners for applications in food packaging, cosmetics, and healthcare applications, using SABIC's certified renewable polyolefins. Coming from second generation, bio-based feedstock that is not in direct competition with the human food chain, these solutions can help to reduce the carbon footprint of the end-product.
COLLABORATING FOR SUCCESS
Cooperation brings FIFA approval
A five-year collaboration with Bellinturf, a leading producer of artificial grass producer, has led to the co-development of FIFA-approved artificial grass, using a SABIC PE & PP solution. In trials, the product demonstrated excellent mechanical performance and durability, with potential for significant growth in this application.
SABIC solution for farmers' freshwater
Mekong Delta during the dry season has caused extensive damage to rice fields, fruit orchards, and other local agriculture, and left farmers throughout the region without freshwater supplies they can rely on. Our team worked with Tan Phong Ltd, a leading Vietnamese packaging manufacturer, on designing multilayered giant plastic bags using SABIC materials, each capable of holding up to 30 cubic meters of freshwater.
LOOKING AHEAD
As we move toward a more circular economy, we look forward to further deepening our collaborative partnerships with customers and other stakeholders in support of sustainable growth. Our market-leading initiative in the chemical recycling of mixed plastic waste to the original polymer and our TRUCIRCLETM portfolio of circular solutions demonstrate how we can successfully combine sustainability and innovation to meet the challenges that lie ahead.
While we redouble our efforts to expand our presence and achieve profitable growth in key global markets, we will also continue streamlining our operations and capabilities to better serve our customers.
Previous Article
Next Article