Environmental capital
SABIC recognizes the core role sustainability and innovation play in our organization to help meet the challenges of maintaining a livable planet, and to accelerate the development and adoption of new market-focused solutions that respond to society's demands for environmental protection.
Embedding sustainability and innovation into our DNA has helped us create new technologies and solutions, adopt new processes that have transformed our governance and operational efficiency, and unite our employees, partners and other stakeholders in an integrated effort to transform our supply chain and operations for the good of the planet and its people.
GOVERNANCE FOR SUSTAINABILITY
Governance is crucial. We have created a number of sustainability committees and councils at different levels of the business, reporting directly to the board, including the newly set up Environmental, Social and Governance (ESG) steering committee. This committee helps our senior management set strategy, develop, implement and monitor initiatives and policies to fulfil it, manage stakeholder communications, and generally monitor and manage all SABIC ESGrelated activities.
Our Sustainability Council, chaired by the Vice Chairman and CEO, is responsible for setting our sustainability vision, priorities, and goals, accountable for performance against sustainability goals. It approves the recommendations of the Corporate Sustainability Department and Steering Committee. Sustainability has also been included in the scope of the Board of Directors Risk Committee, emphasizing its importance to our business.
This year, we formed the Scientific and Technical Advisory Council, managed by SABIC Corporate Fellows, with members from academia and industry, to focus on differentiated materials, renewables, process break-through, feedstock diversification and sustainability. The Council performs technical health checks for early-stage programs, provides content expertise for the M&A team, advises on issues raised by Technology & Innovation management, elicits and backs new ideas, contributing expert feedback, provides a sounding board for executives, and maintains a research framework to enable sustainable growth.
WORKING TOWARD CIRCULARITY
Plastic is a valuable resource which should never be wasted. However, when used plastics enter our seas, oceans, waterways and ecosystems, it is a challenge to recover the material for reuse. SABIC's aim for the future is that plastics should not end up in the environment or in landfill and instead are reused and remade into new products.
The launch of our TRUCIRCLE™ program at the end of 2019 marked an important milestone on our journey toward closing the loop on plastic waste. Our TRUCIRCLE™ portfolio and services of circular solutions span design for recyclability, mechanically recycled products, certified circular products from feedstock recycling of used plastics, certified renewables products from bio-based feedstock and closed loop initiatives to recycle plastic back into high quality applications and help prevent valuable used plastics from becoming waste.
In 2020, our global technology centers worked to create a roadmap to drive the growth of our circular economy business and to deliver a balanced portfolio across our businesses in line with our strategic TRUCIRCLE™ initiative. One such example is our focus on the future generations of pyrolysis technologies for the global scale-up of our circular products and improved CO2 footprint.
Our efforts involve extensive cooperation with many associates, including companies involved in waste handling and conversion, direct material customers, OEMs, brand owners and retailers, industry peers, academics and other third party experts, and global policymakers. We are currently working to increase certified circular polymer production with our first commercial plant, situated in the Netherlands, by 2022.
Examples of circular solutions from our TRUCIRCLE™ portfolio include:
Orkla Group produced the first chips packaging made with SABIC's certified renewable polypropylene (PP) using bio-based feedstock that is not in direct competition with the human food chain.
Innovative TF-BOPE polymer solution for food packaging film to create a more sustainable frozen food packaging which combines a new polyethylene (PE) grade with innovative film production technology.
Unilever and Greiner Packaging collaborated with SABIC in the development of an innovative new Knorr® bouillon container using certified circular impact polypropylene (PP). The selected certified circular polymer grade - SABIC® PP FLOWPACT FPC45 impact copolymer - is a phthalate-free product and compliant with certain European food contact regulations.
SABIC's certified circular PP used in Biaxially Oriented PolyPropylene film structures manufactured by Huhtamaki, will be introduced in primary pet food brand packaging by Mars Inc., a global leader in confectionery, food, and pet food products.
Plastic processer Elkamet chose SABIC's polycarbonate based on certified renewable feedstock, which can offer significant carbon footprint and fossil depletion reductions, for several of their lighting applications
Closed loop collaboration with UK retailer Tesco and value chain partners Plastic Energy and Sealed Air to introduce the first recycled flexible packaging for Bradburys cheese from materials returned by customers.
Estée Lauder Companies' global skincare brand, Origins Natural Resources Inc., and beauty packaging manufacturer, Albéa, collaborated with SABIC for its new advanced beauty tube pack to be launched in 2021.
Beiersdorf, a leading provider of innovative, high-quality skincare products with brands such a Nivea, Eucerin, and La Prairie, will be using certified renewable polypropylene (PP) "second generation" bio-based materials in its cosmetics packaging. The new packaging products will be introduced in the market in 2021 and replace fossil-based virgin PP.
REN Clean Skincare introduces its pioneering new pack for their iconic moisturizer EVERCALM® Global Protection Day Cream made with SABIC's certified circular PP that provides a transparent look and feel while also supporting the complex assembly of parts requiring tight tolerances, such as for airless packaging systems.
All TRUCIRCLE™ certified products have been produced under a mass balance accounting system, gaining accreditation under the International Sustainability and Carbon Certification Plus scheme.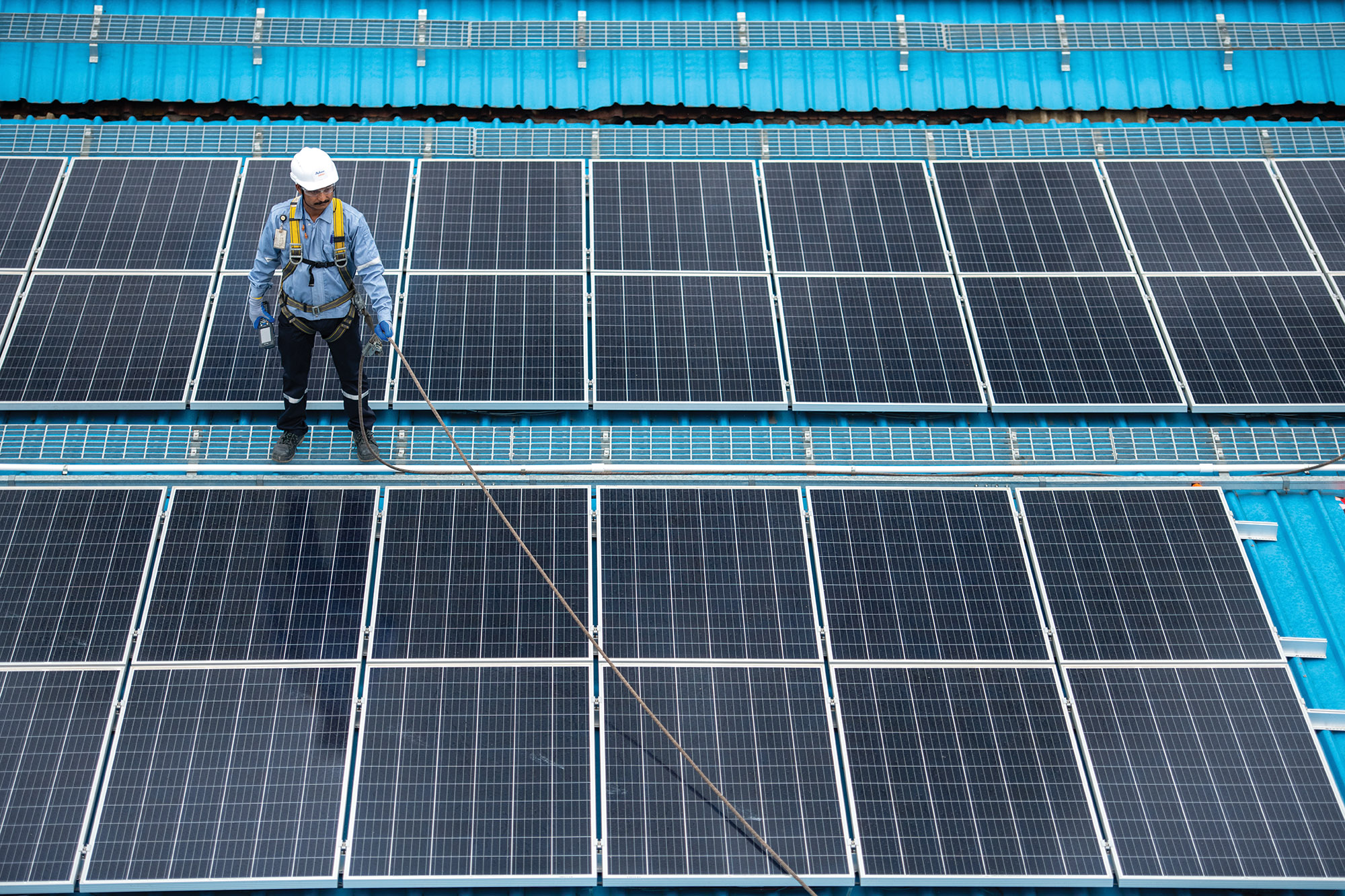 Solar panels at our sites in India have cut greenhouse gas emissions significantly.
COLLABORATION FOR CIRCULARITY
SABIC is involved in several global alliances and frameworks working to drive systemic change, throughout the value chain. We truly believe that world challenges can be only overcome through partnerships and collaborative approaches. We are a founding member of the World Plastics Council and the Alliance to End Plastic Waste, aiding infrastructure development to manage waste and increase recyclability.
We are also a member of The Ocean Clean Up, which is collecting plastic waste from the oceans, and support the UN and the G20 in combatting marine litter.
We are founding members of the World Economic Forum Collaborative Innovation for Low Carbon Emitting Technologies Platform, working with others in petrochemicals on breakthrough solutions to reduce our industry carbon footprint.
This year also saw us launch Energy Efficiency and Carbon Management (EECM) – an initiative designed to identify compliance risks, monitor new initiatives, and provide advice where needed. Two key roadmaps address SEEC (Saudi Energy Efficiency Center) short and long term perspectives, and Europe climate issues, including furnace electrification and renewable electricity. The EECM team is also responsible for aligning with SEEC regulators on boundaries and reporting methodologies for setting baselines.
We are also participating with peers in the World Resource Institute's SBTi (Science Based Targets initiative) project to come up with a framework for the chemicals industry, and evaluating our readiness to commit to SBT in 2021.
RENEWABLE PRODUCTION
Our polycarbonate facility in Cartagena, Spain, is set to become the world's first large scale chemical production site running entirely on renewable power, following the signing of a major agreement with the Spanish energy leader, Iberdrola. Once the solar plant comes on line in 2024, our customers will have access to polycarbonate solutions produced with 100% renewable power.
We aim to have 4GW of installed wind or solar energy for our sites globally by 2025, 12GW by 2030. Solar panels at our India and Thailand sites have cut greenhouse gas emissions by more than 200 metric tons in 2020, and our Home of Innovation in Riyadh, Saudi Arabia, has been completely solar-powered since 2015.
In time, SABIC's aspiration is to switch entirely from fossil-produced to renewable energy, while doubling electricity's share of our energy mix. We also plan to procure renewable energy through long-term off-take agreements, with project developers building, owning, operating and financing solar or wind parks.
THE CONTINUING JOURNEY
Over the coming years, the global chemicals industry needs to evolve and innovate to confront the increasing impact of climate change. We also need to work with others – governments, academia, industry bodies and companies in other industries – to align our aims and objectives, and share our learning. Collaboration is key to ensure that we're working effectively to transform the value chain in a lasting, meaningful way.
It's a challenging prospect, but also one that offers fertile ground for new opportunities. We are already seeing huge benefits from our sustainability efforts. We foresee even greater change, as we apply our understanding of challenges and solutions, and increasingly address environmental, business and financial risk factors in a balanced way. Working together and working with others, we will continue to strive ever more effectively for a sustainable, circular future for our business, our people and the planet.
Previous Article
Next Article