Social and Relationship Capital – Environment
ENVIRONMENTAL PROTECTION
We maintained our efforts this year to tackle climate change and its impacts around the world through innovation and education, and our Global Environmental Protection Initiative in nine countries - Singapore, Indonesia, Thailand, Japan, South Korea, Germany, UK, Spain and the Netherlands. Due to the pandemic, we have been reaching the community with virtual programs to ensure safety of participants. Many of these programs involved our volunteers engaging in online train-the-trainer workshops, before conducting their own workshops to raise environmental awareness in the wider community. Program topics included plastic waste, recycling options and climate change, while hands-on workshops taught participants how to make DIY products such as eco-friendly cleansers and hand sanitizers.
In Spain, SABIC recently supported the Cartagena Oceanographic Research Institute and Cartagena Polytechnic University in the Ocean Hackathon 2020, during which more than 100 teams of students worked to develop a prototype app to help address some of the challenges facing our oceans.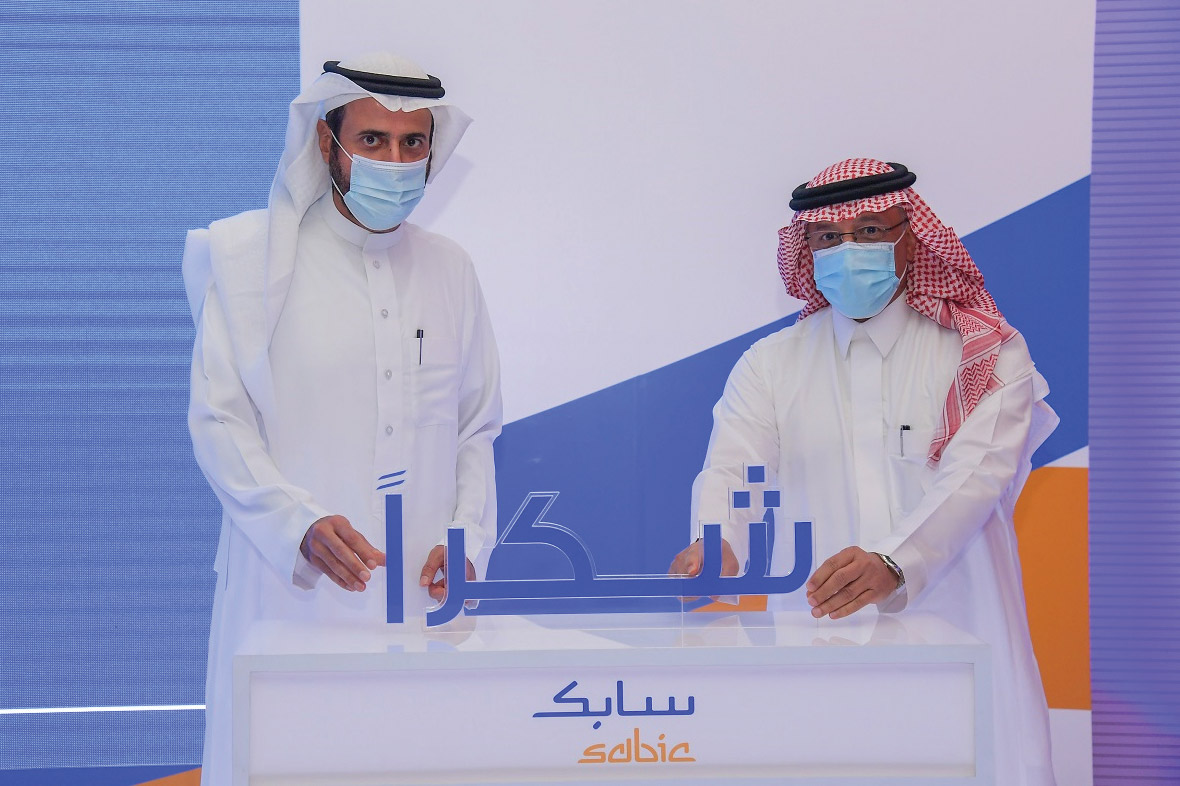 SABIC launched its Thank You Initiative in Saudi Arabia in partnership with the Ministry of Health.
WATER & SUSTAINABLE AGRICULTURE
Water source and sanitation management go hand in hand with better food and energy production – key to ending hunger, achieving food security, and improving nutrition. We maintained our support of Saudi Arabia's agricultural industry by participating in dates festivals in Al Qassim, and a citrus festival in Al Hariq, highlighting our national efforts to increase crop productivity, quality and variety.
In an effort to further support effective farming practices in Saudi Arabia, following two phases of technical training and agricultural caravans, this year we continued our three Agricultural Field Schools, covering Al Madinah and Al Ula, providing a forum where farmers and scientific researchers can share knowledge and experiences.
HEALTH & WELLNESS
Our Global Health Initiative and Global Social Initiative continue to demonstrate SABIC's contributions toward the health and wellness of the communities in which we work, and society at large. Throughout 2020, we placed considerable emphasis towards mitigating the impact of the COVID-19 pandemic to keep our communities healthy, safe and well informed. Over the year, our contributions in Health & Wellness totaled 220 programs ranging from food bank support to provision of medical equipment and supplies, in addition to health awareness programs.
Despite the pandemic, our initiatives to support health and wellness in other areas continued, including efforts to recognize and improve mental health and quality of life. We partnered with various government entities and other institutions to launch the Mental Health & Life Stress Survey project, aiming to study mental health throughout Saudi Arabia, and to consider available treatments and the obstacles that prevent people accessing them. The study, involving 10,000 respondents across 13 regions, was conducted by the Ministry of Health, King Salman Center for Disability Research, King Faisal Specialized Hospital and Research Center, and King Saud University, in collaboration with the World Health Organization, Harvard University, and the University of Michigan.
This year saw the continuation of the SABIC Award for Mental Health, carried out in Saudi Arabia in collaboration with the National Center for Mental Health, designed to encourage and implement innovative ideas from entrepreneurs and researchers meant to address mental health challenges, and to recognize their help in raising community awareness of mental health.
Our partnership with Zahra Cancer Association and the Saudi Ministry of Health enabled the launch of six preventative breast cancer screening clinics, expanding on previous efforts in a program now expected to benefit over 4,800 women a year. We also supported the health and wellbeing of 3,000 orphans in the Kingdom through a medical insurance program in partnership with Kanaf Association.