FUTURE PLANS AND INVESTMENT
SABIC continued its efforts throughout 2020 to achieve its strategic goals, focusing primarily on accelerating growth, transformation initiatives, expanding its product portfolio, and developing innovative technologies.
DRIVING GROWTH
Both organic and inorganic, we are working to build an asset footprint in the US to capitalize on shale gas opportunities, to build our presence in Asia and Europe, and to leverage our strength in Saudi Arabia for growth and Vision 2030. We plan to leverage and reinforce our local infrastructure and capabilities in support of its growth ambitions in China.
We will continue to work toward profitable longterm growth by investing in our people and safe and reliable operations, while at the same time, maintaining strong capex discipline. We are making short-term adjustments and prioritizing our strategic initiatives to mitigate the impact of the pandemic, but we remain fully focused on realizing our vision.
We are strengthening our relationships with our customers through our operations in 50 countries. We have established an extensive network of regional offices and operational centers throughout the Americas, Europe, the Middle East, Africa and Asia to support customer needs. We have a strong presence in key regions where demand is strong, with proximity to future growth markets as well. With our strategic geographic positions and market-driven focus, we are well positioned to support our customers to grow their business with our differentiated offerings and innovative solutions.
IMPROVING BUSINESS PORTFOLIO
In 2020, as part of our global polyethylene (PE) and polypropylene (PP) product growth strategy, we acquired Albemarle's share in the Saudi Organometallic Chemicals Company, making us self-sufficient in aluminum alkyls triethylaluminum catalysts, and taking us one step closer to our ultimate goal: a complete PE/PP production chain.
We also integrated our Agri-Nutrient production under one umbrella – a move that is expected to generate synergies and provide focus and agility to enable us to maintain our competitive edge globally. Our product portfolio is being actively diversified, reflecting ever more fragmented, specialized customer needs, and the pricing premiums available for those who meet them.
Our plans for Specialties as a standalone business reflect its strategic importance, as we plan to move toward a multisector industry profile. Organically, the business will continue to explore new growth opportunities in fast-growing and disruptive end-markets. The standalone model is expected to bring additional value to our customers who depend on our Specialties business for its innovation expertise and highly differentiated solutions.
In a challenging competitive environment, SABIC Europe engages constantly in making business improvements, working closely with major OEMs and specifiers to better exploit technology and drive innovation, in compliance with stringent regulations and sustainability targets. We are playing a leading role in addressing the challenges of climate change, and have developed circular solutions with chemically recycled mixed plastic waste.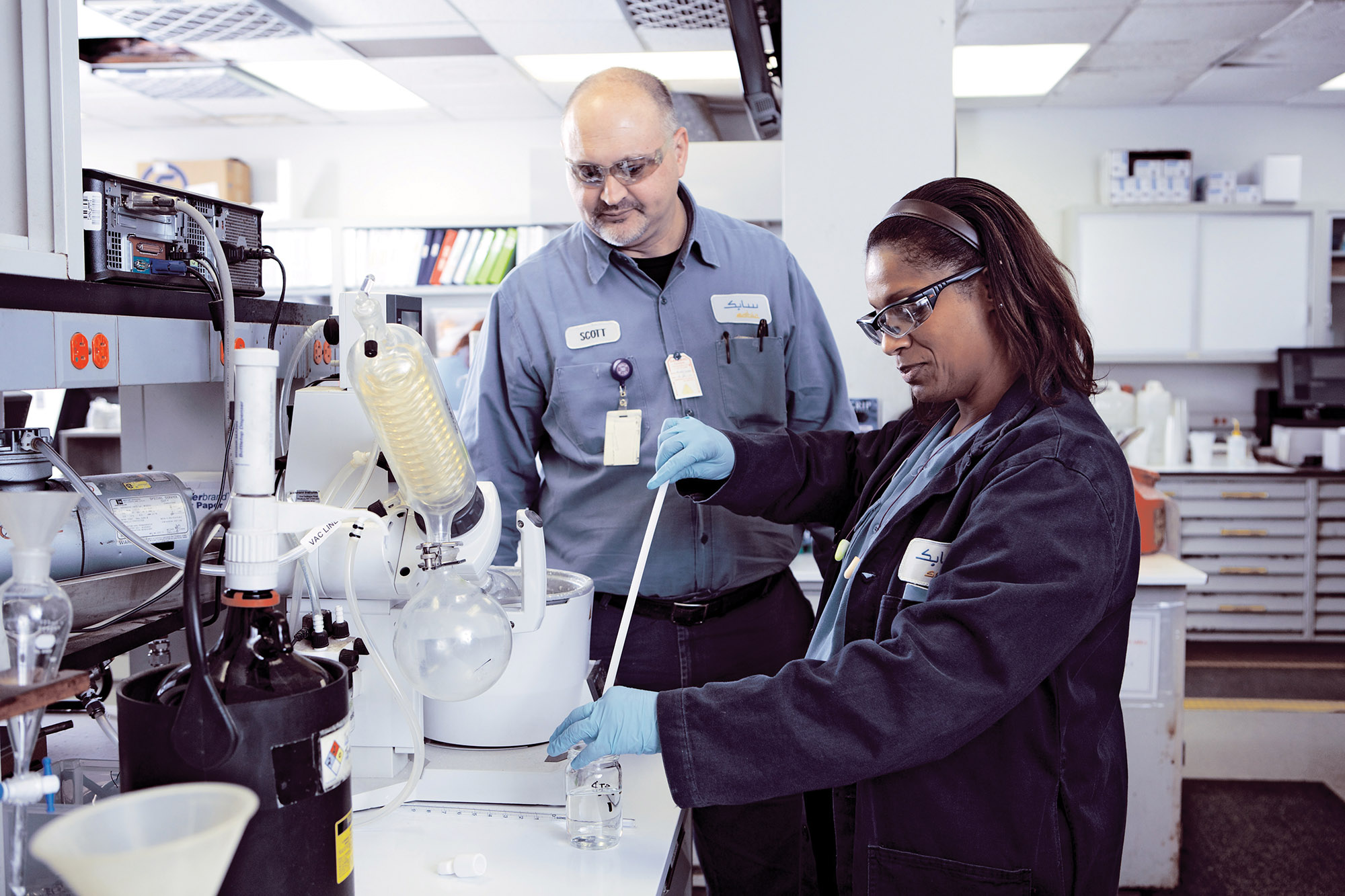 Innovation is key to maintaining our competitive edge, achieving growth and driving success.
LEVERAGING INNOVATION
Innovation is key to maintaining a competitive edge, achieving growth and driving success. We work closely with each business unit or operating function to improve existing processes and products as well as developing new ones, often working closely with our customers to do so.
In addition, as part of our research efforts, we collaborate with Saudi Aramco in advancing crude oil-to-chemicals technologies, other companies, universities and international research centers. This usually involves a joint initiation, funding, supervision and completion of the research, followed by a sharing of intellectual property rights. We are currently working with over 350 partners across the globe and major partnerships are in place in the US, The Netherlands, China, Saudi Arabia and India.
ENERGY-EFFICIENT MANUFACTURING
Our Energy Efficiency and Carbon Management (EECM) team developed an overall roadmap for the energy efficiency portfolio. They engaged with all stakeholders to consolidate the efforts of SABIC affiliates for energy initiatives. This resulted in a comprehensive, consolidated target roadmap to comply with SEEC second cycle, which prioritized the portfolio projects list to 54 projects, carrying a cost of US$ 1.9 billion. These are at an advanced stage and are the highest energy-saving projects for closing the gap. In addition, EECM has also brought in game changers and high-energy saving initiatives such as Cogeneration & Renewable projects. The initial list, which had 144 projects, is part of the assessment and prioritization process, initially estimated to cost US$ 4 billion, with foreseen challenges to close the second cycle gap.
The roadmap includes possible synergy between SABIC affiliates' projects to create several scenarios to invest in the most lucrative initiatives through utilizing the Credit Transfer Mechanism. This mechanism is important especially for those who are in a deficit position and face financial or technical challenges to achieve the savings target by themselves. It will be help them avoid stringent consequences and cover their own gaps at lesser cost. Furthermore, it encourages those sites who have already achieved their target to propose projects, as they will be rewarded for whatever credit they make available to others to cover their deficit.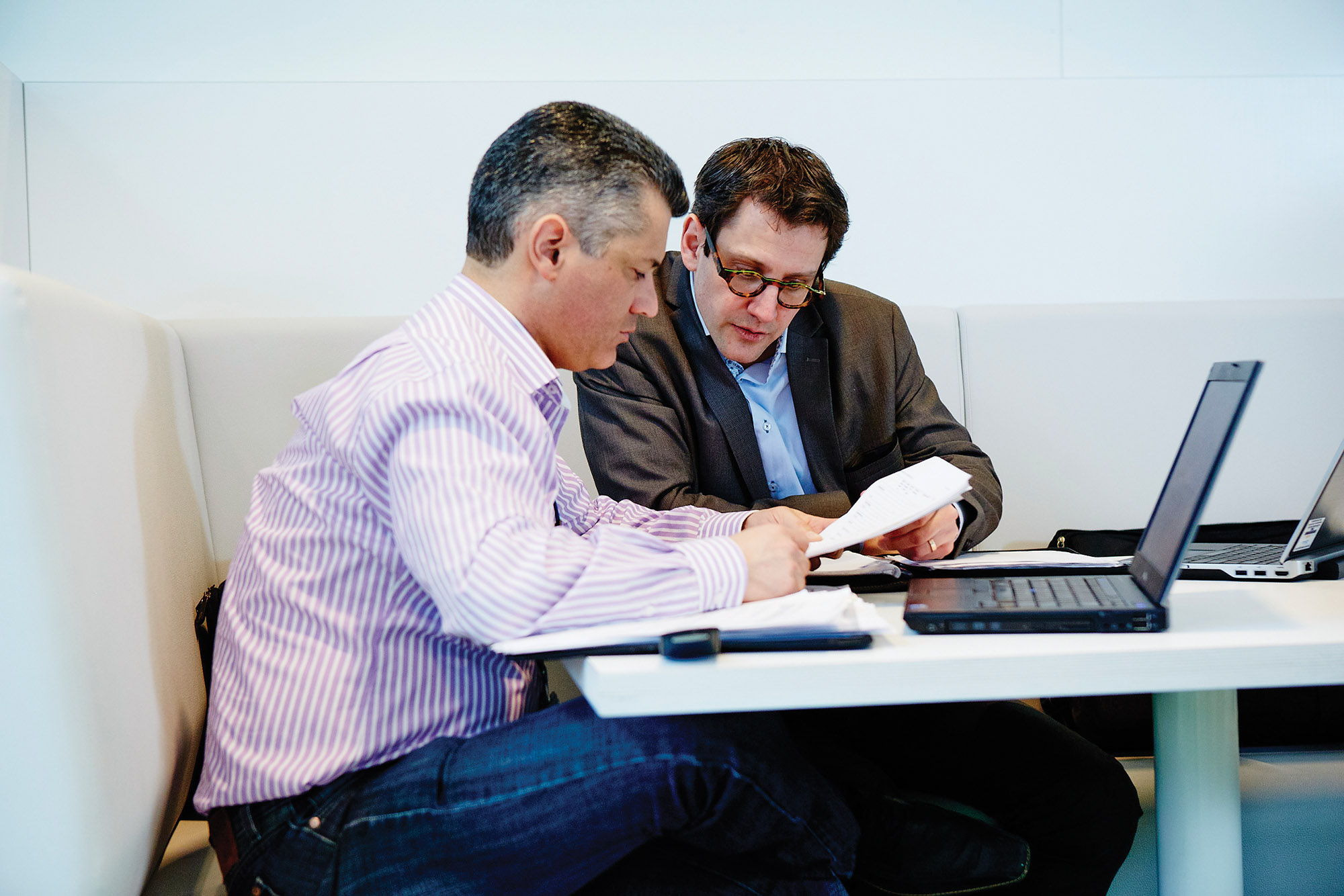 To maintain our growth momentum, we are strengthening our relationships with our customers through our operations in 50 countries.
INVESTMENT
SABIC continued to develop and expand its businesses under its ambitious long-term strategy. This includes a number of expansion and development projects, as well as signing of a number of strategic agreements.
The projects are split between Saudi Arabia and Rest of World and classified between growth projects, corporate research, corporate social responsibility, efficiency/debottlenecking/ improvement, sustainability/SEEC, research center, regional hub, training facility and for housing.
The following is a summary of the key projects and agreements:
PROJECTS IN SAUDI ARABIA
No.

Project name
Brief description
Classification
Capacity
Location
Expected completion date
Status

Project name
Brief description
Classification
Capacity
Location
Expected completion date
Status
1
United Ethylene Glycols
The project aims to expand Ethylene Glycols production by building the third Ethylene Oxide/ Ethylene Glycols Plant at Al-Jubail United Petrochemical Company (UNITED).
Growth
MEG 700 KTA DEG 97 KTA TEG 5,7 KTA
Jubail, KSA
Q1 2021
Under construction
2
GAS Expansion
The project aims to increase the production capacity and provide continuous oxygen and nitrogen for the safe operation of related industries in Jubail Industrial Area.
Growth
3,600 MTPD Oxygen. 3,500 MTPD Nitrogen
Jubail, KSA
Q1 2021
Under construction
3
SABIC Research Center
The project aims to build five new pilot plants with the same technology and capacity as existing in STC-Riyadh and install a new pilot plant to enhance the research and technology development capabilities of SABIC.
Research Center
-
Jubail, KSA
Q3 2021
Under construction
4
Petrokemya MTBE
The project aims to improve and uplift Methyl Tertiary-Butyl Ether (MTBE) Plant at Arabian Petrochemical Company (Petrokemya).
Efficiency/debottlenecking (DBN)/Improvement
Improve 30% of the original capacity
Jubail, KSA
Q1 2023
Under feasibility
5
Nexlene™ technology
The project aims to increase polyethylene production utilizing Nexlene™ technology owned by SABIC SK Nexlene Company (SSNC). Nexlene™ technology is necessary for the food and non-food packaging industries, electrical cable manufacturing and chemical products reinforcement of polymers.
Growth
300 KTA
Jubail, KSA
-
Under feasibility
6
Sharq Olefins
The project aims to increase propane utilization by 25%, which will increase ethylene and propylene production at Eastern Petrochemical Company (Sharq).
Efficiency/ debottlenecking (DBN)/Improvement
-
Jubail, KSA
-
Under feasibility
7
SABIC Carbon Fiber
SABIC and DowAksa signed a technology license agreement. This allows SABIC to manufacture high quality carbon fibers in Saudi Arabia to expand its solutions portfolio and customer base in specialized industries.
Growth
3.0 Kilo-tons
KSA
Q4 2023
Under feasibility
8
SABIC NaCN
SABIC and Evonik Industries signed three agreements related to hydrogen and sodium cyanide technologies. These agreements mark a major milestone for SABIC to secure the critical hydrogen cyanide and sodium cyanide technologies required to set up world-class manufacturing sites for both products in Saudi Arabia.
Growth
-
KSA
Q4 2023
Under feasibility
9
SABIC and Marafiq Cogeneration Plants
SABIC and MARAFIQ signed an MOU to study an opportunity to build power and steam cogeneration plants in Jubail 1 Industrial Complex to optimize natural gas consumption and improve power generation efficiency.
Sustainability/ SEEC
Supply electrical power of approx. 2500 MW and HP steam of 3500 TPH
Jubail, KSA
-
Under feasibility
10
Saudi Methanol Company(Ar-Razi)
SABIC extends its joint venture with the Japan Saudi Arabia Methanol CompanyInc. Extension of the partnership with theJapan Saudi Arabia Methanol CompanyInc. in Saudi Methanol Company (Arrazi)for another 20 years and raising itsownership to 75% ownership. Buildinga new mega methanol plant or revampingthe current plants is under evaluation.
Efficiency/ debottlenecking (DBN)/Improvement
-
Jubail, KSA
-
Under feasibility
11
Yanbu Cracker
SABIC and Saudi Aramco are currently studying the integration of Saudi Ar-amco's existing refineries in Yanbu with a world-scale mixed feed steam cracker and downstream olefin derivative units.
Growth
-
Yanbu, KSA
-
Under feasibility
12
SABIC Jubail Main Building and Global Data Center
The project consists of an administrative building, training center and advanced information center designed to the highest international standards in terms of sustainability to serve the company and its subsidiaries in all countries of the world and enhance the work of the basic information systems on which the global operations depend.
Regional hub
66.4 thousand square meters
Jubail, KSA
Q4 2021
Under construction
13
SABIC Technology Center Jubail 2
The project aims to build a new research center in the existing SABIC Technology). Center at Jubail. The new technology center is to be a world class research center for the portfolios of Petrochemicals & Agri-Nutrients. The center will be a replacement for lab1 and lab2 at SABIC Technology Center in Riyadh. The new center will also enhance T&I research capabilities and allow future growth and improvement.
Research Center
65,000 square meters
Jubail, KSA
-
Under feasibility
14
Petrokemya Caustic Soda Plant
The project aims to replace Cell lines with state of the art Membrane Electrolyze cell lines, which eliminates the use of Asbestos, produces very high quality caustic soda and has significant power saving per ton of chlorine produced.
Sustainability/ SEEC
608 KTA
Jubail, KSA
Q2 2022
Under construction
15
Ibn Al-Baytar Sustainability
The project aims to improve energy efficiency of plant based on Saudi Energy Efficiency Center (SEEC) requirement.
Sustainability/ SEEC
-
Jubail, KSA
Q1 2021
Under construction
16
Yanpet Sustainability
The project aims to improve the energy utilization intensity of EG2 plant.
Sustainability/ SEEC
-
Yanbu, KSA
Q4 2021
Detailed engineering
17
SABIC Techno Valley Center
The project aims to build a state-of-the-art world-class research center in the Dhahran Techno Valley Center (DTVC), focusing on process technologies, leveraging existing talent and capabilities at KFUPM. The new research center will be part of SABIC's global network across different regions.
Corporate Social Responsibility
-
Dhahran, KSA
-
Under feasibility
18
Al Matrafiya Housing
A housing project for Saudi employees at Jubail Industrial City. It is occupying an area of 4.4 square kilometers, comprising (2701) housing units, designed according to the latest structural specifications and features, alongside condominiums, several facilities.
Housing
2,701 housing units
Jubail, KSA
Q2 2021
Under construction
19
Al Jaar Housing
It is a housing project for Saudi employees at Yanbu Industrial City, occupying an area of 42.5 hectares.
Housing
550 housing units
Yanbu, KSA
Q1 2021
Under construction
20
SABIC Emergency Response Center
The Project is for providing Security and Safety training. Project also include expansion to the existing capacity for emergency response training activities.
Training facility
14,158 sq. meters
Jubail, KSA
Q1 2024
Under feasibility
21
Sharq EG
To improve the energy efficiency (EG-1, 2 and 4) and reduce the feedstock consumption (EG-1 and 2) of the glycol plants.
Sustainability/ SEEC
-
Jubail, KSA
Q3 2023
Under feasibility
22
GAS Phase 4
This project is required principally to meet the extra gaseous oxygen and nitrogen demands in Yanbu Industrial City to meet GAS Yanbu plants configuration and operation philosophy by building Air Separation Unit (Phase-4) in Yanbu Industrial City as 2,000 MTPD gaseous Oxygen.
Growth
GOX: 2000 MTPD GAN: 1000 TPD LOX/LIN/LAR: Maximum
Yanbu, KSA
Q4 2022
Under feasibility
23
Yanpet Cracker
The project is to increase the cracking capacity to enable consumption of Propane, and increase the production capacity.
Efficiency/ debottle-necking (DBN) / improvement
increment of 115 KTA of additional Olefins to be total capacity of 1276 KTA Olefins
Yanbu, KSA
-
Under feasibility
24
Yanpet EG1
The project is to reduce energy intensity, Co2 consumption and to optimize the selectivity of EO catalysts utilizing High Selectivity Catalyst (HSC). This will help Yanpet to achieve SABIC 2025 sustaina-bility target and SEEC mandate for EG1 plant.
Sustainability/ SEEC
352 MEG, 32 DEG, 1.7 TEG KTA
Yanbu, KSA
-
Under feasibility
25
HCIS Security Compliance
Upgrading Plant Security Systems for all SABIC Affiliates over 19 sites in Jubail and Yanbu Regions to comply with HCIS SEC Directives 2017.
HSE compliance
-
KSA
-
Under feasibility
26
SABIC Behavioral Care Specialist Hospital
This project is to affirm SABIC's commitment and social responsibility towards the community and to support the Ministry of Health (MOH) efforts to elevate the level of health care services in Saudi Arabia.
CSR
Land area: 62,500 sq. meters Built-up area: 26,400 sq. meters
Riyadh, KSA
Q2 - 2021
Under construction
27
SABIC Halfway Home
The project is to affirm SABIC's com-mitment and social responsibility toward the community and to support the Ministry of Health's (MOH) efforts to elevate the level of health care services in Saudi Arabia.
CSR
Land area: 8,226 sq. meters Build-up area: 10,000 sq. meters
Riyadh, KSA
Q2 - 2021
Under construction
We continue to launch new projects at our global sites. They include signing of a number of strategic agreements to enhance our competitiveness in line with our strategy, especially in the diversification of feedstock sources from traditional ones. Among these projects and agreements are:
REST OF WORLD
No.

Project name
Brief description
Classification
Capacity
Location
Expected completion date
Status

Project name
Brief description
Classification
Capacity
Location
Expected completion date
Status
28
US Petrochemicals Joint Venture
The project aims to construct a petrochemicals manufacturing facility along the US Gulf Coast, a joint venture between SABIC and the ExxonMobil affiliate. This project would assist our goal of diversifying our feedstock sources and establish a petrochemical manufacturing presence in North America for a wide range of products to expand our market presence in the region across different products.
Growth
1.8 MTA of ethylene, 1 MTA of monoethylene glycols, 800 KTA of polyethylene
Texas, USA
Q3 2022
Under construction
29
Memorandum of Understanding with the Fujian Provincial Government
SABIC signed a Memorandum of Understanding (MoU) with the Fujian Provincial Government, laying down a framework of cooperation for the development of a world scale petrochemical complex.
Growth
-
China
-
Under feasibility
30
Polycarbonate Expansion
SABIC joint venture project (SINOPECSABIC Tianjin Petrochemical Co. Ltd) with Sinopec to build Polycarbonate plant.
Growth
260 KTA
China
Q2 2021
Under construction
31
ULTEM™ Resins
The project aims to increase global capacity for SABIC high-performance engineering thermoplastic materials,ULTEM™ resins, in response to customer needs.
Growth
50% over a 2018 baseline
Singapore
Q1 2022
Under construction
32
TRUCIRCLE™ Semi-Commercial Plant
The project aims to build a demonstration plant in Geleen facility to transform waste plastic into feedstock for its crackers as part of SABIC's strategy to further advance its circular economy model for the business of 'Certified Circular Polymer'. The plant would target the chemical recycling of low quality,contaminated mixed plastic waste streams into a feedstock suitable for the company's crackers in Europe. The feedstock, known as pyrolysis oil, is created by converting the plastic waste that would otherwise be incinerated for energy recovery or ends up in landfills. The feedstock will then be refined and upgraded at the new demonstration plant.
Sustainability/SEEC
18 KTA
Geleen, Netherlands
2022
Detailed engineering
33
Teesside improvement project
The project aims to convert the Teesside Olefin 6 cracker into 100% ethane, and improve the operating margin of the plant by rationalizing the logistics costs and increasing the use of ethane, which has an advantageous cost position versus other feedstock that will make overall capacity 450-550 KTA.
Improvement
450-550 KTA
Teesside, United Kingdom
Q2 2022
Detailed engineering
34
Polyphenylene Ether
The project aims to recommission SABIC plant in Bergen op Zoom facility in order to expand the capacity of NORYL™ resins. PPE is the base resin for SABIC's line of NORYL™ resins and oligomers.
Growth
Adding more than 40% global capacity over a 2017 baseline
Bergen op Zoom, Netherlands
Q3 2021
Under construction
35
Memorandum of Understanding with RDIF and ESN Group
The Memorandum is a preliminary step towards exploring the cooperation between the three parties to evaluate building and operating a methanol plant.
Growth
2 MTA
Amur Region, Russia
-
Under feasibility
36
Mauritania Saudi Mining and Steel Company
A joint venture (JV) between SABIC & the National Mining Company of Mauritania(SNIM) aimed to produce High Grade Direct Reduction Pellets (HGDRP) at 67–68% Fe & Silica less than 2% level using 35%–38% Fe magnetite iron ore.
Growth
10.0 MTA
Mauritania
-
Under feasibility
37
Africa Fertilizer Project
This project involves a new plant for the production and export of urea fertiliser, which is to be constructed in Africa.
Growth
3850 MTPD (Urea)
Africa
Q2 2025
Under feasibility
38
MtV Membrane Conversion
This project will convert the existing 124 diaphragm cell lines with new membrane cell technology to improve plant reliability and reduce energy intensity.
Improvement/ Sustainability
-
Mount Vernon, Indiana, USA
Q1 2021
Under construction