ENVIRONMENTAL PROTECTION
In 2021, we identified and contributed to addressing key environmental issues through effective partnership and engagement in communities where we operate and our employees live. Our Global Environmental Protection Initiative reached 16 countries – KSA, Lebanon, USA, Mexico, Brazil, UK, Netherlands, Germany, Spain, Austria, Italy, Poland, Hungary, France, China and Singapore.
Under the Global Clean4Change program, our employees and their families engaged in extensive clean-up activities across 13 countries globally. With the theme of "Protect the Blue Planet for a Sustainable Future," our activities are raising awareness of the negative ecological impact of human activities, particularly on our oceans. We want people to understand that SABIC's emphasis on technical innovation is also about finding solutions to these problems through recycling and reusing plastic waste that otherwise ends up in the ocean or in landfills. The coastline can be a place of intense human activity such as fishing or camping, and our awareness efforts aim to reduce garbage that is washed into the sea or left on the beach.
On World Clean-up Day, SABIC employees and their families in Saudi Arabia cleaned up over 450kgs of waste in Riyadh, Yanbu and Jubail in collaboration with Diryah Gate Development Authority, Municipality of Yanbu, and Royal Commission of Jubail and Yanbu. In Singapore, we hosted a virtual environmental awareness session including talks on climate change, food waste and a hands-on workshop to make environmentally- friendly products such as cleansers and hand sanitizers.
The world's wetlands provide a rich eco-system for wildlife to thrive, and their protection and preservation is critical to biodiversity. In Saltholme, UK, the water supply to the RSPB Saltholme Nature Reserve & Wetlands Centre was in need of renovation. SABIC stepped in to provide the resources to ensure that the birds and wildlife continue to flourish. In the US, we supported the Houston Wilderness alliance in conjunction with Earth Day in their tree-planting effort to combat flooding and erosion and absorb air pollution for the ecoregions of the coastal prairies, forests, wetlands, and waterways around Houston, Galveston Bay, and the Gulf of Mexico.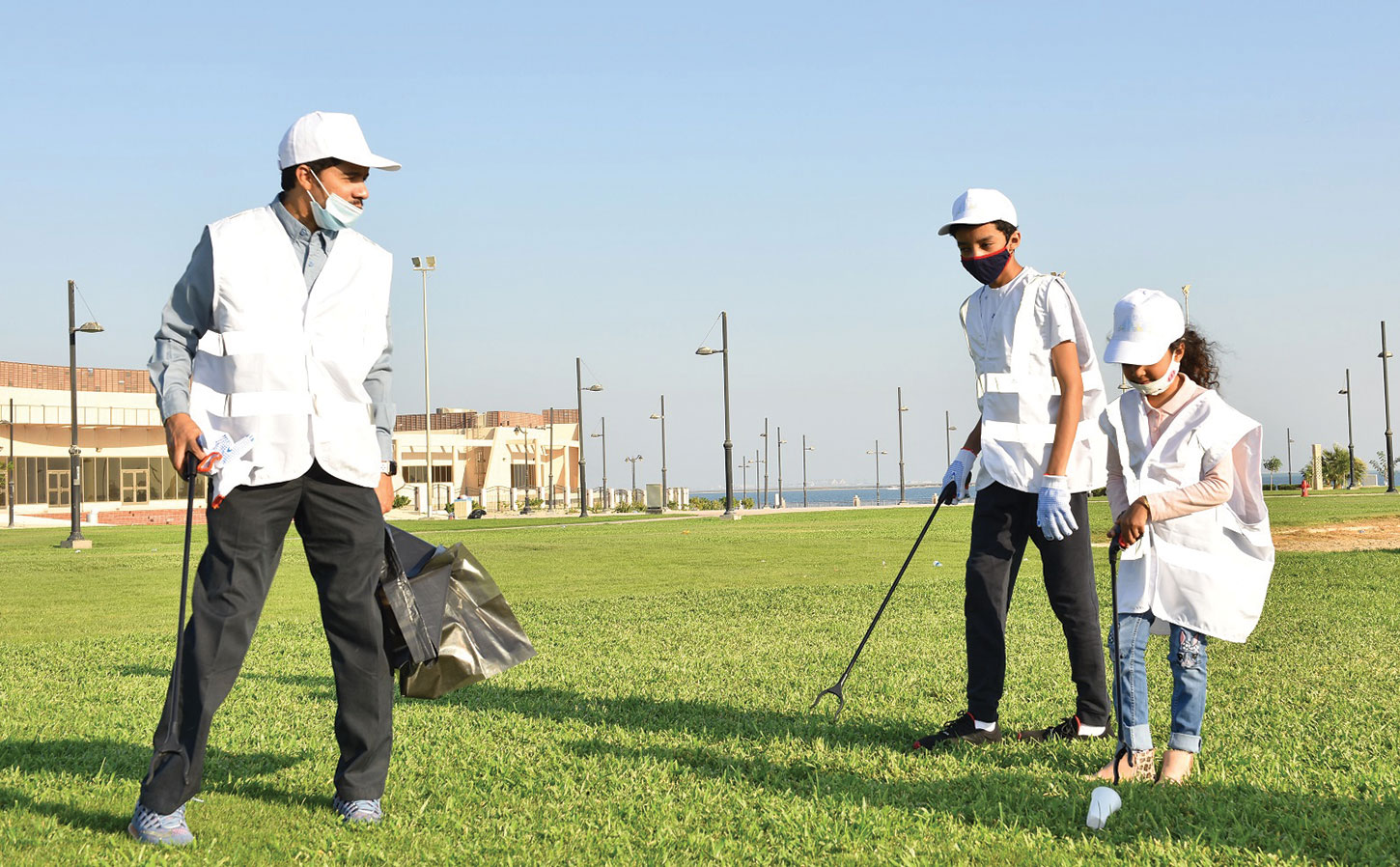 Employees and their family members take part in World Clean-up Day in Jubail, Saudi Arabia.
WATER & SUSTAINABLE AGRICULTURE
Water source and sanitation management go hand in hand with better food and energy production and are key to ending hunger, achieving food security, and improving nutrition. At SABIC, we support farmers, and our technical specialists meet with them to share ideas and experiences on effective farming practices, crop productivity, quality and variety. In 2021, we sponsored Coffee Bean Al Dayer Festival, and a citrus festival in Al Hariq. In partnership with King Saud University and Diriyah Governance, SABIC also supported a Palm Tree Waste Utilization Project in Saudi Arabia to optimize the value proposition of agricultural waste. In Jubail, we launched an awareness campaign focusing on water use reduction habits along with interactive virtual games for children. In this way, the public learned how water is purified locally from waste water, which can be reused for industrial cooling and agriculture.
In South Africa, we supported educational programs within underprivileged communities under the iGardi Project on water-wise vegetable food gardening for food security by connecting volunteer teams and NGOs and providing avenues for investment and local community involvement. In Morocco, SABIC helped set up a pedagogical garden with renewable energy through solar power for students to learn about opportunities in agriculture and the environment around them. It is expected to benefit 1,000 students per year.
SCIENCE & TECHNOLOGY EDUCATION
Quality education and lifelong learning have always been prime values for SABIC. Our goal is to foster innovation, particularly through scientific and technology education, and we have kept up momentum despite the unique challenges faced in 2021.
Our Global Back-to-School Initiative works with charities, NGOs, schools and communities across the world to help students succeed in their education. In 2021, this initiative reached students in 13 countries – KSA, Morocco, Turkey, Pakistan, USA, Mexico, Brazil, Argentina, Netherlands, Germany, Spain, China and India. The focus in 2021 was on helping children continue their schooling despite the challenges of COVID-19.
In Saudi Arabia, 50,000 students in 47 locations were given backpacks with school supplies, while 1,000 students were provided with online knowledge-enrichment courses in addition to robotic classes, in a joint initiative with the Ministry of Education and Takaful Foundation. In Morocco, SABIC provided a school with a library and a computer center – a place for students to stimulate their curiosity and enhance their knowledge of the world. In India, the pandemic forced the shutdown of academic institutions for prolonged periods and students scheduled to take the Secondary School Leaving Certificate Examination were among the worst affected. SABIC supported 986 students from the community around the SABIC Technology Center in Bengaluru, India by distributing SABIC-branded tablets loaded with learning software.
In China we set up ChemWorkshop, a virtual workshop in collaboration with China Petroleum and Chemical Industry Federation (CPCIF) to address talent shortages within the industry and provide employment opportunities for graduates. The platform invites a dialogue between opinion leaders, teachers, and professionals with students interested in pursuing a career in the chemical industry. In the Netherlands we supported virtual learning by providing primary schools with STEM home tool kits.
SABIC's Global Initiative for Education and Innovation also continued in 2021, in partnership with Junior Achievement Worldwide and INJAZ Saudi Arabia. The initiative benefitted students in three countries this year – China, USA and KSA. In Saudi Arabia, we launched the Company Program with finalists reaching the Fekra Competition; a business simulation activity involving 1,450 high school and university students. The popular "Lights of Our Future" continued in China with the aim to build awareness and inspire creativity around environmental protection for youth. Through the speakers' series in USA, SABIC employees volunteered by sharing their career path and experiences to inspire local high school students. Since 2014, this initiative has engaged over 124,000 students, bringing real-life case studies into the classroom and cultivating critical thinking and teamwork through experimental learning.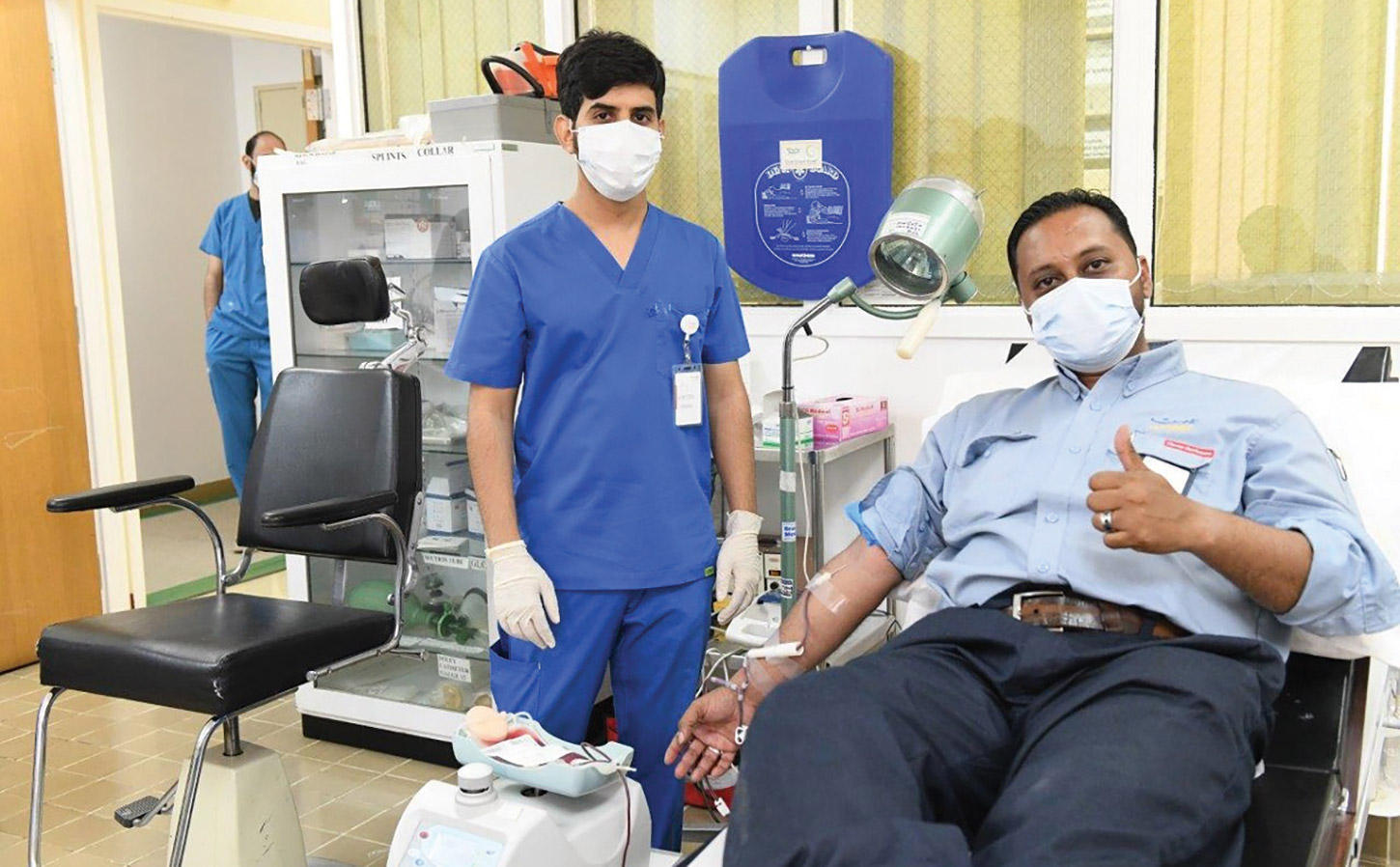 A SABIC employee participates in a blood-donation campaign in Saudi Arabia.
LOOKING FORWARD
SABIC's antidrug efforts will continue to expand to include the SABIC Mental Health and Drug Addiction Hospital expected to launch next year in partnership with the Ministry of Health. The hospital is intended to be a long-term treatment facility aiming to reduce patients' suffering, enabling them to integrate fully back into society. The community is expected to continue to benefit from our mobile and permanent breast-cancer screening clinics in partnership with Zahra Cancer Association and the Saudi Ministry of Health.
SABIC will contribute in 2022 onward to the Saudi Green Initiative through cooperation with the Ministry of Environment, Water and Agriculture by planting five million trees in Saudi Arabia. The SABIC Life Gallery at King Salman Science Oasis will be opened for students and the public in 2022. MADAC Education Academy is also projected to be launched in 2022. It aims to build a world-class educational complex with a balanced environment for education and cultural values – one that applies the best educational theories and practices. SABIC will contribute to the construction of the academy's museum and exploration center, which aim to provide investigative education for young people, encouraging them to understand the historical, cultural, and scientific aspects of civilization and to develop intellectual skills in science and culture.
Previous Article
Next Article