Environmental Capital
In 2021, the centerpiece of our efforts was developing and unveiling our Carbon Neutrality Roadmap, which sets out a strategy to meet carbon neutrality from our operations by 2050 in line with the goals of the Paris Agreement. We also continued our efforts to develop the circular economy by expanding our portfolio of eco-friendly products and applications and working with an ever-expanding network of leading global partners in diverse industries.
TOWARD CARBON NEUTRALITY
We unveiled our global strategy toward carbon neutrality at the inaugural Saudi Green Initiative (SGI) Forum in Riyadh. Our Carbon Neutrality Roadmap commenced with a thorough review of the available and emerging technologies to lower carbon emissions. The roadmap identifies five pathways to decarbonization: Reliability, Energy Efficiency and Improvements; Renewable Energy; Electrification; Carbon Capture; and Green/Blue Hydrogen.
Our energy roadmap will align with the stringent targets for the second Saudi Energy Efficiency Program (SEEP) cycle. SABIC will embark on eight mega projects with an expected investment of US$ 2.7 billion to help us optimize the primary energy and feedstock utilization. We have prioritized 90 projects in total that hold the greatest potential for improving natural resources use.
Our investment in our Teesside petrochemical facility will reduce its carbon footprint in the first phase by up to 60%. In the second phase, SABIC aims to develop a technical configuration to convert the chemical cracker to use blue hydrogen as a fuel source at the facility.
Further contributing to reaching our carbon neutral goal is the groundbreaking partnership SABIC forged with global chemical and industrial gas leaders BASF and Linde in 2021 to develop and demonstrate electrically-powered steam cracker technology. The partnership strives to achieve a 90+% reduction of carbon emissions with pilot scale development activities scheduled to begin in 2023 pending external funding approval within the EU.
In October 2021, SABIC entered an agreement with the World Economic Forum and industry partners to formalize the Low-Carbon Emitting Technologies (LCET) Initiative into a stand-alone entity by 2023.
In 2021, we commenced a new SABIC project to support the transition of the electricity industry toward a clean-air economy. Under this initiative SABIC developed solutions to help the industry optimize performance of electric vehicles (EVs). We have also developed two new applications – a plug-in hybrid EV battery pack cover with Honda and a Ford Mach-E EV tailgate structure – that address the need for light-weighting. The products support carbon emissions reduction and remove significant weight. Both products were nominated as finalists at the Society of Plastics Engineers' 2021 Automotive Innovation Awards.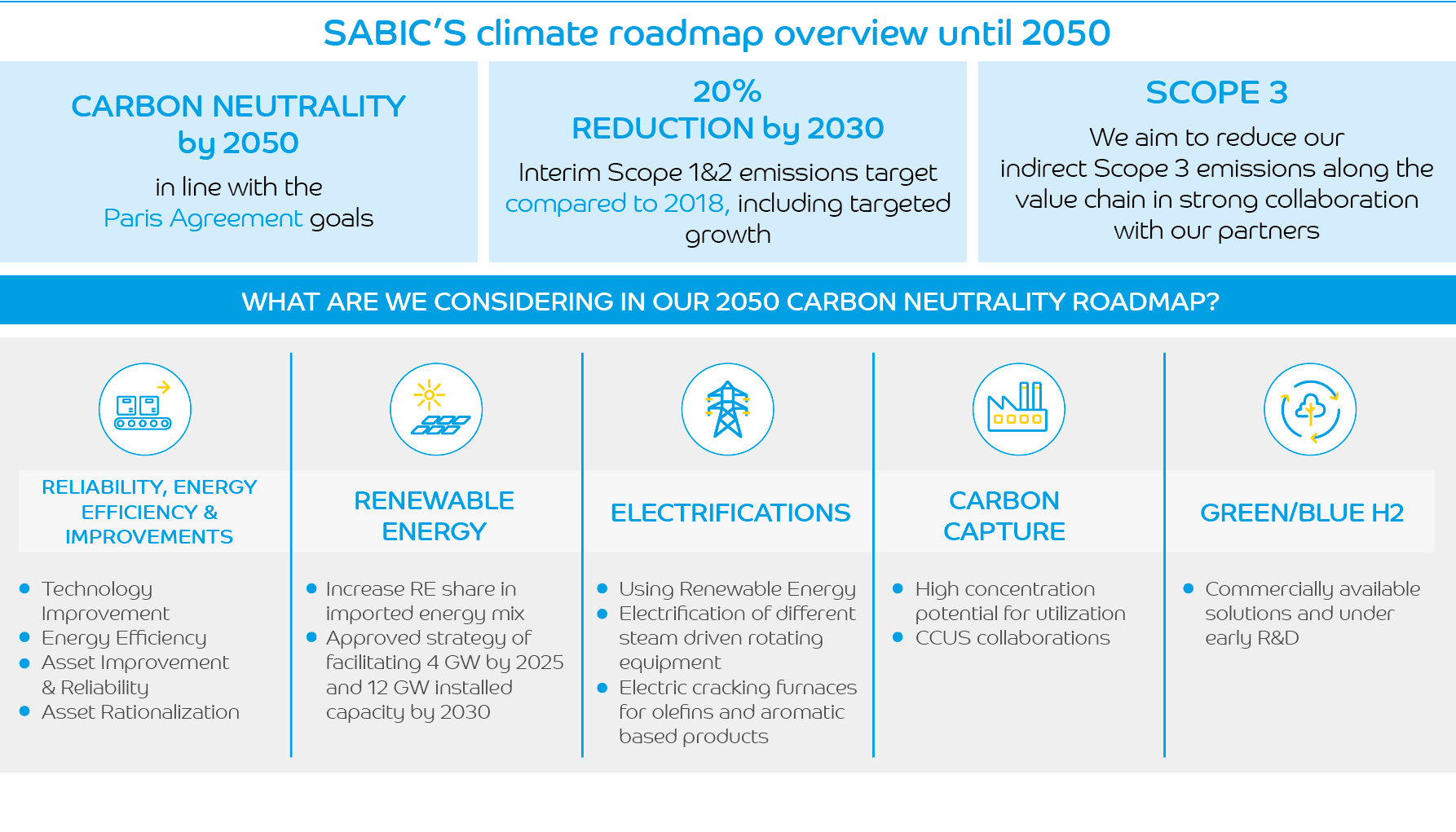 TRUCIRCLE™ PROGRESS
Waste, and in particular plastic waste, is a major global environmental problem that adversely affects humans, wildlife, and their mutual ecosystems. Plastics are deeply embedded in the fabric of human society; they are an invaluable, and perhaps, indispensable resource. Yet the questions of their manufacture, use, management, and mostly around their disposal (and the need to reuse or recycle) have to be urgently addressed.
Launched in 2019, the SABIC TRUCIRCLE™ initiative is dedicated toward developing practical and innovative solutions to address plastic waste under three categories: Mechanically Recycled Products, Certified Circular Products, and Certified Renewable Products.
After working closely with our Circular Economy business partners in 2021, we are well on track to hit 15 kt of certified circular and renewable feedstocks, which signifies a notable milestone in the journey toward a circular economy. Simultaneously, the construction of our first commercial demonstration unit at the Geleen site is progressing well, which will open opportunities for further expansion in 2022 and beyond.
In 2021, a strong portfolio of mechanically recycled polymer products was developed globally. Through our efforts in design, geared toward packaging solutions, we have created alternatives that can be easily recycled or eventually reused after the first usage. We offer PE-based solutions for processing technologies that support design for recycling and we are developing a new platform of "booster" grades for both rigid and flexible packaging. In 2021, we introduced a booster grade based on the SABIC proprietary metallocene catalyst for flex packaging applications.
Supporting the automotive industry's drive toward sustainability, we introduced our first automotive grades of resins with mechanically recycled content for potential use in interior and exterior automotive applications. The new TRUCIRCLE™ materials can extend the life of plastic waste and helps increase value from post-consumer products.
SABIC became the first in the industry to launch certified circular polycarbonate (PC), produced from post- consumer mixed plastic based on advanced recycling, reducing the need for incineration and landfills.
AWARDS AND RECOGNITIONS IN 2021
- SABIC was named by global consulting firm Frost & Sullivan as the "Global Company of the Year" for best practices in Circular Economy (used plastics recycling and resource recovery).
- SABIC qualified as a finalist in Packaging Europe's 2021 Sustainability Awards, under the Resource Efficiency category, for our BOPE solution for frozen food developed jointly with Syntegon Packaging Solutions B.V.
- SABIC was recognized by CEFIC in the European Responsible Care® Awards 2021 for our TRUCIRCLE™ solutions in the category of Safe and Sustainable: from design phase to use phase.
- SABIC won the Rethink 2021 Sustainable Products Awards in the producers' category.
- SABIC was recognized by the China Plastics Recycle Association with a Golden Apple award.
- SABIC won the IHS Chemical Week 2021 Sustainability Award in the category of Best Recycling/Circularity Initiative.
- SABIC won the Edison Awards for three innovative technologies – Sanitizing Agents (two silver) and Sustainable Farming (bronze).
COLLABORATIONS ON CIRCULARITY
SABIC is involved in several global alliances and frameworks working to make systemic change throughout the value chain. Due to the interconnectivity of the challenges, we respond to them through partnerships and collaborative approaches. 'Closing the loop' on plastic, preventing it from exiting the circular economy into the environment, can only be achieved on an industry-wide level.
SABIC is now the first in industry to offer a PC- based certified renewable product. We worked closely with the International Sustainability and Carbon Certification (ISCC) to provide proof of the incorporation of renewable feedstock in our PC production and the resulting sustainability claims were verified by independent third party auditors. CEPSA – the Spanish multinational oil and gas company – is a strategic value chain partner in this project. Our PC-based on ISCC PLUS certified feedstock, will be produced initially at our manufacturing facilities in Bergen op Zoom, The Netherlands, with global availability in the future.
Working toward new solutions for the packaging industry, SABIC joined the Digital Watermarks Initiative of HolyGrail 2.0. The project's objective is to prove the viability of digital watermarking technologies for sorting of plastics for better and more accurate sorting streams, and thereafter higher-quality recyclates, which would benefit the complete packaging value chain. The digital watermark technology could also play a key part in our TRUCIRCLE™ portfolio's Design for Recyclability service offering and our efforts to help brand owners and manufacturers create products which are optimized for recycling post-consumer use.
Previous Article
Next Article