SUPPLY CHAIN
SABIC continued to invest in an integrated global supply chain and build a resilient network to meet customer requirements and sustain competitiveness in a highly challenging and volatile environment.
Apart from unprecedented challenges resulting from the pandemic during 2021, the global supply chain was affected by various disruptions during the year. Among them were a five-day winter and ice storm that had widespread impact across the United States, northern Mexico and parts of Canada in February 2021, and the six-day obstruction of the Suez Canal in March 2021 causing major disruptions to logistics services worldwide. The effects included limited port operations, drops in schedule reliability and cargo displacement, which in turn impacted inventory levels, customer fulfillment, and cost performance across the supply chain.
In a recovering logistics landscape facing a number of new challenges in 2021, we sustained optimal service levels and successfully delivered SABIC products to all customers in over 130 countries, working in close collaboration with over 500 logistics service providers worldwide.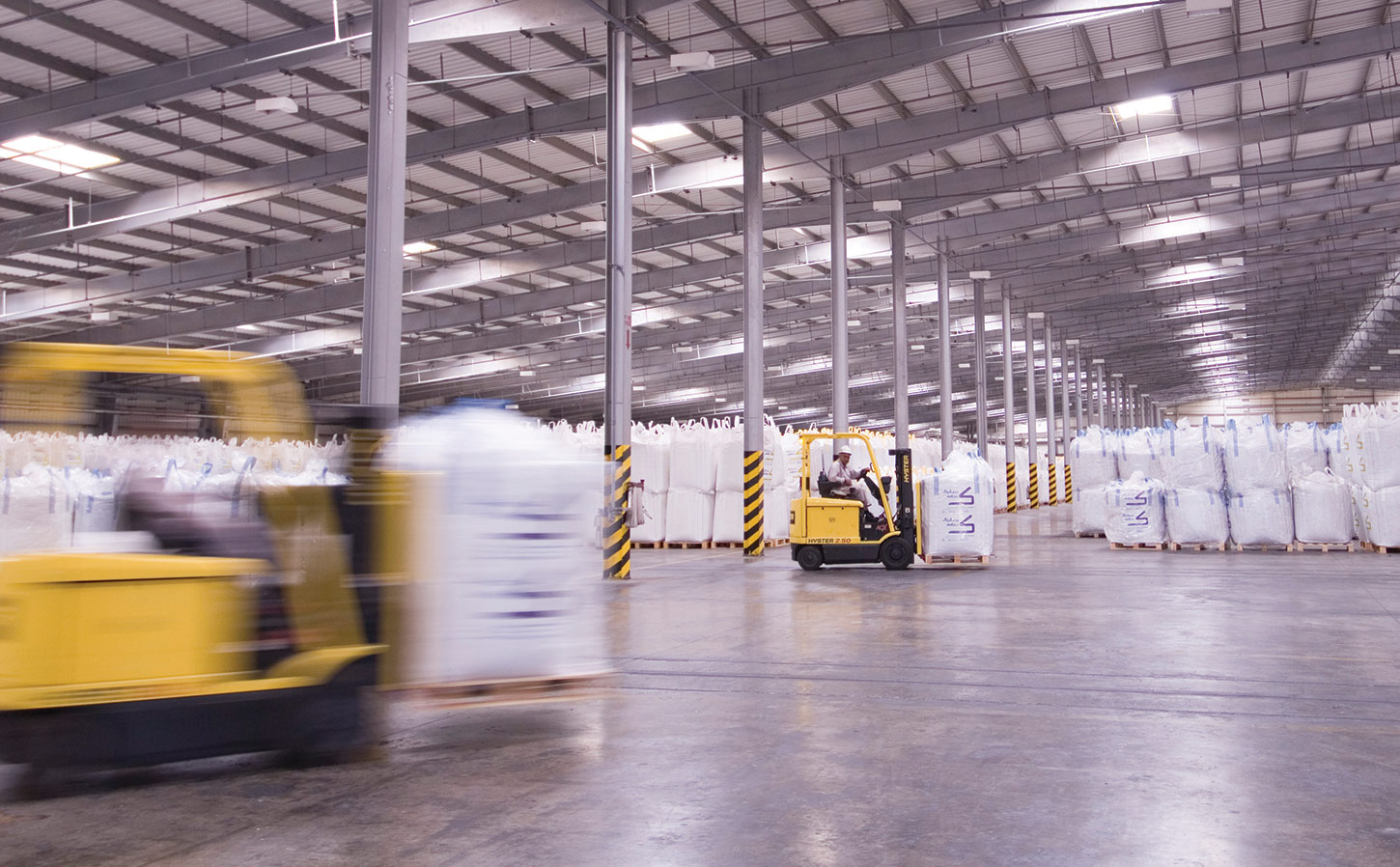 We consolidated and optimized warehouses and terminals to obtain less port calls
OPTIMIZATION AND EFFICIENCY
12-LAYER PALLETIZED PACKAGING
We scaled up our capabilities in packaging and payload by successfully regulating all palletized production to 12 layers for multiple products across many manufacturing sites, an initiative that will optimize logistics and transportation while improving cost performance for customers.
UNINTERRUPTED ORDERS INITIATIVE
We took considerable steps to further automate repetitive activities under our Uninterrupted Orders (UIO) initiative and improve work efficiencies, building automated workflows for work-intensive areas such as order management order fulfillment and documentation. We increased operational efficiencies during 2021 with the end-to-end automation of a number of processes, resulting in touchless operations with minimum to zero human intervention to improve productivity, speed and accuracy. The integration of blockchain and other innovative technologies was also explored during the year.
ENHANCEMENT OF LOGISTICS INFRASTRUCTURE
Together with SABIC Supply Chain Services (SSCS) – our logistics affiliate company in Saudi Arabia – we continued working closely to enhance our logistics infrastructure and operations for solid products, from product handling at manufacturing sites until delivery point. We have reached a key milestone, bringing us closer to our target of establishing SSCS as an integrated logistics operator and consolidating product-handling activities using economies of scale.
SECURING SHIPPING CAPACITIES
We established cross-functional and cross- regional command teams to face pandemic- related challenges and secure shipping capacity across our global supply chain. From securing space in advance on dedicated vessels to our proven category sourcing strategy, we implemented a variety of initiatives to secure shipping capacity at optimal cost, reducing exposure to the spot market. The task force continued to take precautionary measures to mitigate the risk of container and shipping space limitation, supported by complementary initiatives such as the 'Fixed Cash Cost Plus' program that helped us further strengthen strategic relationships with partners while nurturing a value-creating mindset across the organization.
DIGITAL INITIATIVES
A number of digital initiatives optimized our processes and operations. These initiatives include:
Implementing electronic submission of documents to banks, while also enabling automatic and instant notifications to financial document stakeholders, thereby reducing delays and increasing operational efficiencies across a more efficient supply chain
Enhancing the Jeddah Chamber of Commerce platform for electronic legalization in Saudi Arabia, improving work efficiencies of the Documentation Department
NETWORK AND PLANNING OPTIMIZATION
Understanding the trends and impacts of markets is crucial in building and bolstering resilience across our supply chain. We continued our network optimization journey by adopting digital-twin technology to simulate a digital representation of our real-world product flows and network operations. This initiative – in contrast to periodic network modeling and review – enables us to continuously review, optimize, and evolve our supply chain.
Over the last few years, we have been investing in an operating model with regional focus through hubs in Greater China, Rest of Asia, Middle East & Africa, Europe, and Americas, highly integrated by one supply chain network and a unified IT platform. This model provides the necessary visibility, resilience and ability to optimize operations and advance organizational capabilities, while serving both external and internal stakeholders better as an organization that strives to promote a culture of EHSS excellence.
In addition, we implemented a number of initiatives this year to further enhance our global supply-chain footprint:
Consolidated and optimized warehouses and terminals to obtain fewer port calls, zero demurrage and lower rates
Scaled up the use of efficient delivery models such as direct delivery to greatly improve on terminal/ distribution center utilization for small parcels
Supported Business/ Sales teams in the exploration and penetration of new markets
Made data driven and cost-based decisions for best-case scenarios on supply location and delivery modality as with the shift of the Yanbu / Jubail / Singapore Hub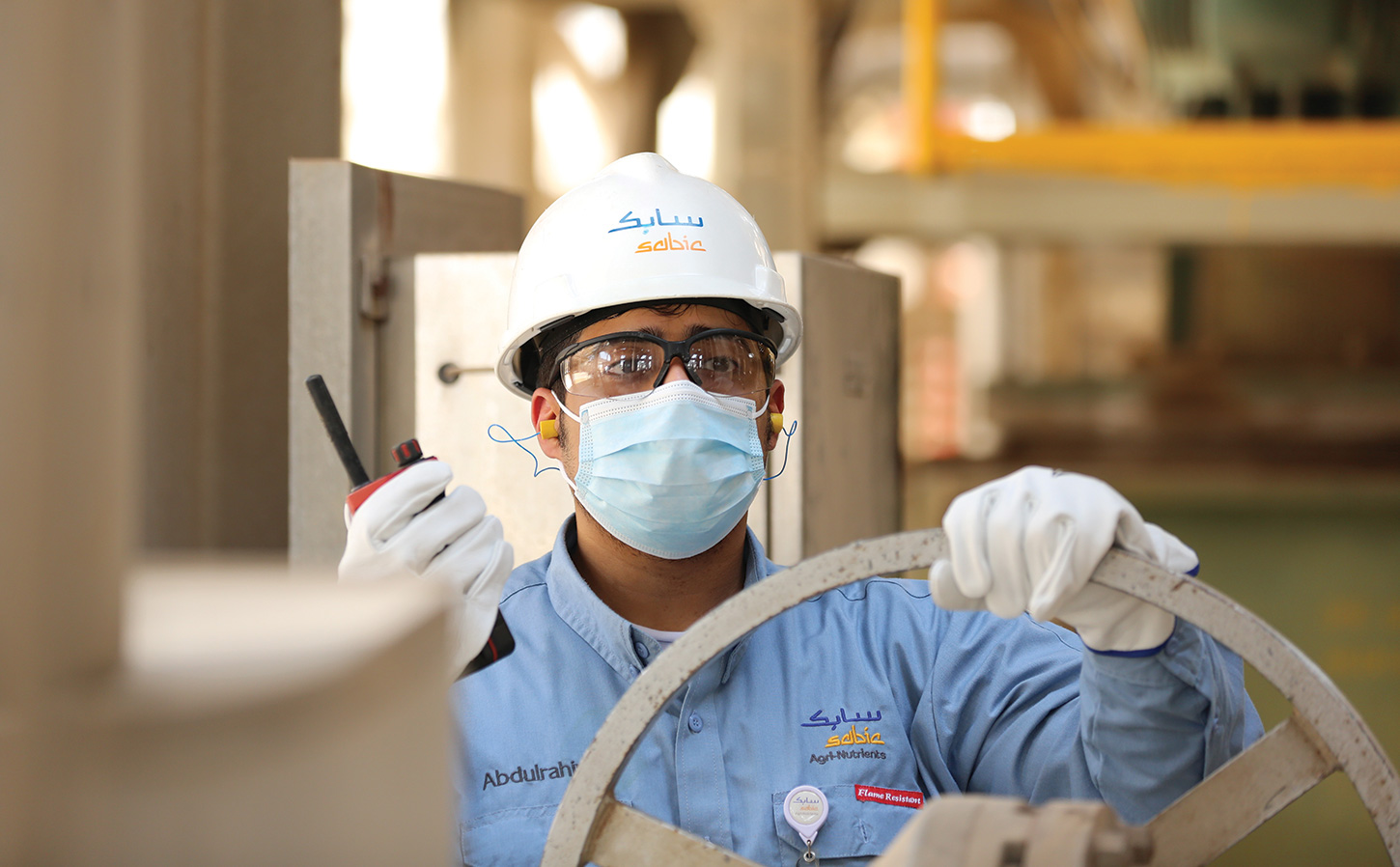 We continue to enhance our logistics operations – from product handling at manufacturing sites to delivery points
OUTLOOK
With more COVID-19 variants expected to impact and disrupt global markets, we will carry on executing our strategy to proactively respond to market challenges and ensure business continuity. Building on our people capabilities and our agile organization, SABIC will continue capitalizing on sourcing strategies in response to market developments. This will further optimize and prime our network to accommodate our growth ambitions and create value throughout the entire ecosystem.
Within our Corporate Digitalization Program, we will continue our digitalization journey to embrace advanced solutions in the field of demand forecasting as part of our collaborative planning activities, deploy cutting-edge technology to enhance digital customer experience, and cultivate capabilities to boost process automation. Our investments in smart solutions to create fully digitalized value chains will continue, supported by new innovative business models. Additionally, we will continue to implement supply-chain visibility tools in order to increase our delivery reliability and provide customers with track-and- trace information.
Anticipating the upcoming global regulation on shipping decarbonization by the International Maritime Organization (IMO), we are transforming our hired chemical tanker fleet gradually by replacing the standard vessels with newer, optimal eco-designed, fuel-efficient vessels. In 2021, several brand new eco-vessels with 30% lower fuel consumptions – and thus 30% lower carbon dioxide emissions – were hired for multi-year periods.
This comes on top of the fact that SABIC has been an early adopter of environmentally conscious shipping. Since 2014, we have been using two custom-designed gas carriers running on clean LNG gas in Europe – emitting 25% less carbon dioxide and hardly any sulfur oxides, nitrogen oxides or soot particles compared to convention marine bunker fuel. On a trans-Atlantic supply chain in 2016, SABIC was the first to use custom-eco-designed midsize gas carriers running on clean ethane gas as fuel, reducing carbon dioxide by 30% and other pollutants by over 80%.