AGRI-NUTRIENTS
SABIC is a global leader in the agri-nutrients industry, aspiring to meet the growing demand for food and solve the world's food supply challenges. Through our Agri- Nutrients business, we supply customers around the world with a wide variety of fertilizers ranging from commodity to highly specialized products, including urea, ammonia, MAP, DAP, phosphate-based fertilizers – all in a comprehensive portfolio of nitrogen-based inorganic products, and specialty solutions.
2021 saw a strong global demand for agri-nutrients although the operating environment remained challenging as the world was recovering from COVID-19. Political and economic mandates, aimed at the main nutrients, nitrogen, phosphate, and potash fertilizers, reshaped trade flows and moved market prices upwards globally.
SABIC maintained its global position as a reliable supplier of agri-nutrients despite various industry challenges in 2021, working together closely with partners and customers to ensure that key inputs for food production and security remain accessible.
GLOBAL MARKETS
Tight supply in the face of strong global demand led to price increases in 2021, largely due to China, Russia and Egypt curbing exports to ensure domestic supply. Record gas prices also led most European producers to cut output. The rebound in demand stemmed from all regions and was buoyed by strong crop prices. India, as usual, led countries in demand.
FINANCIAL HIGHLIGHTS
Agri-nutrients revenues amounted to SAR 12.2 billion, an increase of SAR 5.4 billion or 80% compared to 2020, mainly driven by significant increase in average sales prices by 91%, which was partially offset by a decrease in sales volumes by 11%.
Production volume
Million MT
2021
2020
7.6
8.1
Sales volume
Million MT
2021
2020
6.2
6.9
OPERATING HIGHLIGHTS
This year, we have completed the consolidation and integration of our agri-nutrients investments, with all related equity shares and assets under a new company, SABIC Agri-Nutrients Company (effective January 1, 2022), in line with SABIC's diversification strategy and transformation program. As production, product portfolios, marketing, and supply chain are integrated in pursuit of synergies, enhanced reliability and efficiencies, along with accelerated, sustainable growth, we continue to diversify our product portfolio, reflecting specialized customer needs.
Multi-disciplinary teams worked cohesively to prototype the necessary customer-focused mindset. They engaged directly with customers to identify unmet needs and collaborate in developing effective solution/market strategies that will enable an efficient and preferred supplier of commodities , and to become also an ever more agile and innovative supplier of differentiated value-add products. We have continued to expand our sustainable market shares in strategic markets of Africa, Asia and Latin America regions.
NEW DIFFERENTIATED PRODUCTS
Population growth naturally presents new challenges and opportunities to the world food chain. Farmers are looking to increase crop yields, minimize losses, and protect the environment. Our scientists continue to respond to current and anticipated market demands by carefully designing new formulations and solutions to meet the needs of both farmers and the world at large.
In 2021, the Agri Nutrient Technology & Innovation team focused on producing the next generation of environmentally friendly and economically sustainable fertilizers.
Enhanced-efficiency fertilizers (EEF): SABIC has developed three new EEF products: The first-of-its- kind biodegradable polymercoated urea, formulated to deliver synchronized nutrition at exactly the time and rate the growing crop needs; stabilized nitrogen urea through the injection approach; and an enhanced efficiency fertilizer product which is built on a unique dual N technology. With the use of this technology, sustainable and eco-friendly nitrogen fertilizers, such as methylene urea (MU) and isobutylidene diurea (IBDU), are produced in-situ as a combined fertilizer. SABIC's MU-IBDU fertilizer is designed to deliver a steady release of nitrogen to crops, irrespective of the environmental conditions.
Water-soluble fertilizer: Soluble granular NPK is a technology that has been developed to meet the needs of end-users, who require high nutrient efficiency delivered using standard farming practices but at lower cost. Our innovative process is capable of converting existing low cost (low solubility) NPK grades, into highly soluble products that are suitable for fertigation/foliar farm practices.
Urea nutrient-enriched fertilizers: Three distinguished urea-enriched products were commercially introduced in 2021. Zinc-coated urea was developed using widely available zinc forms such as Zn-EDTA and micronized powders of inorganic zinc. Humic acid-coated urea offers a novel approach to buffer the effects of urea on soil and enhance soil biology and chemistry. Urea calcium sulphate (UCS) was developed using a by-product calcium sulphate to deliver essential nutrients like nitrogen, calcium, and sulfur to crops and thus improve environmental footprint.
Industrial Applications: An environmentally friendly formaldehyde-free additive was demonstrated at a commercial scale in our prilled urea plant. This would make the full capacity of our prilled urea available as a technical grade urea, which enables diesel engines to run more efficiently and reduces air emissions. The product will further strengthen SABIC's footprint in the automobile emission control solutions segment.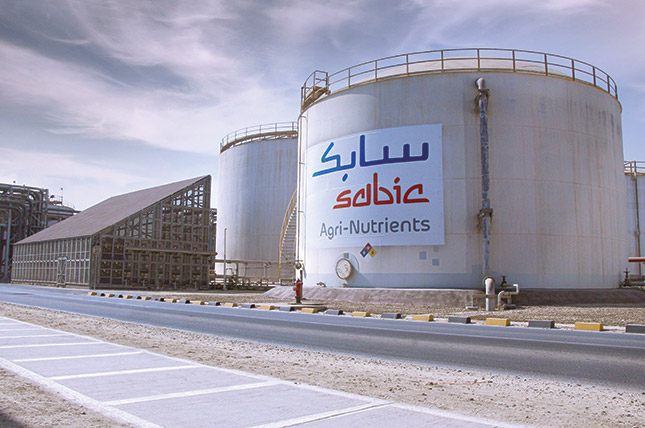 SABIC Agri-Nutrients Company is poised to grow its portfolio with enhanced reliability and efficiencies.
LOW-CARBON AMMONIA MARKET
In 2021, SABIC continued its low carbon journey by exploring various applications for ammonia outside of fertilizers and chemical intermediaries, and expanding to power generation, shipping fuel, and acting as a carrier for hydrogen. This has paved unique opportunities for SABIC to capture future growth in the low-carbon ammonia market. Our expertise in ammonia production, marketing, and our downstream production capability give us a unique platform to expand the adoption of ammonia for power generation and fuel.
SABIC is also exploring opportunities in green ammonia production using sustainable electricity, water, and air to reduce the carbon footprint in existing affiliates. Producing green ammonia via green hydrogen derived from water electrolysis is becoming more cost-effective and will eventually compete with conventional ammonia production using non-renewable fossil fuels. SABIC Agri-Nutrients aims to play a leading role in the low- carbon ammonia market, as well as the ammonia energy market. These initiatives form a strong part of SABIC's decarbonization roadmap.
OUTLOOK
With the global economy expected to recover and lead to improved demand, we remain focused and maintain a positive outlook for 2022. Agri-nutrients prices are expected to be relatively balanced from their historic levels as fertilizers and natural gas supply loosen. Continued high feedstock costs, power shortages and carbon emission controls will likely limit Russia, Egypt and China's exports. High feedstock prices in Europe will also limit local production and increase demand for imports from the Middle East.
Through a well-defined global expansion strategy, SABIC continually seeks opportunities to enter new markets, expand our footprint and presence in growing markets, and introduce new innovative solutions in line with our vision of being a national champion and a global leader in the agri-nutrients industry.
Investments in production efficiencies at existing sites, new production assets, development of differentiated products, and enhanced downstream distribution infrastructure will help to expand SABIC's presence in the global market with sustainable products that contribute positively to the global food security. While we have achieved long-term urea supply contracts to multiple Brazilian customers and distributors that will be effective in 2022, additional volume from new projects will enable us to further grow our market presence in key agri-nutrient markets, including Asia, Africa and Latin America.
By 2026, we expect an increase in our production through various initiatives to meet the growing market demand. We will continue to meet our customers' rising needs by diversifying and broadening our product portfolio and developing strategic partnerships for efficient delivery to better serve our customers.
Previous Article
Next Article