METALS (Hadeed)
SABIC supplies metal products under its brand through Hadeed, a fully owned steel manufacturing affiliate. Our product portfolio consists of a broad range of hot-rolled and cold-rolled flat products in coil form, long products, and wire rod coils. As one of the largest steel producers in the region, we are committed to supporting infrastructure development in Saudi Arabia and maintaining best-in-class standards in efficiency, reliability, and EHSS.
Hadeed's strategic plan is aligned with a vision to be the preferred local and regional leader in the steel industry. We will achieve this by offering our customers top-quality, innovative, and diverse steel solutions through technological excellence and our talented employees. Our strategic priorities and focus areas include:
TRANSFORMATION AND IMPROVEMENT
EHSS culture and performance transformation
Talent acquisition and leadership programs
Effective maintenance strategy to recover plant reliability
COMPETITIVE FEEDSTOCK
Backward integration in iron ore mining through the Takamul Project to secure feedstock and enhance costs with potential alternating iron ore supplies including different grades
GROWTH
Expanding our product portfolio through investment in additional capacity for thin hot-rolled flat steel.
INNOVATION AND SUSTAINABILITY
Sustain our EBITDA targets from innovation
Introduce two new value-added products in long and flat products, bringing the total to eight, up from the target of six.
Sustainability, Saudi Energy Efficiency Committee (SEEC) programs, and carbon neutrality strategy
Local content programs in the Kingdom, our long-term sustainability targets, and Vision 2030.
GLOBAL MARKETS
Metals prices increased during 2021 and stayed elevated. Supply remained tight as China, which produces more than half the world's steel, cut production significantly in an effort to curb pollution in the industrial sector, with metals industries on their own responsible for 20% of carbon emissions in the country. Demand from the construction sector remained strong as governments around the world spent more on infrastructure through their stimulus packages. While metal prices rose, iron ore prices fell roughly 40% (dropping below US$ 100 a metric ton) in response to concerns over a decline in demand caused by China's productions cuts along with a sharp downturn in China's property sector.
FINANCIAL HIGHLIGHTS
Metals revenues amounted to SAR 12.8 billion in 2021, an increase of SAR 3.3 billion or 35% compared to 2020, primarily driven by an increase in average sales prices by 40%, which was partially offset by a decrease in sales volumes by 5%.
Production volume
Million MT
2021
2020
4.6
4.5
Sales volume
Million MT
2021
2020
4.4
4.6
OPERATING HIGHLIGHTS
Remained strongly aligned with Saudi Vision 2030 project stakeholders such as NEOM, Qiddayah, Roshen, as well as signing a Memorandum of Understanding with the Red Sea Development Company.
Focus on the assurance of supply by introducing 15 additional transporters to the Hadeed fleet to cater for 6 million metric tons dispatch capability.
Dispatched 410 kilotons of overseas shipments via 21 vessels to 13 countries on time, a 19% increase in shipment volume and 31% increase in vessels year-over-year.
Flat products continued to sell 100% of the mill supplies in 2021, with the average selling price 41% higher than the plan.
Achieved higher flat-product volumes due to sales orders over the business plan, contributing to improved hot-mill productivity.
Approached diversified export markets to capture new opportunities with optimum prices.
Effectively utilized free intermediate and finished flat products.
Reduced overage inventory through an inventory-aging management system.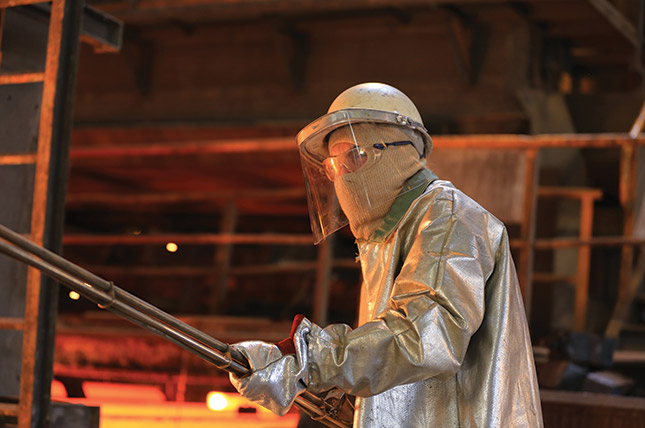 Among Hadeed's strategic priorities are boosting its EHSS culture and performance transformation.
PRODUCTS LAUNCHED IN 2021
Hadeed continuously develops new products for specific applications to meet the demands of our local and international customers. During 2021, we developed and commercialized the following products:
LONG PRODUCTS
A total of 89,000 metric tons sold of rebar quenched for sizes 10, 12, 16, 20, 25, 32, and 40 mm, complying with the requirements of standard CS2:2012 Gr. 500B. This specification is widely used in the Hong Kong market, and its registration was completed in Hong Kong's governing body. CARES certification was also successfully achieved for the mentioned specifications.
FLAT PRODUCTS
ASTM A570 Grade 45 hot-rolled steel was developed for lower thicknesses (1.8, 2, and 3 mm) to suit our customer application for manufacturing steel shelves.
Two grades were developed fulfilling ASTM A1011 requirements for structural steel (SS) Grade 60 and high-strength low-alloy steel (HSLAS) Grade 65 for thicknesses down to 2.5 and 3 mm respectively, intended for use in solar applications.
As part of our contribution to support the Saudi Arabia National Renewable Energy Program, SABIC is supplying steel for the first phase of the Sudair Solar Energy Plant.
SUSTAINABILITY, ENERGY, AND CARBON NEUTRALITY
Hadeed actively participates in workshops and discussions on industrial sustainability, energy utilization, and the development of the circular carbon economy, which is closely aligned with Saudi Vision 2030.
We continued our commitment to generate ideas for improvement and to create opportunities to close the gaps and achieve sustainability and SEEC targets. We have identified our current position and goals in respect of greenhouse gas emissions and built a road map that is aligned with SABIC's 2050 aspirations.
Progress is being made towards achieving these goals through the following:
The use of Expert Furnace System Optimization Process (EFSOP) in EAF #5 resulted in successfully lowering electricity consumption by 1.4%. This system will be implemented across the other five furnaces in 2024.
Flue-gas jet blowers were installed in the direct reduction (DR) plants Module A and B. This resulted in a reduction of flaring by 68%, power consumption by 4%, and increased the recycling of fuel gas by 15.3%.
The flaring control system in DR Module E was greatly improved, resulting in a reduction of flaring by 23% in contrast to 2010 data.
In raw materials handling from the port to Hadeed, frequency drive motors were installed to replace fixed-speed motors, thus decreasing electricity consumption.
COLLABORATIONS, PARTNERSHIPS, INTEGRATION
Hadeed's technology management is currently undergoing a technical evaluation of studies received from the NEOM Investment Fund on the utilization of the Wadi Al-Sawawin iron ore mine located in the NEOM area in the northwest of Saudi Arabia.
With our expertise in the iron and steel making process, Hadeed supported Saudi Aramco in the development of its plate mill project jointly owned by an international partner.
OUTLOOK
As the world recovers from the effects of the pandemic, SABIC anticipates an increase in local and global demand in 2022 and beyond. Metals prices are expected to maintain the high levels reached during 2021 as China continues to curb production. High feedstock prices in Europe will also limit local production and increase the demand for imports. Prices are also expected to benefit from tighter supply as a result of additional environmental restrictions that are going to be imposed by the US and EU. The US and EU will work to restrict access to their markets for steel manufactured with low environmental standards and limit access to countries that dump it and contribute to worldwide oversupply.
As for SABIC, we aim to improve our production efficiency and diversify our product portfolio. We will continue to improve our people's skills, comply with EHSS, and further boost the reliability of our production process. We will also remain focused on progressing toward achieving our long-term sustainability goals and the development of the circular carbon economy.