Our Strategy
SABIC's vision is to be the preferred world leader in chemicals. To realize this vision, our strategy lays out a roadmap to transform SABIC into a higher growth, sustainability-driven, more resilient, and more agile chemical company while playing a key role in Saudi Vision 2030.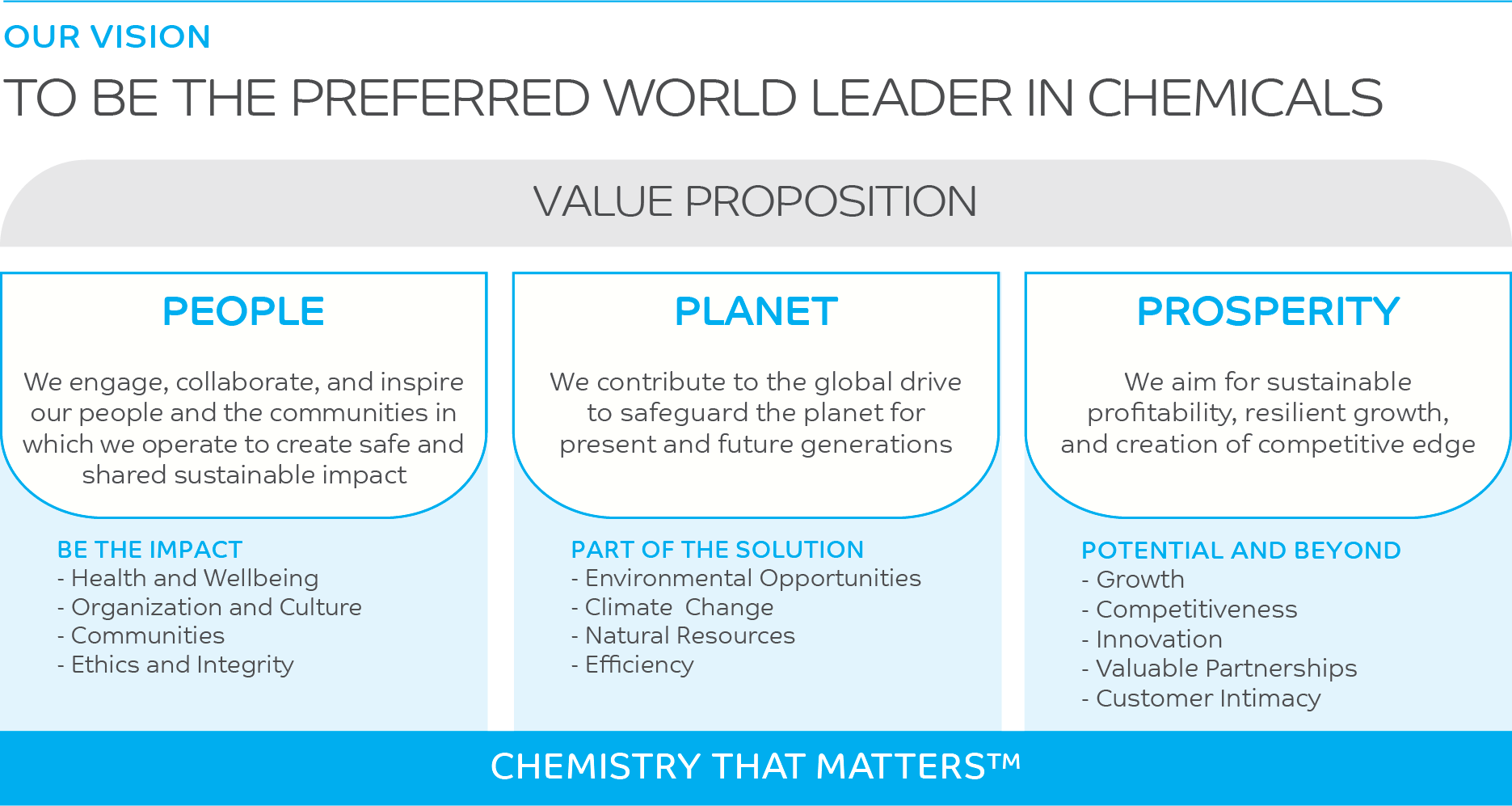 SABIC's 2021 Annual Report features an update to our value proposition map, which has been a staple of our corporate reporting since 2019. The primary elements of our strategy remain the same; however, our new mapping allows us to more accurately represent and report on the broad value proposition that we offer our shareholders and stakeholders, which is the primary aim of this Annual Report.
We have chosen to visualize our strategy around the three fundamental pillars of the Triple Bottom Line (TBL) approach: People, Planet, and Prosperity. Our mapping of these three pillars accords them equal priority within this model. We do not see a contradiction between a "single" bottom line and TBL approach – nor is a question of balancing or managing "trade-offs" between the three pillars. A commitment to profitable and sustainable growth will always be at the heart of our enterprise; it is our essence, our raison d'être. We also recognize that SABIC's ability to create value year after year equally requires a more comprehensive approach in assessing impact and success – one that takes into account the wider societal and environmental megatrends that affect and are affected by our business. Our new value proposition map is a statement of intent to think about the future of our business together with the future of our society and planet, and to respond with solutions that have the pace and scale to address the challenges of our contemporary world.
Our strategy continues to seek to deliver sustainable, profitable growth and create value for our broad stakeholder base, including shareholders, customers, employees, regulators, suppliers, and local communities. We will continue to target world-class financial performance by: working hard to understand the evolving needs of our customers in terms of service, product differentiation, and solutions; accelerating growth both organically and non-organically by being close to regional markets; striving for a competitive advantage selectively through process, catalyst and application development; and improving efficiencies in our core areas of manufacturing, commercial, supply chain, and cost management.
We will contribute to the global drive to safeguard the planet for present and future generations by acknowledging the profound effects of climate change along with recognizing the equally profound opportunity for businesses to spearhead change. We will aggressively pursue our roadmap to carbon neutrality by 2050 by reducing our greenhouse gas emissions and diligently working toward improving the efficiency of our natural resource use.
We will engage and collaborate with our stakeholders with an understanding that we have responsibility to the communities in which we operate. We will ensure long-term success via an effective and efficient organization, a robust and consistent performance culture, investments in leadership and training, and a strong set of values around inclusiveness, diversity, and integrity. We will maintain our unshakeable emphasis on process safety and product stewardship.
BUSINESS PORTFOLIO
In 2015 we launched a robust transformation program to further streamline our operating model, increase portfolio focus, boost competitiveness, and accelerate long-term growth. At the center of this transformation was moving from six Business Units to the three Strategic Business Units (SBU) we have today: Petrochemicals, Agri-Nutrients, and Specialties. 2020 and 2021 saw key years in this journey marking the realization of our current structure and positioning the three SBUs as autonomous entities with the ability to operate in their markets as global leading companies.
PETROCHEMICALS
SABIC's Petrochemicals SBU strategy aims to enhance our leadership position by expanding our presence in fast-growing and emerging regions. We provide products and solutions with a customer-focused mindset, leveraging technology, innovation, and sustainability, to address a range of end-user markets that include automotive, building and construction, healthcare and personal hygiene, packaging, and consumer and household goods.
On June 17, 2020, Saudi Aramco announced the successful completion of its share acquisition of a 70% stake in SABIC from the Public Investment Fund, the sovereign wealth fund of Saudi Arabia. The completion of this historical transaction positioned SABIC to become Saudi Aramco's chemicals arm and the national chemicals champion in Saudi Arabia while strengthening its leadership position in the global chemical industry.
Our joint efforts with Saudi Aramco in petrochemicals have already been strengthened by leveraging our strong customer and market positions and attractive product portfolio to address the growth markets of China, India, South East Asia, and North America. These markets will be served through a range of feedstock asset platforms and associated investment models. These growth platforms will be located mainly in Asia, Saudi Arabia, and North America and will be enabled by a combination of competitive advantages derived from both Saudi Aramco and SABIC, including advantaged and liquid feedstock, refinery petrochemical integration, advanced technology, such as our crude-oil-to-chemicals project, and strong strategic partners where relevant.
AGRI-NUTRIENTS
In 2020, we saw the beginning of the integration of our agri-nutrients assets under one umbrella, with all related equity shares and assets consolidated in a new company, SABIC Agri-Nutrients Company. In 2021, SABIC and SABIC Agri-Nutrients Company worked with the clear vision of establishing the latter as a company, integrating the core functions of the agri-nutrients business within its purview. This repositioning will enable SABIC Agri-Nutrients Co. to sharpen and clarify its focus, develop agility, and deliver on its vision of becoming the national agri-nutrients champion and a global leader in the agri-nutrients industry.
Through a strategy of selectively expanding our downstream positions, increasing our product differentiation, and growing our global assets globally, our Agri-Nutrients SBU is able to execute a customer-centric and market-focused approach. We maintained our global position as a reliable supplier of agri-nutrients in the face of various industry challenges during 2021. Agri-Nutrients developed the next generation fertilizer products such as the world's first biodegradable polymer- coated urea, which has won the prestigious Edison Award, and water soluble fertilizer, to meet the exacting needs of our customers while meeting sustainability requirements. Moreover, propelling SABIC further on its low carbon journey, the Agri-Nutrients business is exploring opportunities in sustainable green ammonia production, having successfully produced blue ammonia for use in zero-carbon power generation in 2020. SABIC Agri-Nutrients ultimately aims to become a leading player in the low-carbon ammonia market and the ammonia energy market.
SPECIALTIES
SABIC's Specialties SBU addresses complex and unique customer needs through differentiation, sustainability, and speed to market. Established as a fully independent and standalone entity in November 2020, the Specialties SBU is able to realize untapped growth potential, add value through increased agility and focus, and meet its specific business model and customer requirements.
The Specialties SBU delivered award-winning solutions in 2021 that helped to accelerate the rollout of 5G infrastructure and connected smart devices, healthcare, and progress towards achieving carbon neutrality. Positioned for sustainable and profitable growth, the Specialties SBU aims to become one of the top players in the "Multi-Segment Premium" specialty chemicals segment and provide innovative solutions that address the challenges our customers face.
METALS (HADEED)
While not an SBU, Hadeed operates as a fully independent entity with a strategic plan to be the preferred local and regional leader in the steel industry. Hadeed will continue to offer customers quality, innovative, and diverse steel solutions. Simultaneously, Hadeed also strives to meet sustainability targets, having already made significant progress since 2010 and has developed a roadmap that is aligned with SABIC's 2050 carbon neutrality aspirations.
Hadeed is focused on cost controls and further boosting reliability, thereby increasing profitability while maintaining stability in the supply of prime quality products to the local market, supporting Saudi demand.